Adult Summer Reading- Exercise your Mind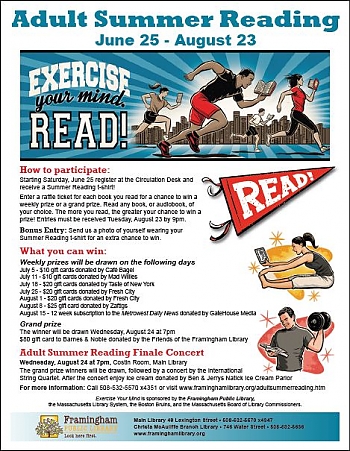 Why should kids have all the fun? Adults are invited to participate in our Adult Summer Reading program, Exercise Your Mind, Read! Starting Saturday June 25 sign-up at the Circulation desk and receive a free Summer Reading t-shirt.

For each book you read you may enter a raffle ticket. Read any book, or audiobook, of your choice. The more you read, the greater your chance to win a prize! Send us a photo of yourself wearing your t-shirt for an extra chance to win. (Send to: framinghamsummerreading@gmail.com.)

Drawings will be held semi-weekly for prizes such as gift cards donated by Café Bagel, Fresh City, Taste of New York, Mad Willies, Zaftigs, or newspaper subscriptions donated by the Metrowest Daily News. The grand prize of an $80 gift card to Barnes & Noble will be drawn Wednesday, August 24 at 7:00pm at the Adult Summer Reading concert by the International String Trio. After the concert enjoy ice cream donated by Ben & Jerry's Natick Ice Cream Scoop Shop.

For more information: Call 508-532-5570 x4351.