Finding the Balance: A Parenting Workshop on Adolescent Development & Self-Esteem
Framingham Public Library - McAuliffe Library Branch
746 Water St, Framingham, MA 01701
Saturday February 11th, 2017
10:00am - 11:30am
Cost: Free
Refreshments will be provided!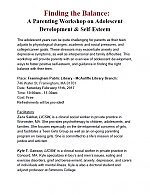 Lewis Hayden and the Underground Railroad
Presented by the Commonwealth Museum
A Division of William Francis Galvin, Secretary of the Commonwealth of Massachusetts
Opens Friday February 10
Nevins Hall, Framingham Town Hall
Guided Tour by Commonwealth Museum
Director and Curator Stephen Kenney
Tuesday February 21, 12:00 pm
This traveling exhibit, on loan from the Commonwealth Museum will be on display through the month of February.
Learn about one of the foremost 19th century Black activists in Boston. Lewis Hayden began life as a slave in Kentucky and after a daring escape, settled in Boston 1849 and opened a clothing shop. A stop on the Underground Railroad, Hayden's home on Beacon Hill sheltered over 100 fugitive slaves in their journey to freedom. During the Civil War Hayden helped recruit soldiers for the heroic 54th Regiment and later served in the Massachusetts Legislature, advocating tirelessly for women's voting rights.
The exhibit is open Monday-Friday 9:00-5:00. Free admission.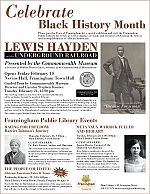 Framingham Not For Sale Committee Public Meeting
Wednesday, February 22, 7 P.M.
Costin Room, Main Library
49 Lexington Street