Early Learning Zone: Grand Opening!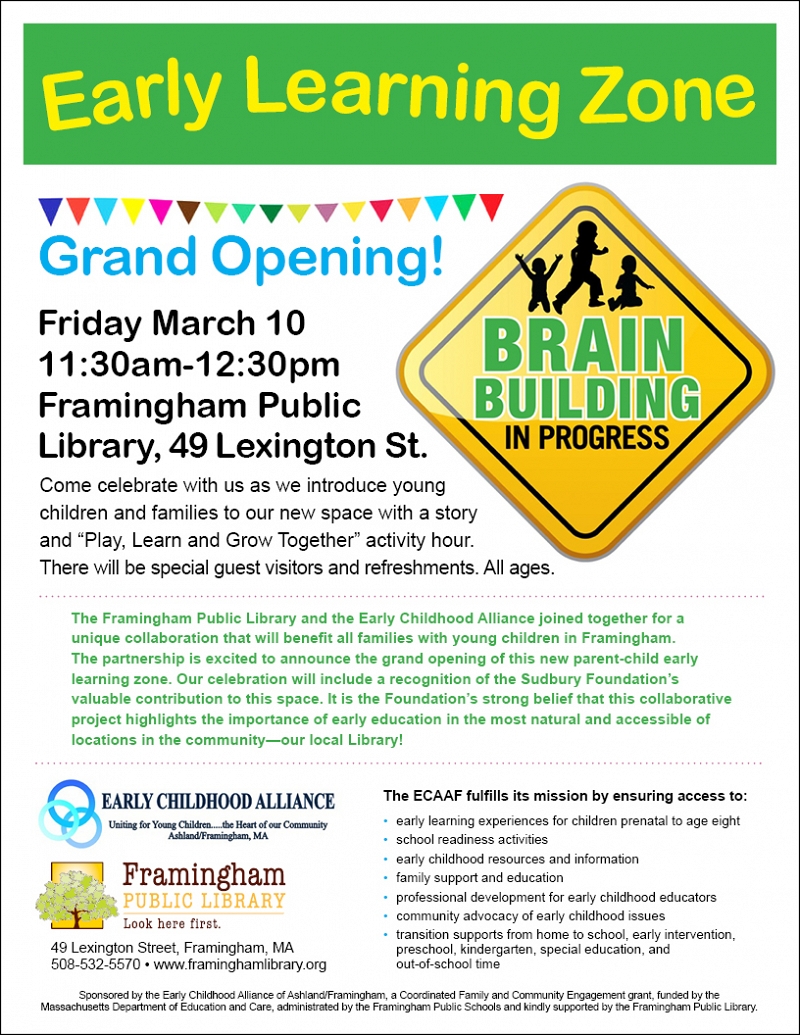 Early Learning Zone Grand Opening!

Friday March 10
11:30-12:30pm
Framingham Public Library, 49 Lexington St.

Come celebrate with us as we introduce young children and families to our new space with a story and "Play, Learn and Grow Together" activity hour. There will be special guest visitors and refreshments. All ages.

The Framingham Public Library and the Early Childhood Alliance joined together for a unique collaboration that will benefit all families with young children in Framingham. The partnership is excited to announce the grand opening of this new parent-child early learning zone. Our celebration will include a recognition of the Sudbury Foundation's valuable contribution to this space. It is the Foundation's strong belief that this collaborative project highlights the importance of early education in the most natural and accessible of locations in the community – our local Library!

The ECAAF fulfills its mission by ensuring access to:
early learning experience for children prenatal to age eight
school readiness activities
early childhood resources and information
family support and education
professional development for early childhood educators
community advocacy of early childhood issues
transition supports from home to school, early intervention, preschool, kindergarten, special education, and out-of-school time
Sponsored by the Early Childhood Alliance of Ashland/Framingham, a Coordinated Family and Community Engagement grant, funded by the Massachusetts Department of Education and Care, administrated by the Framingham Public Schools and kindly supported by the Framingham Public Library.