Go Pro Hero 2 Kit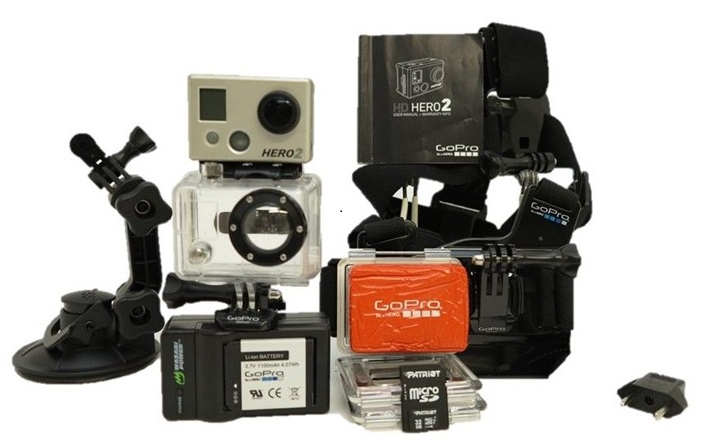 Dive deep with our GoPro Hero 2 kit, complete with floaty backdoor for waterborne outings. The GoPro is a water and shock resistant camera designed to be worn on your head or chest during any activity you want to capture in first-person video. Great for sightseeing, roadraces, hiking, and more. Please remember to erase your footage from the included microSD card before returning.
Handle with care please, this is a donated item. This Thing will live at the McAuliffe branch.
Check the catalog to see if this Thing is available.
Looking for more information on this Thing before you decide to borrow? See the manufacturer manual here.
Circulation Policy
In order to borrow a Thing a patron must have a Minuteman Network Library card in good standing and must sign the Loan Agreement.
Things are available to be borrowed in person.
Things are not available for loan between Minuteman Library Network libraries or for Interlibrary Loan outside the Network.
The Thing must be returned to the Circulation Desk at the Library where it was borrowed. It cannot be placed in a book drop or returned to any other Minuteman Network Library.
14 Day Loan
No renewals
Borrower Responsibility & Replacement Costs
Borrower Responsibility and Replacement Costs:
The library is not responsible for any costs incurred or damage to personal equipment while borrowers use the Things or for the security of connected patron devices.
The library does its best to provide clean and fully functional equipment, but is not responsible for unforeseen hardware or software failure.
Borrowers are responsible for the safe-keeping and return of these items to the library in good working order and assume liability for the equipment while it is in their care.
Borrower is responsible for damaged and/or missing pieces of the package:
| Item | Replacement Cost |
| --- | --- |
| Go Pro Starting Kit | $200 |
| Head Mount | $20 |
| Body Mount | $40 |
| Container | $10 |
Essential Specs
GoPro Hero2 Kit Contains:
Camera with battery (approx 2 hr battery life on full charge)
Battery charger
125 V - 250V European electrical adapter for battery charger
Micro SD card and adapter
Case for SD card
Clear plastic camera housing (one of the 4 backdoors will likely be attached)
(1) waterproof backdoor
(1) "Floaty backdoor" - waterproof backing with foam block
(2) "Skeleton backdoors" extra housing backings with ventilation holes
Flat surface mount (missing thumb screw)
User manual
Micro USB/USB data transfer/charging cable
Clear plastic storage box
Head mount with thumb screw ($20)
"Chesty" body mount with thumb screw ($40)
Storage bag
Spare mount attachment with thumb screw
This is a donated item. Library staff have done their best to test this item but quirks may be present.