Elephas Portable Projector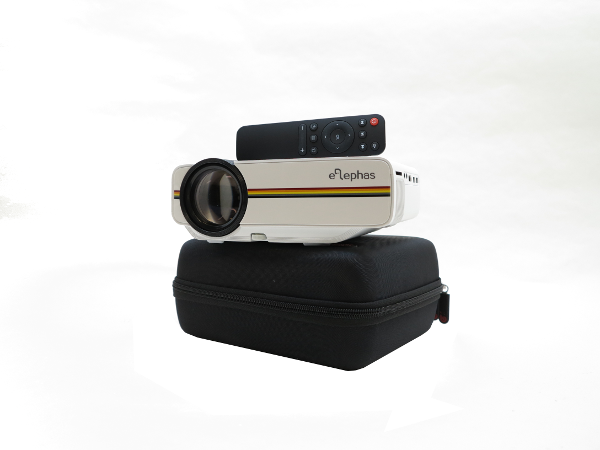 The Elephas projector is perfect for setting up in your living room or in the backyard against the side of a house.
Check the catalog to see if it's available.
Circulation Policy
In order to borrow a Thing a patron must have a Minuteman Network Library card in good standing and must sign the Loan Agreement.
Things are available to be borrowed in person.
Things are not available for loan between Minuteman Library Network libraries or for Interlibrary Loan outside the Network.
The Thing must be returned to the Circulation Desk at the Library where it was borrowed. It cannot be placed in a book drop or returned to any other Minuteman Network Library.
14 Day Loan
No renewals
Borrower Responsibility & Replacement Costs
The library is not responsible for any costs incurred or damage to personal equipment while borrowers use the Things or for the security of connected patron devices.
The library does its best to provide clean and fully functional equipment, but is not responsible for unforeseen hardware or software failure.
Borrowers are responsible for the safe-keeping and return of these items to the library in good working order and assume liability for the equipment while it is in their care.
Borrower is responsible for damaged and/or missing pieces of the package:
| Item | Replacement Cost |
| --- | --- |
| Projector | $85 |
| Case | $18 |
Manufacturer Specifications
Specifications
Imaging Technology: TFT, LCD
Brightness: 1200 lumens
Projection Size / Distance: 50 ~130 inches, 1.5 ~ 4 m
Contrast: 1000 : 1
Aspect Ratio: 16 : 10
Projection Ratio: 1.4 : 1
Native Resolution: 800 x 480 pixels
Supported Resolution: 1920 x 1080pixels
Keystone: Manual correction ± 15°
Inputs: USB / AV / SD & HDMI / Audio output
Power Consumption (Watt) : 50 W
Adapter: AC (100V~240V, 50Hz / 60Hz)
Operation Tips
NOT Recommend for PPT, Word, Excel or business presentations. Recommend for use in dark places.
A Lightning to HDMI adapter cable or an HDMI WiFi display adapter is needed if connecting to an iPhone or an iPad; an MHL cable is needed if you want to connect to your Android device.