WiFi Hotspots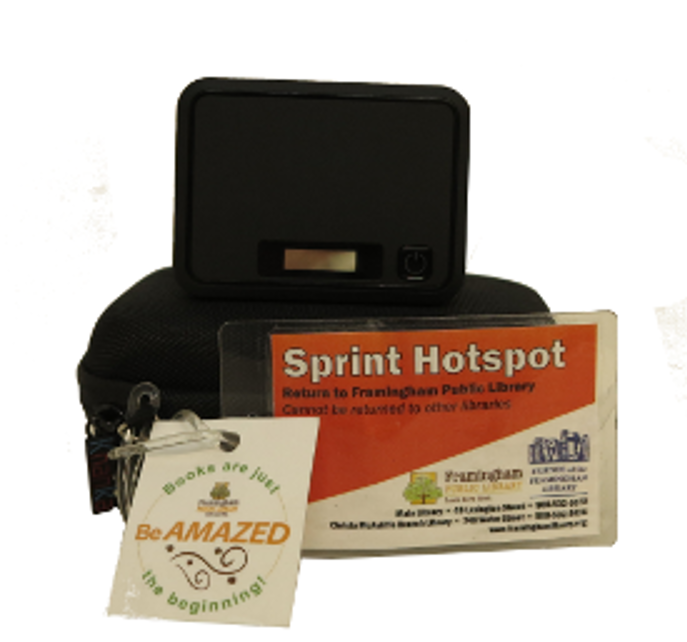 Wireless hotspots give you access to wireless internet on the go, anywhere you can hit a cell tower. You can use them at home or on the road to bring internet to all of your devices.
International service is not supported. Data service will be stopped if hotspots are not returned by their due-back date.
Check the catalog to see if any of them are available.
Circulation Policy
In order to borrow a Thing a patron must have a Minuteman Network Library card in good standing and must sign the Loan Agreement.
Things are available to be borrowed in person by any patron with a Minuteman Library Card.
Framingham residents with a Minuteman Library Card may place holds on this item.
Things are not available for loan between Minuteman Library Network libraries or for Interlibrary Loan outside the Network.
The Thing must be returned to the Circulation Desk at the Library where it was borrowed. It cannot be placed in a book drop or returned to any other Minuteman Network Library.
14 Day Loan
No renewals
Overdue fines $2 per day
Borrower Responsibilities & Replacement Costs
Borrower Responsibility
The library is not responsible for any costs incurred or damage to personal equipment while borrowers use the devices or for the security of connected patron devices.
The library does its best to provide clean and fully functional equipment, but is not responsible for unforeseen hardware or software failure.
Borrowers are responsible for the safe-keeping and return of these items to the library in good working order and assume liability for the equipment while it is in their care. Borrower is responsible for damaged and/or missing pieces of the package. See replacement cost chart below.
Replacement Cost
Sprint Wifi Hotpost

| Item | Replacement Cost |
| --- | --- |
| Wifi Hotspot Device | $70.00 |
| Wifi Hotspot Power Adapter | $10.00 |
| Wifi Hotspot USB Cable | $1.00 |
| Case | $7.00 |
| Instruction Sheet | $5.00 |
| Purchasing/Reconfiguration Fee | $10.00 |
| Lost Box | $93.00 |
Instructions
Instructions for the Sprint Hotspot
| | |
| --- | --- |
| To charge the hotspot | Plug the power adapter into an outlet, and the other end into the micro-USB charging port. |
| To power on the hotspot | Hold the Power button in for a few seconds. The Hotspot will say "Welcome." |
| To find the Wifi network name and password | Tap the Power button repeatedly to cycle the display. The network name and password will appear on separate screens. |
| To power off the hotspot | Hold the Power button in for a few seconds. The hotspot will say "Goodbye." |