Citizenship Classes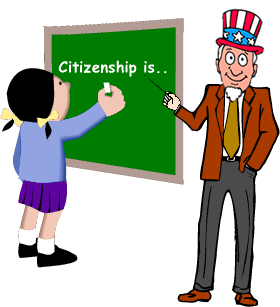 We are proud to offer citizenship classes in both fall and spring at Framingham and Natick libraries. Please note that participants in our citizenship classes must be eligible for citizenship. The description of the classes is below. Our workshop series on Tuesday nights is open to all.
If you are unable to register for the upcoming classes or you want to get started on preparation for the citizenship exam, visit the Citizenship Corner at Framingham Public Library for citizenship exam and English language learning materials.
If you have questions, please contact the Literacy Office by emailing fplmail4@minlib.net or calling 508-532-5574.
Citizenship Preparation Workshops
Individuals Preparing for U.S. Citizenship: How Do I Start?
Framingham Public Library is hosting monthly information sessions on the first steps to becoming a citizen. Topics include:
Review of eligibility to apply for citizenship
Documents needed to complete the Application for
Naturalization
Meaning of terms/words used in the Application for Naturalization
How to file your application
Citizenship Class
Citizenship class is starting on March 16, 2021 and will be held on Tuesdays evenings from 7:00 – 8:30 PM. Class will be held using Zoom, so access to a computer will be most beneficial.
Students must be at least an intermediate level English speaker to benefit from the class.
This 12-week Citizenship class is to help prepare applicants for the Naturalization test and interview. The program will review American History & Civics, and questions and terms that applicants need to know to successfully complete the process.
If you have questions or know a student who may be interested, contact us at fplmail4@minlib.net or 508-532-5574.