Citizenship Classes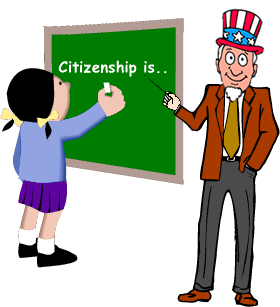 We are proud to offer citizenship classes in both fall and spring at Framingham and Natick libraries. Please note that participants in our citizenship classes must be eligible for citizenship. The description of the classes is below. Our workshop series on Tuesday nights is open to all.
If you are unable to register for the upcoming classes or you want to get started on preparation for the citizenship exam, visit the Citizenship Corner at Framingham Public Library for citizenship exam and English language learning materials.
If you have questions, please contact the Literacy Office by emailing fplmail4@minlib.net or calling 508-532-5574.
Civics and American History Class, Framingham Public Library, Summer 2019
Tuesdays, June 25-September 10
7-8:30pm
Main Library, Trustees Room

Prepare for your interview in these classes. The seminar will focus on Civics and American History as well as written and oral preparation. For Intermediate Level English Speakers who are eligible for citizenship.
Registration is required by June 21 in the Literacy Office at the Main Library.