May Baskets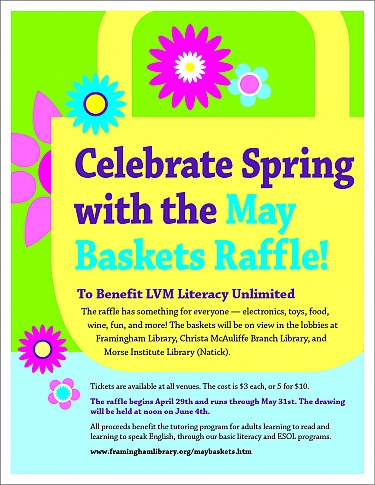 The May Baskets Raffle benefits LVM Literacy Unlimited, the adult tutoring program in MetroWest. We have a basket for everyone—electronics, toys, wine, fun, and more!
Winners of the May baskets in 2019:
Lottery tickets: Paul Kenney
Bose speaker: Rebecca Bernzweig
Afghan: Colleen Coyne
Instant Pot: Lynne Montross
Airpods: Betty Morgan
Framingham Center: Anne Scholder
Coffee Basket: Lukas and Julissa Stock
Asian Journey: Priscilla Olson
Pasta Class: Svetlana Nidyulina
Egyptian dolls: Kerry Morrill
Abstract: Karen Perkins
Mountain Bike: Claudia Price
Fire Pit 1: Mary P. Miles
Sound link: Margie Sisitsky
Wine and Chocolate: Joanne May
Downtown Framingham: Jose Morales
Movie Basket: Tara Sue Share
American Girl: Emma Corcoran
Art Basket: Deanne Shaffer
Ladies Night Out: Nancy Coville Wallace
Gardening Basket: Brian Judge
Beanie Babies + bag: Dalal Sabeh
Dine Around Town: Natalia Sedo
Fire Pit 2: Kellianne Erath
Kindle: Sarah Fuhro
Destination: Natick Eden Benton
Trader Joes basket: Rachel Geer
LA Fitness: Kathleen Butterfield
Wine Basket: Mary Opanasets
Scarfs and Handbags: Alice Rotfort
Thanks so much to all the individuals and businesses who donated to our fundraiser!
Browse the 2019 Baskets!