Community Events
March 2020
FRAMINGHAM – THE BUCKLEY AFFORDABLE HOUSING INFO SESSION HAS BEEN MOVED TO AN ONLINE/CONFERENCE CALL FORUM
Time/Date (this changed for The Buckley): March 24th (Tuesday), 6:00 pm
Please note, given that the library is temporarily closed due to the outbreak of covid-19, the information session for the affordable units at the Buckley has been moved to an online/conference call forum.
For online and video access, go to https://youtu.be/f2iY_IPOHg8 and click the thumbnail for The Buckley. You can also just go on youtube.com and search for "SEB Housing" and you should find a link to the video stream for this info session.
For conference call access, dial (425) 436-6200, access code is: 862627
CANCELLED: TOASTMASTERS EVALUATION SEMINAR
Sunday, March 15, 2020, 12:30-2:30pm, Christa McAuliffe Branch Library, 746 Water Street, Framingham, MA
PLEASE RSVP: Text: (508) 380-4777, jshapiro@help4computers.com
If you find evaluations to be challenging, then attending this training will change that. In this workshop, you will pick up the key elements you'll need to become an excellent evaluator.Y ou will take away a clear process that will make you a better evaluator. Speakers always need feedback. (one goal of the training will be to make the speaker feel like a million bucks while providing useful feedback.)
Presenter Bio:
Dr. Haleem Syed has been a Toastmaster for 7 years. Through his journey as a Toastmaster, he has searched for and distilled the secrets of Powerful evaluations from competing in evaluation contests every year, interviewing past district champions, and training new members, In 2016, Dr. Syed was the runner up in the District 31 Evaluation Contest.
In his workshop you'll pick up the FOUR secrets of POWERFUL Evaluations that will take your evaluations to the next level. You'll also learn how these secrets can make you a better speaker and communicator at work and in your relationships.
This Evaluation Seminar is a free event. Light refreshments will be served.
Sponsored by MetroWest Toastmasters, Framingham, MA
Website: https://mwtm.toastmastersclubs.org/
December 2019
Toastmasters Club Meeting: Public Welcome!
Thursday, December 19, 7:30-8:45pm, Christa McAuliffe Branch Library
RSVP: metrowesttm@gmail.com, call or text 508-986-9867. For more information, please visit the Metrowest Toastmasters website.
November 2019
Swap Day: Framingham Bilingual Education Department
Saturday, November 16, 10:30am-12:30pm, Fuller Middle School Cafeteria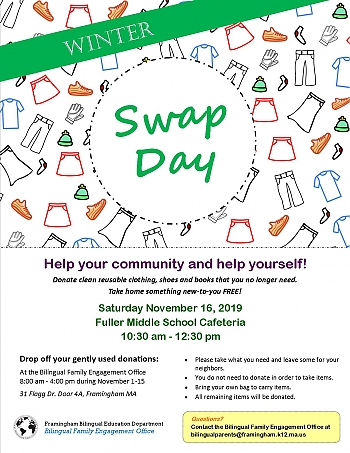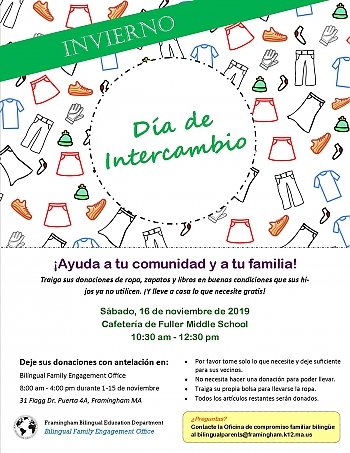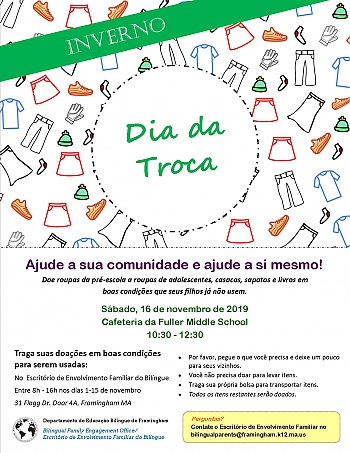 October 2019
Framingham's Top 10: An Exhibition of the Framingham History Center's Most Important Artifacts: Opening Night Party
Friday, October 24, 6pm, Framingham History Center, 3 Oak Street, Framingham
Among the rows of storage shelves and tucked away in archival boxes lie the most important artifacts housed at Framingham History Center (FHC). Ten of these precious objects have been chosen by the curator and the community for a 20 month exhibition designed to reinforce the local, national, and international significance of the FHC's collection. Spanning three hundred years, with objects as small as a pin to as large as billboard, this exhibit will underscore the variety of the FHC's holdings. Set in a modern gallery style, each artifact stands alone in reverence to its importance. Visitors have the opportunity to explore further through interactive displays that excite discovery. Framingham's Top 10 has something for everyone – paintings, sculpture, documents, clothing, Americana, music, and neon.

This fun evening is a special member/donor only event, and includes catered hors d'oeuvres as well as a signature cocktail.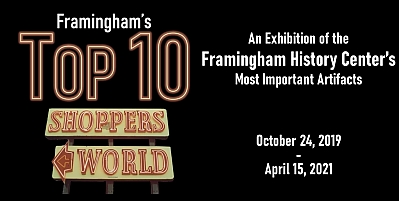 If you are not a member/donor, please join today to attend the opening!

Many thanks to our exhibition sponsors: Avery Dennison, Framingham State University, MetroWest Medical Center, and Murphy, Edwards, Goncalves & Ferrera PC.
September 2019
Milestones: Book Launch
Thursday, September 19, 4:00-6:00 pm, Old Academy Building, 16 Vernon St, Framingham
(Parking on Grove Street at Danforth Art)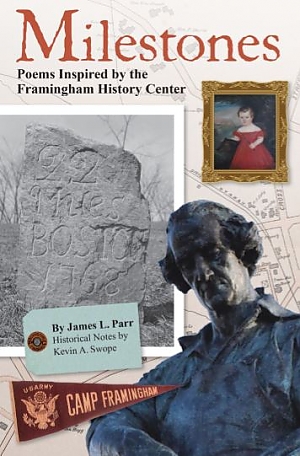 Come hear Framingham teacher and author, James L. Parr, read from his delightful new collection of poems inspired by the Framingham History Center's artifacts. Jim reveals the essence of specially chosen objects with wit and wisdom and they will delight young and old readers alike. This is a perfect way to introduce your children, grandchildren, and others to the fun of history and poetry. Each poem is accompanied by historical notes on topics such as Shoppers World, Sarah Clayes, Harmony Grove and more.
Join us as Jim reads from this latest collection of his poems. Book signing and refreshments will follow the reading. Books are priced at $16.95. For more information, call 508-626-9091 or email laura@framinghamhistory.org .
In a Good Cause: Framingham and the Fight for Women's Suffrage
September 8, 2pm, Village Hall on the Common, 2 Oak Street, Framingham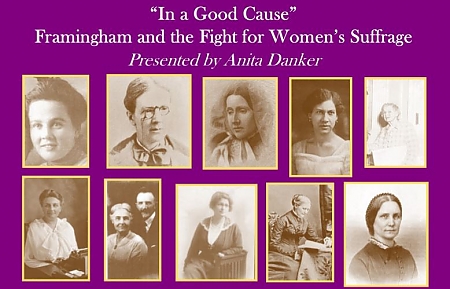 When Framingham resident Louise Mayo was arrested in 1917 for picketing the White House in support of the 19th Amendment, her daughter told the Boston Post, "Of course we feel terribly to have mother arrested. It seems like a disgrace, doesn't it? But we don't mind for it's in a good cause." Two years later, local store owner Josephine Collins went to jail for refusing to disperse while participating in a demonstration on Boston Common. While the two may be Framingham's most widely recognized suffragists, they were far from the only members of the community who protested, picketed, organized, and provided financial support in the fight to secure the vote for women.
Framingham History Center (FHC) member and volunteer Anita Danker, Ed.D. Lecturer in Education at Framingham State University, will highlight the contributions of these women, as well as others, and showcase various locations throughout Framingham where events of consequence were held to advance the "good cause."
Tickets are $5/FHC member and $10/non-member. Purchase tickets at framinghamhistory.org or mail checks to FHC P.O. Box 2032, Framingham, MA 01703. Questions? Call 508-626-9091.
July 2019

Framingham History Center Summer Events
Various dates in July and August 2019, Framingham Centre Common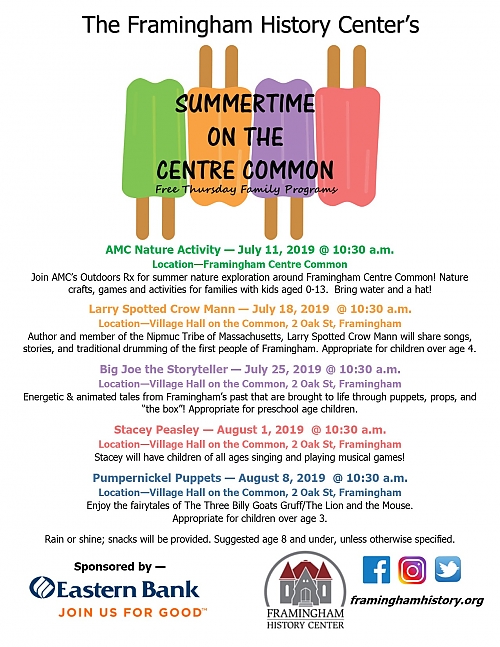 June 2019
Gun Violence Prevention Forum
Monday, June 24, 7-8:30pm, Christa McAuliffe Branch Library, 746 Water Street
Ham Radio Field Day
Saturday, June 22, 2-6pm, Christa McAuliffe Branch Library, 746 Water Street
The Framingham Amateur Radio Association (FARA) will hold their annual Ham Radio Field Day event on the grounds of the McAuliffe Branch Library at 746 Water Street in Framingham. Everyone is invited to watch as radio stations all over the U.S. are contacted and information is exchanged. The purpose of Field Day is to allow practice in emergency communications, using only batteries for power, with temporary antennas, so that local licensed radio operators are prepared for any emergency where they may be needed.
We hold monthly meetings at the Framingham Police Station training room (except July and August). We also offer testing for FCC-issued amateur radio licenses. See our website at www.w1fy.org. For more information, call Sumner Weisman at 508-277-6144 (mobile).

Framingham High School Amnesty International Postcard Writing Event
Saturday, June 15, 11:15am-1:45pm, Framingham Public Library, Children's Program Room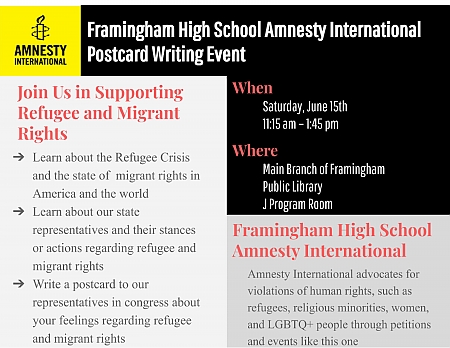 Screening of NOVA: Addiction and Panel Discussion
Wednesday, June 19, Doors open 6:15pm, Framingham Public Library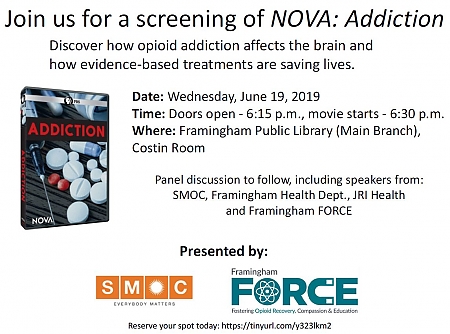 May 2019
Stand for Children: Fair Funding Info Session
Wednesday, May 29, 6:30-7:30pm, Christa McAuliffe Branch Library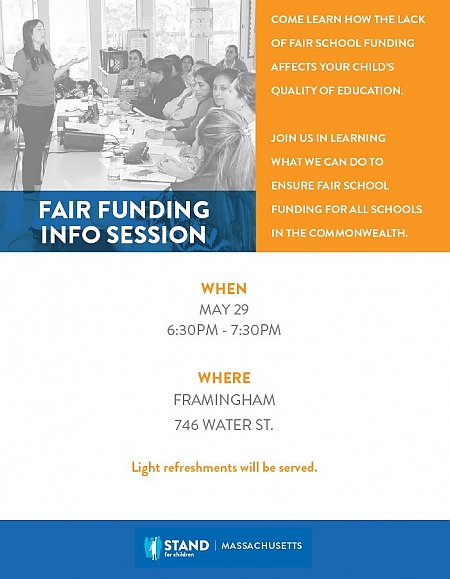 The Medical Reserve Corps Presents Fatal Contact: Bird Flu in America
Thursday, May 2, 2019, Registration 5:30-6:30, Movie begins at 6:30pm
Framingham Public Library, Costin Room

Polish Genealogical Society of Massachusetts presents: Cadastral Surveys and Maps of Galicia: Visiting Ancestral Towns and Meeting the Neighbors
Sunday, May 19, 2019, 2-4pm, Framingham Public Library

17th Framingham House Tour
Sunday May 19, 2019, 12-5pm
Join us for this rare opportunity to visit six beautiful homes throughout Framingham and enjoy delicious treats at our surprise refreshment stop. We'll be featuring three antique homes built by Hemenways, Wheelers and Belknaps, a remodeled homestead, a former gentleman's farm and family estate, and a contemporary farmhouse. Come for the remarkable history, the chance to inspire your own decorating, or the fun of seeing old friends along the tour.
Early Bird Tickets: $30 ($25 for FHC Members)
Purchase tickets at framinghamhistory.org or mail checks made out to: FHC PO Box 2032, Framingham, MA 01703.
This tour is the FHC's (a 501c3 non-profit) largest fundraiser and all proceeds benefit our operations in support of our mission.
For more information, visit https://framinghamhistory.org/house-tours/.
April 2019
Personal Essays that Get Published
Saturday, April 27, 9am-12pm, Framingham Public Library
Join your fellow local writers for a collegial and useful half-day retreat to work on personal essays you'd like to get published. Bring your own essays under 800 words and copies or create some of your own during the "get-to-the-heart-of-the-story" writing sessions. Topics covered include: Mining Your Life for Stories; Finding the Universal Truth; Pitching to Editors; Developing a Healthy Relationship with Rejection.
Bring a beverage, notebook and pens. We will take two short breaks.
Pre-registration required. Seats limited to 20. Please sign up by emailing Giulietta at giuliettan@gmail.com or calling 508-380-8799. Photos will be taken for grant and future grant requirements.
This grant-funded writing workshop will be led by local writer Giulietta "Julie" Nardone. Her essays have been published in Psychology Today, Spirituality & Health Magazine, Boston Globe Magazine, Chicken Soup for The Soul, Christian Science Monitor and broadcast on NPR.
City Trees Open House
Tuesday, April 2, 6-8pm, Framingham Public Library
The City of Framingham in 2018 conducted a complete inventory of street and setback trees in South Framingham. The project collected data on over 3,500 trees and identified benefits, costs, and management recommendations. Come learn about your City's trees and how they pay us back!
Light food provided. For more info: Email sns@framinghamma.gov or call 508-532-5455 or visit www.framinghamma.gov/urbanforestry.
ALDA Boston Presents: What If My Hearing Aid or CI Breaks?
And ALDA Boston's Annual Meeting and Election of Officers
Saturday, April 6, 2019, 2-4pm Christa McAuliffe Branch Library
Presented by Jessica Randazzo, Audiologist at MEEI, Concord
March 2019
Framingham and the Flu: 1918 Pandemic
Saturday, March 23, 2019, 2:00pm
Edgell Memorial Library, 3 Oak St., Framingham
Presented by Kathy Hursen & Dr. Al DeMaria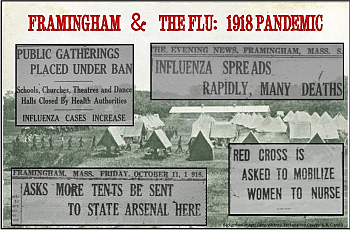 How did Framingham manage to avoid the catastrophic death rates from the 1918 Spanish influenza pandemic? Join us as two public health experts review the measures put in place by the Framingham Health and Tuberculosis Demonstration Project (1916-1923) and how these drastically reduced the incidence of death from the flu locally. Kathy Hursen, former Framingham Public Health Nurse, and Dr. Alfred DeMaria Jr., retired Medical Director and State Epidemiologist at the Mass. Bureau of Infectious Disease, will present Framingham's public health legacy during WWI and during a pandemic that took 50 million lives worldwide. Dr. DeMaria will speak to the large scale pandemic and Kathy will bring the discussion home to Framingham with the demonstration project, the impact of the flu, troops stationed at the Musterfield, and the eventual creation of the Framingham Heart Study.
Tickets are $5/FHC member and $10/non-member. Purchase tickets at framinghamhistory.org or mail checks to FHC P.O. Box 2032, Framingham, MA 01703. Questions? Call 508-626-9091.
January 2019
SEB Housing LLC – Alta Union House – Affordable Housing Lottery
Info Session
January 30th, 2019, 6pm
Framingham Public Library, Costin Room, 49 Lexington Street
(Lottery Night: April 1st, 2019, 6pm, same location as info session)
Contact:
Paulina Morales
SEB Housing
257 Hillside Ave
Needham, MA 02494

(P): 617-782-2300 ext 208
(F): 617-782-4500
www.s-e-b.com
Framingham's WWI Military Girls Club
Sunday, January 27, 2019, 2:00pm
Edgell Memorial Library, 3 Oak St., Framingham
Presented by Kathy Barbieri Tomasetti
On the home front during WWI, women and girls of Framingham gathered weekly to support our soldiers "over there." Formed in 1917, the Military Girls Club lifted the spirits of many young men with "comfort boxes" of sweets and necessities and regular correspondence.
Founding member and Treasurer Kathryn (Cassie) Harrington Jordan compiled a beautifully detailed Military Girls scrapbook from 1916-1919 with newspaper clippings detailing the club's fundraising dances at Lake Waushakum, "arrived safely" postcards, letters, photographs and even patriotic Dennison stickers. Cassie's granddaughter Kathryn (Kathy) Barbieri Tomasetti, reproduced this scrapbook for the Framingham History Center's An American Town in WWI exhibit and will share more with us about this invaluable snapshot of Framingham during wartime and the indomitable spirit of the women who were left behind.
Tickets are $5/FHC member and $10/non-member. Purchase tickets at framinghamhistory.org or mail checks to FHC P.O. Box 2032, Framingham, MA 01703. Questions? Call 508-626-9091.

Tu B'Shvat: Celebrate Jewish Earth Day
Sunday, January 13, 1:30-3pm
Christa McAuliffe Branch Library
December 2018

Caroling on the Common
Saturday, December 8th, 1:00 – 3:00 PM
Inside the Edgell Memorial Library, 3 Oak St, Framingham
For more information, visit the Framingham History Center blog.
November 2018
Social Media 101: A Presentation
Wednesday, November 7, 6-8pm, Christa McAuliffe Branch Library
October 2018
Sunset Cemetery Tour
Sunday, October 28th, Edgell Grove Cemetery
Moon Landing in Context Series
September 2018-October 2019, The McAuliffe Center for Integrated Science Learning, Framingham State University
This project aims to contextualize the Moon Landing within the historical, social, and cultural framework of the Sixties, specifically the period from 1962, President Kennedy's speech at Rice University, to 1972, the year of the last Apollo Mission.
The project is directed by Dr. Irene Porro of the McAuliffe Center for Integrated Science Learning and benefits from the scholarly contribution of Framingham State University faculty, Smithsonian Institution experts, and scholars from other academic institutions to engage Framingham State students and Massachusetts communities.
For further information, download the Schedule of Events, and visit the Moon Landing in Context website.
September 2018

Fuller Middle School Presentations
Saturday, September 29, 10-11am, Framingham Public Library
Saturday, October 6, 10-11am, Christa McAuliffe Branch Library

Ambulance 255 Comes to Framingham
Sunday, September 23, 2018, 2pm, Edgell Memorial Library, 3 Oak St., Framingham
In 1916, Gordon Ware of Framingham volunteered as a WWI ambulance driver in the American Field Service six months before Congress declared war. Ware was stationed in the Balkans, also known as the "Forgotten Front," and documented his experiences in an unfinished memoir - What Did You Do in the Great War Father? Just as the memoir brings to light the life of an ambulance driver, so does the restored 1916 Model T Ford Ambulance 255.
This WWI ambulance serves as a tangible reminder of the 2,500 American volunteers who drove these vehicles, including E.E. Cummings and Ernest Hemingway. George King of N. Franklin, CT and Jeff Klinger of Sudbury restored and maintain "255" and have taken it to Europe and the Eastern U.S. as they present a history of American Ambulance Field Service. They participated in President Obama's inaugural parade, ceremonies at Arlington National Cemetery, and many presentations to students, historical societies, and veteran's organizations.
Tickets are $5/FHC members and $10/non-members. Purchase tickets at framinghamhistory.org or mail checks to FHC P.O. Box 2032, Framingham, MA 01703. Tickets may be purchased on the day of event if we haven't sold out.
For more information call 508-626-9091 or visit the Framingham History Center blog.
Boston Hill Advisors Presents "What Will Your Retirement Look Like?"
Wednesday, September 12th, 1pm, Christa McAuliffe Branch Library

Native Woody Plant Materials (course)
Tuesday, August 28, 10am-2:30pm; Tuesday, September 4, 11am-1pm; Tuesday, September 11, 2018, 10am-2:30pm, Garden in the Woods, Framingham

Explore the huge variety of native trees, shrubs, and woody vines. Learn which species grow well in shade, which support local wildlife, and how to stagger plantings for continuous bloom, fruit production, and fall color. We'll discuss growth characteristics, cultural requirements, and best horticultural uses. The course will include lectures and walks in the Garden as well as a field trip to The Arnold Arboretum. Bring a bag lunch.

Location: Garden in the Woods, Framingham, MA, and the Arnold Arboretum, Boston, MA
Program Code: HOR1100
Instructor: Dan Jaffe
Fee: $170 (Member) / $200 (Nonmember)
Limit: 24
Certificate: Core: HD; Elective: Adv.HD
CEU: NOFA AOLCP: 11; MNLA MCH: 1; MALP MCLP: 3; MAA MCA: 1
Cosponsor: Ecological Landscape Alliance and The Arnold Arboretum of Harvard University