Ongoing Programs and Activities
Unscheduled ongoing educational and recreational programs and activities you can enjoy whenever you want.
Learn to Play the Guitar
Have you ever wanted to learn to play the guitar? It's time to check-off your bucket list! We have partnered with Centre Music House to offer beginner guitar lessons. All you have to do is grab a guitar and join us on the library's YouTube channel where you can view the lessons and follow along, 24 hours a day, 7 days a week. To help you along your musical journey, we have posted the accompanying lesson plans with links to the Q & A's. So what are you waiting for?
Links to lessons and Q&A sessions
And for inspiration, check out these CDs and movies...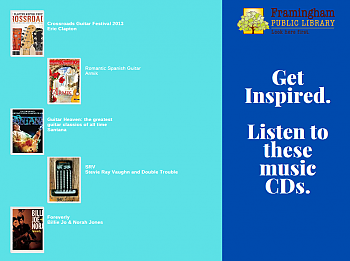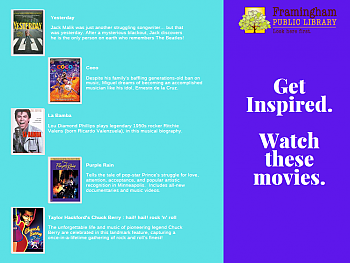 Adult Coloring
April 2021
April showers bring May flowers. Cozy up to a hot cup of tea and a coloring sheet.
https://www.redtedart.com/free-coloring-pages-for-adults-25-gorgeous-sets-to-choose-from/
January 2021
Happy New Year! Coloring is a wonderful way to relieve stress. Grab a beverage of your choice, download a coloring sheet and give it a try.
https://coloringhome.com/coloring-page/1697847?album=winter-coloring-pages-for-adults
October 2020
Fall is here! Grab a blanket, a hot cup of tea and color outside with your favorite music.
​https://everfreecoloring.com/summeradults/6691
September 2020
https://coloringhome.com/adult-coloring-page
https://www.justcolor.net/nature/
Puzzle Swap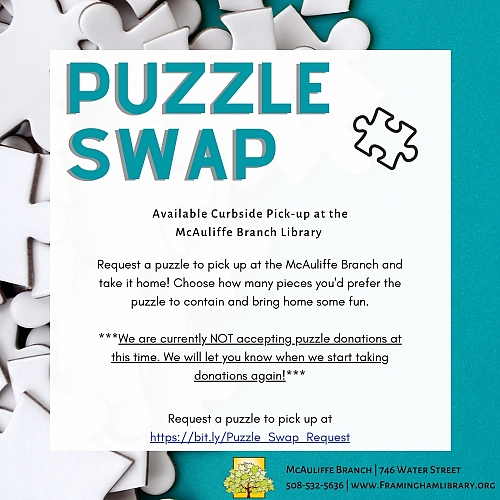 Available at the McAuliffe Branch Library
M-T-W-TH 9:30am-9pm, F-SAT 9:30am-5pm
Request a puzzle to pick up at the McAuliffe Branch and take it home! Choose how many pieces you'd prefer the puzzle to contain and bring home some fun.
Beginning in September, this program will resume as our regular in-person, once a month, Community Puzzle Swap.
***We are currently NOT accepting puzzle donations at this time. We will let you know when we start taking donations again!***
Click here to request a puzzle.