Teen Summer Reading Program 2020: Imagine Your Story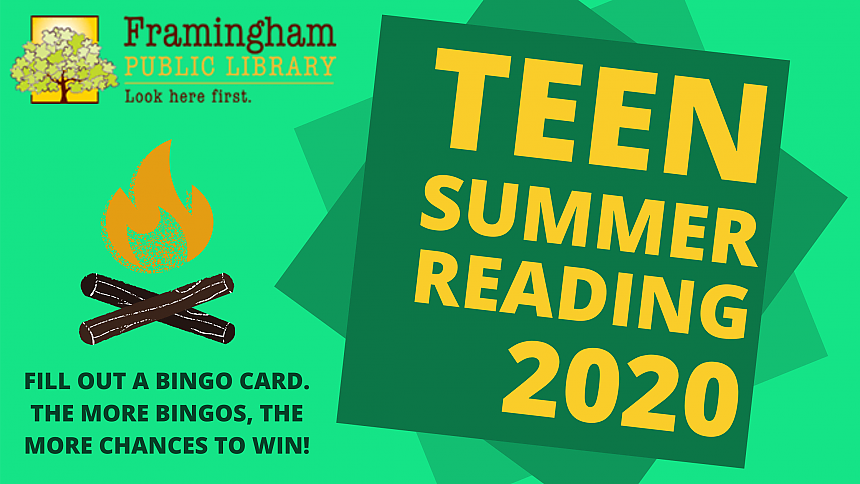 There's no question about it, our usual summer is very different this year. Sign-ups have moved online, and all of our programs will be either Take & Make or virtual, but we'll still have lots to keep you occupied all summer long. Keep reading for more info!
To Sign Up for Programs
Registration is required for all of our July and August programs. To find the registration pages, click the button below to access our Teen Event Calendar. We'll be doing several Take & Make crafts (Activism Rocks, Miniature Breakfast Sculpture, Terrariums, & Pokémon Planters), a Take & Make Spark Lab Program (Stop Motion Animation), and monthly virtual anime clubs and video game hangouts.

As for our Summer Reading program, sign-ups have also moved online this year. To register, just click the button below and fill out the form. If you are unable to register this way for whatever reason, please call the library at 508-532-5570 to sign up over the phone.

Once you sign up, you'll be directed back to this page so you can get your two bingo card with activities that will earn you the raffle tickets to win prizes at the end of the summer! You can return them to the library by bringing them to the Main or McAuliffe Branch Libraries during their book return hours, or by taking a photo (or just filling out electronically by writing in your info with the marker on your phone) and sending it to fplyoungadult@gmail.com. Make sure that whatever way you fill it out, that you fill it out completely, and that it's readable. We want you to be able to actually get the prize if you win!
Here are the Bingo Cards. You can get a total of 24 entries into our raffle if you fill out both of them completely. And remember, when it comes to the "Read a book" items, manga and graphic novels count too! We just want you reading as much as possible.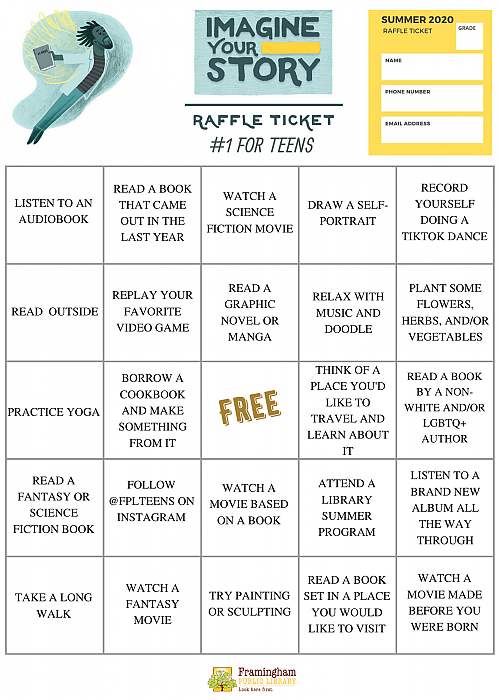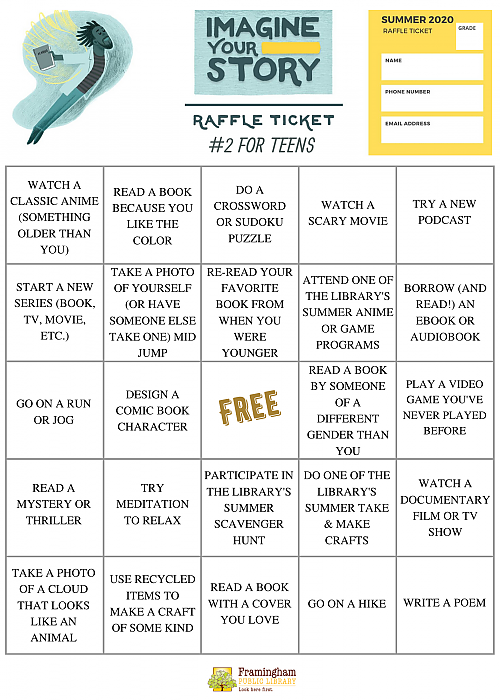 To Get Your Summer Reading Lists
Every school in Framingham has their own lists (and many are doing things a bit differently this year), but we've got your back! Here are links to each school's Summer Reading instructions.
Framingham Public Schools (Cameron, Fuller, and Walsh Middle Schools, and Framingham High School)
Keefe Regional Technical School
Christa McAuliffe Charter School