Adventures in Lifelong Learning: John L. Heineman Intersession 2023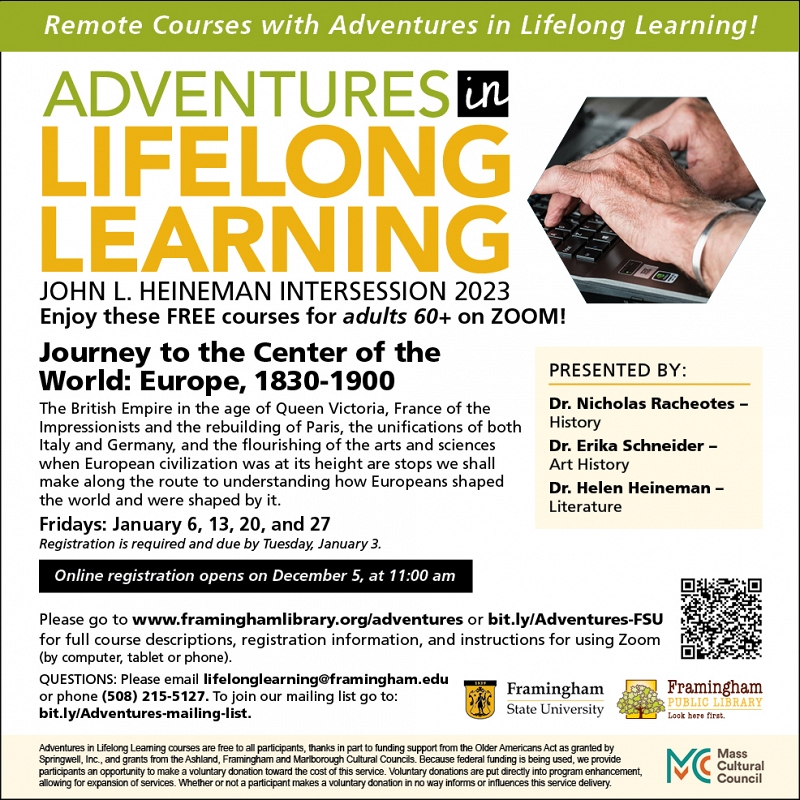 Enjoy these FREE courses for adults 60+ on ZOOM!
Journey to the Center of the World: Europe, 1830-1900
The British Empire in the age of Queen Victoria, France of the Impressionists and the rebuilding of Paris, the unifications of both Italy and Germany, and the flourishing of the arts and sciences when European civilization was at its height are stops we shall make along the route to understanding how Europeans shaped the world and were shaped by it.
Fridays: January 6, 13, 20, and 27
Registration is required and due by Tuesday, January 3. Online registration opens on December 5 at 11:00 AM.
Presented by:
Dr. Nicholas Racheotes – History
Dr. Erika Schneider – Art History
Dr. Helen Heineman – Literature
Please go to www.framinghamlibrary.org/adventures or bit.ly/Adventures-FSU for full course descriptions, registration information, and instructions for using Zoom (by computer, tablet or phone).
Questions: Please email lifelonglearning@framingham.edu or phone (508) 215-5127. To join our mailing list go to: bit.ly/Adventures-mailing-list.
Adventures in Lifelong Learning courses are free to all participants, thanks in part to funding support from the Older Americans Act as granted by Springwell, Inc., and grants from the Ashland, Framingham and Marlborough Cultural Councils. Because federal funding is being used, we provide participants an opportunity to make a voluntary donation toward the cost of this service. Voluntary donations are put directly into program enhancement, allowing for expansion of services. Whether or not a participant makes a voluntary donation in no way informs or influences this service delivery.