Teens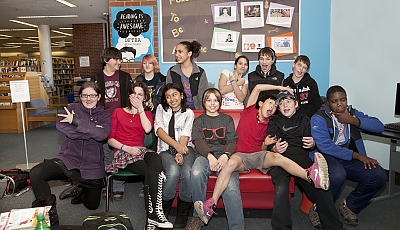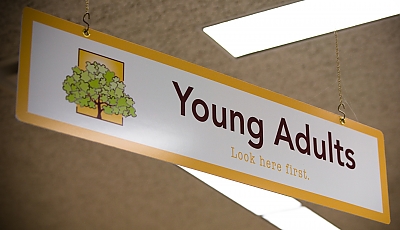 Upcoming Events
Please see our Events Calendar to view upcoming programs for Teens.
Minecraft Server for 4-12th graders is coming soon!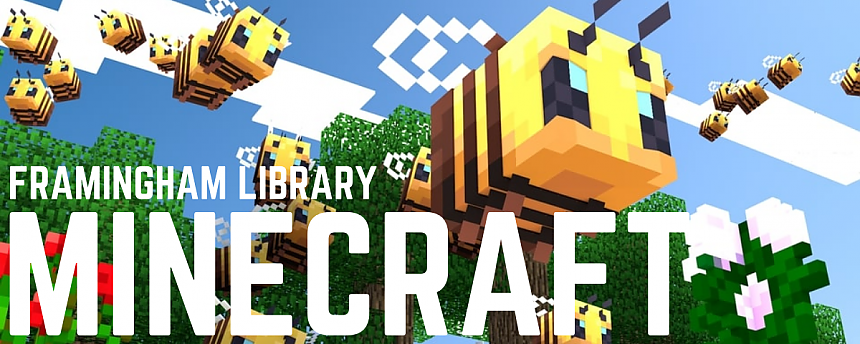 Stay tuned for more info as we get it! The Minecraft server is being set up, and the registration form for access will be available soon. As soon as it's ready, you'll have access to the server 24/7, and you can hang out on it with the Teen Librarian (that's me!) every Tuesday from 2-4 PM during the summer.

"This program is supported in part by a grant from the Framingham Cultural Council, a local agency which is supported by the Mass Cultural Council, a state agency."
CLICK HERE TO SEE ALL OF OUR SUMMER TEEN PROGRAMS!
Registration for Summer Reading at the library starts Wednesday, June 23rd, and will look a little more like normal this year! To sign up, fill out the registration form online, or come into the library and put your name/grade/email into our Summer Reading binder. Once you've signed up, grab one of our Summer Reading drawstring backpacks as our gift to you. Then, for every book you read, fill out a reading slip and drop it off either the Main Library or the McAulffe Branch, and you'll be entered into our end of summer prize raffle for one of 10 gift cards to any local business in the area. It's that easy!

¡La inscripción para la lectura de verano en la biblioteca comienza el miércoles 23 de junio y se verá un poco más normal este año! Para inscribirse, complete el formulario de inscripción en línea o vaya a la biblioteca y ponga su nombre / grado / correo electrónico en nuestra carpeta de lectura de verano. Una vez que se haya registrado, tome una de nuestras mochilas de lectura de verano como regalo para usted. Luego, por cada libro que lea, llene la forma y déjela en la biblioteca principal o en la sucursal de McAuliffe, y participará en nuestra rifa de premios de fin de verano por una de las 10 tarjetas de regalo para cualquier negocio local en la zona. ¡Es fácil!
As inscrições para o Programa de Leitura de Verão na biblioteca começam na quarta-feira, dia 23 de junho. O processo será um pouco mais normal este ano! Para se registrar, preencha o formulário online ou visite a biblioteca para adicionar seu nome/série/email ao nosso fichário de Leitura de Verão. Depois de se inscrever, pegue uma das nossas mochilas de Leitura de Verão como nosso presente para você. Para cada livro que você ler, preencha um bilhete em uma das bibliotecas públicas de Framingham (Biblioteca Principal ou McAuliffe Branch), e você entrará em nosso sorteio de final de verão para concorrer a 1 de 10 gift-cards válidos em qualquer negócio local na área. É bem fácil!
CLICK HERE TO SEE ALL OF OUR SUMMER TEEN PROGRAMS!

Do you miss looking through the new books, manga, and more at the library? Well now you can do so from the comfort of your homes! Check out our new Virtual Browsing page by clicking here (or on the screenshot above), and explore it for yourself.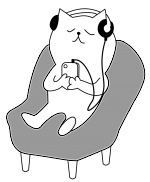 I dunno about all of you, but I know that my lockdown hasn't been all sunshine and roses. It's tough being stuck at home. I recently got to go into the library briefly for the first time in two months, and I couldn't believe how much I missed it! And I know I'm relatively lucky in the grand scheme of things. Many people, and most likely many of you, are having a very rough time right now.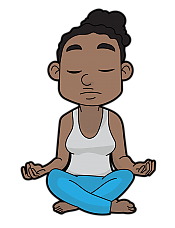 So what can I do from home to help? I've been struggling with this ever since it became clear that none of us were going to go back to the way things were before for a long time, if ever. To start, I'm going to start compiling lots of things to recommend to you all. These could be as simple as the latest and best books I've read (The Scorpio Races by Maggie Stiefvater), TV shows I've watched (The Midnight Gospel on Netflix for you older teens), and podcasts I've listened to (Super Scary Haunted Homeschool), to self care resources to help you make it through these tough times as whole as possible. Check it out by clicking here!

If any of you want personalized book/podcast/self care recommendations to suit your particular circumstances, please email me at jgarrigan@minlib.net. I'll keep whatever you send me completely confidential, and I'll do my best to point you in the right direction.
VIZ Manga's Shonen Jump chapters are now free!
Would you like to read new chapters of My Hero Academia, RWBY, Black Clover, The Promised Neverland, One Piece, and 12 more series for free, the same day they're released in Japan (legally)? Now you can! Shonen Jump will be posting English translations of the three most recent chapters of their currently running series on their new website and app. Just visit the website posted below to see what's available.

https://www.viz.com/shonenjump
AniManga Club and Video Game Hangout are now monthly programs!
Our popular AniManga Club and Video Game Hangout programs are now happening every month! They'll usually take place on a Saturday, or a half/no school day during the week, but keep an eye out on our website event page, and/or our montly teen program bookmarks (found in the teen area, or on one of our school visits) for more information.

These programs, like all of our teen programs, are for those in grades 6-12.

Video Games are Here!
We have recently added several games for the Nintendo Switch, PS4, Wii U and XBox One to the Young Adult collection! Games may be borrowed for free for one week. We would like to expand our gaming collection, so please consider donating games you don't play any more to the library.

Forgotten Our Stuff?
We have manga, anime, fiction, paperbacks, an online list of new books, databases, Internet access, wireless, audiobooks, videos, and all kinds of nonfiction and reference materials. If you're looking for something fun to do or read, or if you just need to study, we're the place - we've got it all!

Looking for a Good Book?
Check out our Teen Reading page with lists of great books created by librarians and fellow teens.

New Arrivals in Teens
See what's new, or sign up for a weekly update on the new material we order!

eBooks for Teens
Visit the Digital Collection for Teens here.