Teens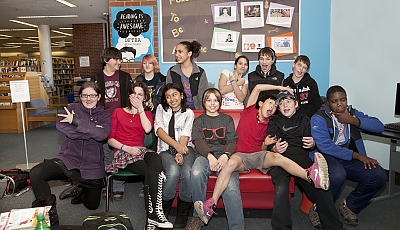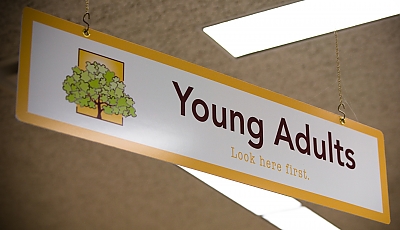 Upcoming Events
Please see our Events Calendar to view upcoming programs for Teens.
April Vacation Programs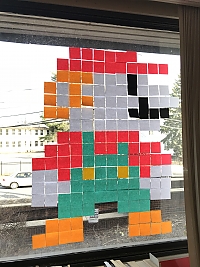 There's lots of stuff coming up for middle/high-schoolers in the next two week, mainly during April Vacation Week.

Sticky Note Pixel Art
First up, all this week (April 9th-13th) we're celebrating National Library Week by making art! Teens will find patterns, sticky notes, and instructions in the Teen Areas of both the Main and McAuliffe Libraries; everything they need to create their own window pixel art masterpieces! An example of an already created piece at the Main Library is to the right.

Movie Showdown: Jumanji vs. Pitch Perfect 3
Next up, we'll be having a couple movie showdowns on Tuesday, April 17th at 3 PM (Main Library), and Thursday, April 26th (a half day at school) at 1:30 PM (McAuliffe Library). Everyone in attendance will vote on either Jumanji: Welcome to the Jungle or Pitch Perfect 3, both recently released on DVD. Snacks will be available for everyone watching.

AniManga Club
Two AniManga Club meetings in April! That's right, two meetings! Because it's April Vacation, we're doing it up in style. The first will be Wednesday, April 18th from 1:30-3:30 PM (McAuliffe Library). This one's for everyone who can't make the usual Saturday meetings. Then, we'll have our Main Library club meeting on Saturday, April 21st from 2:30-4:30 PM. If the second meeting is popular, we may just have to do this more often...

Last, but not least

Video Game Hangout
Our next Video Game Hangout will be Thursday, April 19th, from 2:30-5:00 PM. Join the fun with some Smash Bros., Mario Kart, Mortal Kombat, and whatever else we decide to play.

AniManga Club and Video Game Hangout are now monthly programs!
Our popular AniManga Club and Video Game Hangout programs are now happening every month! They'll usually take place on a Saturday, or a half/no school day during the week, but keep an eye out on our website event page, and/or our montly teen program bookmarks (found in the teen area, or on one of our school visits) for more information.

These programs, like all of our teen programs, are for those in grades 6-12.
Video Games are Here!
We have recently added several games for the Nintendo Switch, PS4, Wii U and XBox One to the Young Adult collection! Games may be borrowed for free for one week. We would like to expand our gaming collection, so please consider donating games you don't play any more to the library.
Forgotten Our Stuff?
We have manga, anime, fiction, paperbacks, an online list of new books, databases, Internet access, wireless, audiobooks, videos, and all kinds of nonfiction and reference materials. If you're looking for something fun to do or read, or if you just need to study, we're the place - we've got it all!
Looking for a Good Book?
Check out our Teen Reading page with lists of great books created by librarians and fellow teens.
New Arrivals in Teens
See what's new, or sign up for a weekly update on the new material we order!
eBooks for Teens
Visit the Digital Collection for Teens here.