Literacy Unlimited is closed until further notice due to the Coronavirus. We will be updating this page, so check here frequently for new content.
We do follow the rule of "social distancing", but we do not want to have distance with you. We still have some conversation classes via video or email. We also have video meetings for tutors. If you are interested in joining the classes or meetings, please let us know by email fplmail4@minlib.net.
Conversation Classes
Beginner Mondays 1:00 – 2:30PM New
Low Int to Adv Fridays 1:00 – 2:30 PM Pronunciation – but fun! New
High Beg/Int Thursdays 1:00 – 2:30PM
Intermediate Tuesdays 1:00 – 2:30PM
Wednesdays 10:00 – 11:30AM
Advanced Wednesdays 7:00 – 8:30PM
Tutor Meetings
Tutor Technology Meeting
Tuesday July 14, 2020 2:00PM
Virtual Office Hours for Tutors
Thursdays July 16, 2020 7:00PM
"Newsy" the Tutor Newsletter
Answers to Last Week's Survey
Responses to the survey from April 24, 2020 – only 8 responses (but some good ideas!)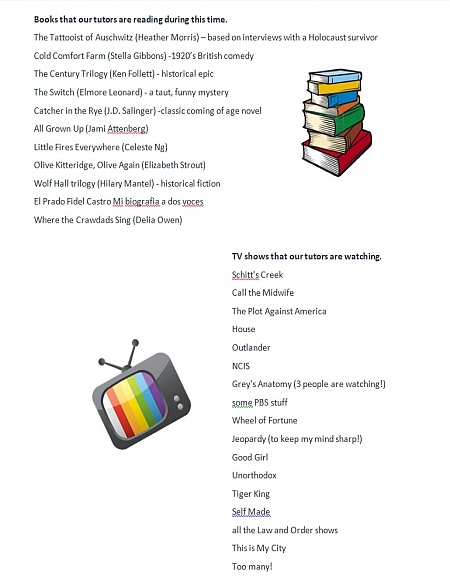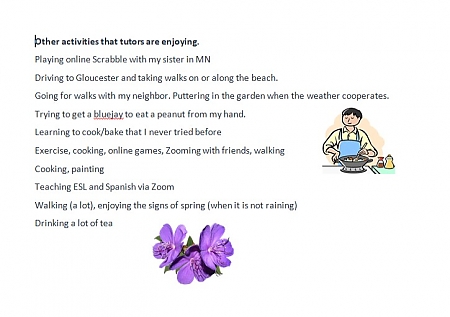 April 17, 2020 survey: 20 beautiful place - Which ones have visited? Answers are here.
April 9, 2020 survey: What are you doing to stay busy during this time? 14 responses are here!