Know Your Rights
Know Your Rights: Immigration Issues and Workshop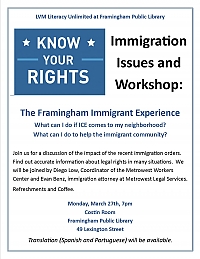 The Framingham Immigrant Experience:
What can I do if ICE comes to my neighborhood?
What can I do to help the immigrant community?

At the workshop, we had an interesting discussion of the impact of the recent immigration orders with Diego Low, Coordinator of the Metrowest Workers Center and Evan Benz, immigration attorney at Metrowest Legal Services. Everyone agreed that it is important for EVERYONE to understand the current immigration issues.
We watched a video from a Los Angeles organization called "Chirla" - the link is at the bottom of this page as well as a link to ACLU webvideo.
We gathered material in a number of languages (Spanish, Portuguese, Russian, Chinese, French, and Arabic as well as English). They are on display in the Literacy Center in Framingham - stop by to pick up some information.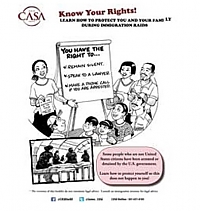 The links to the information are listed here also.
Russian: http://www.lawhelpny.org/files/B23B29BF-0DED-F7B9-2149-1DB14E1A7DE5/attachments/62445BE5-D9AD-7F10-93EC-CA72ED7FC509/2189412Families%20Beware!-Russian%20No3.pdf
You can also print a wallet card from this information: http://wearecasa.org/wp-content/uploads/2017/02/KYR-CARD.pdf
OFFICIAL CHIRLA Know Your Rights Video
Know Your Rights When Asked About Immigration Status