Movies & TV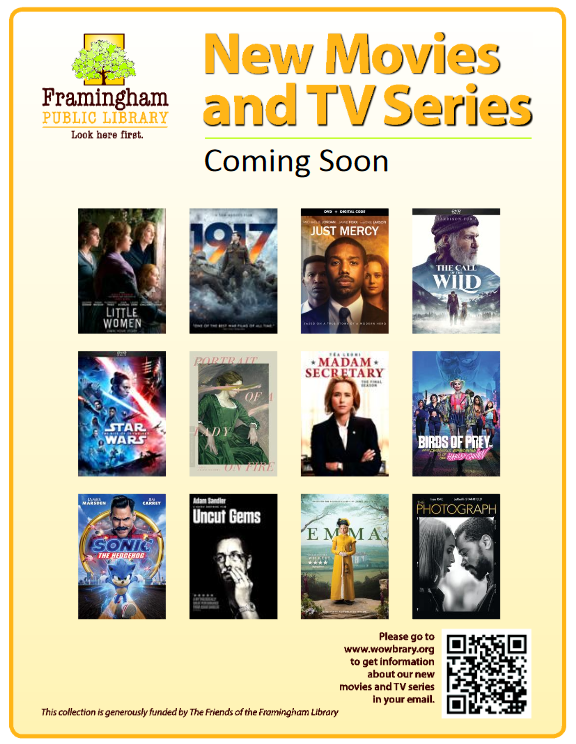 Note: During the pandemic, there is no charge for DVDs.
DVDs can now be requested for curbside pickup!
You can now request feature film DVDs and Blu-Rays and TV series for curbside pickup for free! To place your requests please go to the Minuteman online catalog and search for the DVD of your choice.
Or sign up for Wowbrary, our weekly email about the latest additions to our collection with links to the catalog to request them.
This collection is generously funded by the Friends of Framingham Public Library

Please check our catalog for movie availability.

Borrowing DVDs
DVDs

Price

Loan

Nonfiction DVDs

(no charge)

3 weeks

New Rental DVDs

$1

1 week

New Rental TV Series

$1

3 weeks

Speedview DVDs

$1

3 days

Older Rental DVDs-
Adult

$0.50

1 week

Older Rental DVDs-
Children's

$0.50

1 week

Movie Reviews and Resources
Online Films & TV Series
We have videos available for streaming and downloading through Hoopla, Kanopy, and Overdrive. These downloads are free with your library card. Please see our Digital page for more details, or visit us to learn more.

Foreign Films
We have many foreign language DVDs in our collection: Russian, Portuguese, Hebrew, Chinese, Spanish and more.