Homework Center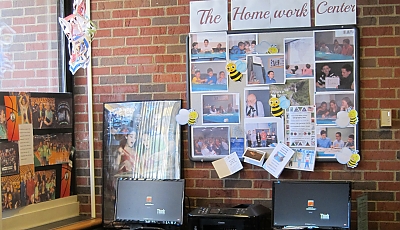 The Homework Center offers free tutoring and homework help for students K-12. We have over four dozen tutors, proficient in all subjects taught in the Framingham schools.
We will be opening on Monday September 9 for the 2019-2020 academic year. We are kicking off our 8th year at the Main Library with new and fun programming!
For information please contact Judy Gatlin at jgatlin@minlib.net.
Upcoming Events
The Homework Center will open on Monday, September 9!
More About the Homework Center
Homework Center Turns Eight
The Homework Center Program is excited to kick-off our 8th year on Monday September 9! The Homework Center at the Main Library will continue to provide free homework and school project help Monday-Thursday 2:30-5:30pm. Volunteer tutors are retired professionals, parents and National Honor Society students who are proficient in all academic subjects. Students are encouraged to make appointments in advance. The Homework Center also functions as a drop in center. Stop in any time for help!
Tutors are also available evenings and weekends by appointment only. The Homework Center offers computers, a color printer and a variety of school and craft supplies for projects. There are after school snacks, too—everything your student needs to succeed!

The Homework Center is run with the help of a student advisory board made up of middle and high school representatives. The student advisory board meets on a monthly basis to plan and run academic enrichment programming for the community such as spelling and geography bees, essay contests, fundraising fashion shows, holiday handcrafting workshops, after hours scavenger hunts, Robotics Day, Coding Club and leadership groups.

To make an appointment for tutoring, to apply to be a tutor, or for more information on the student advisory board please contact Judy Gatlin at jgatlin@minlib.net.
Sneak Peak: Academic year 2019-2020
The Homework Center Student Advisory Board plans fun academic programs throughout the school year. Watch for the library newsletter and save the dates for: The Coding Club, Annual Robotics Day, Annual March Madness: Logic Competition, Annual Essay Contest, Fundraising Fashion Show and Spelling Bee.

Questions? For information about serving on the board or to schedule tutoring for this coming fall, contact Homework Center Coordinator, Judy Gatlin, jgatlin@minlib.net.