Homework Center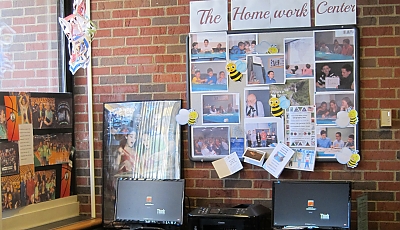 The Homework Center offers free tutoring and homework help for students K-12. We have over four dozen tutors, proficient in all subjects taught in the Framingham schools.
We will be opening on Monday September 9 for the 2019-2020 academic year. We are kicking off our 8th year at the Main Library with new and fun programming!
For information please contact Judy Gatlin at jgatlin@minlib.net.
News and Upcoming Events
Homework Center Remote Tutoring
We are currently tutoring a number of students remotely with the Zoom app. If this is something that would interest your K-12 student, please contact jgatlin@minlib.net. We will be happy to work with your student!
Kicking off a Naming Contest!
The Homework Center does so much more than homework! With over 50 tutors proficient in all subjects taught in the Framingham Public Schools, we provide:
Free tutoring, school project help - guided research and crafting assistance in the creation of projects
SAT, ACT, subject test tutoring, college essay writing and mentoring for the college search process.
Student Advisory Board membership - which includes opportunities for community service, leadership training and event planning.
Annual academic enrichment programming - Environmental Awareness Fair, Essay Contest, Robotics Day, March Math Madness, Fashion Show, Spelling and Geography bee. Academic enrichment classes -Just Another Mandarin Monday, The Road to Code, Annual Kids Ham Radio Day, Rock Talk, an experiential class teaching the geology of Framingham and more!
Help us choose a new name for this library program that encompasses all we do!
Start sending your ideas now to jgatlin@minlib.net. Submissions due by June 1st.

Homework Center Essay Authors' Reception
Monday, February 24, 7-9pm, Main Library, Costin Room

We invite the community to join us in celebrating the work and vision of our 2020 Essay Contest middle and high school participants!
Mayor Spicer will announce the winners and present the $100.00 cash prizes. The winning authors will read their essays.
Students, families, friends, school staff, elected officials and the press are invited to attend. All essays will be on display.
March Math Madness: Middle School Math Competition (POSTPONED UNTIL MAY, DETAILS TO FOLLOW)
Tuesday, March 24, 7:00 pm - 9:00 pm, Main Library, Costin Room

Teams of students from Framingham's four middle schools will pit their wit against one another to solve fun, complex, and... tricky math problems!

Each Middle School is invited to send three teams with three students per team. Teams will be made up of students in the same grade or mixed grades.
FHS math teacher Ilana Killgoar will be serving as the judge for March Math Madness!
For more information please contact jgatlin@minlib.net.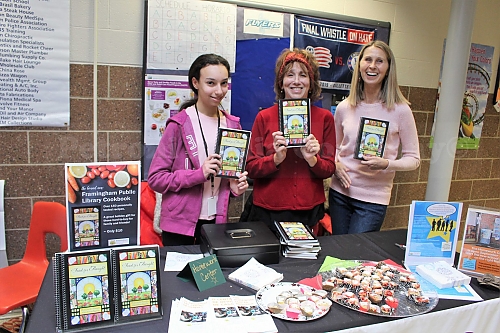 The Homework Center selling The Framingham Public Library Cookbook at the 12th Annual Framingham High Holiday Marketplace, Saturday, December 7.
Photo courtesy of Susan Petroni, Framingham Patch
The Framingham Public Library Cookbook, "Food for Thought," is done to perfection!

Library staff, patrons, families and friends have teamed up to compile their tastiest tried-and-true recipes. "Food for Thought" contains 150 recipes, everything you need to succeed in the kitchen! From appetizers to desserts, each recipe includes the contributor's name.

This priceless selection of scrumptious offerings is available for only $10.00, and can be purchased at the Main Library and the McAuliffe Branch. Proceeds will be used to fund our Library's next community project. "Food for Thought" would be a lovely holiday gift for family and friends. The cookbooks are in limited supply, so purchase yours before we run out.
Environmental Awareness Fair with Guest Speaker State Representative Maria Robinson
Sunday November 24, 1-3pm, Main Library
Our first environmental awareness fair will include:
State Representative Maria Robinson will share her work and vision for clean energy. Join us to learn about what we can do to help our environment!
Environment groups from throughout MetroWest
Refreshments made from locally sourced food
Crafts kids can make from recyclables
Computer games that teach about our environment
Books on environmental awareness for kids, teens and adults
The Seed Lending Library
More About the Homework Center
Homework Center Turns Eight
The Homework Center Program is excited to kick-off our 8th year on Monday September 9! The Homework Center at the Main Library will continue to provide free homework and school project help Monday-Thursday 2:30-5:30pm. Volunteer tutors are retired professionals, parents and National Honor Society students who are proficient in all academic subjects. Students are encouraged to make appointments in advance. The Homework Center also functions as a drop in center. Stop in any time for help!
Tutors are also available evenings and weekends by appointment only. The Homework Center offers computers, a color printer and a variety of school and craft supplies for projects. There are after school snacks, too—everything your student needs to succeed!

The Homework Center is run with the help of a student advisory board made up of middle and high school representatives. The student advisory board meets on a monthly basis to plan and run academic enrichment programming for the community such as spelling and geography bees, essay contests, fundraising fashion shows, holiday handcrafting workshops, after hours scavenger hunts, Robotics Day, Coding Club and leadership groups.

To make an appointment for tutoring, to apply to be a tutor, or for more information on the student advisory board please contact Judy Gatlin at jgatlin@minlib.net.
Sneak Peak: Academic year 2019-2020
The Homework Center Student Advisory Board plans fun academic programs throughout the school year. Watch for the library newsletter and save the dates for: The Coding Club, Annual Robotics Day, Annual March Madness: Logic Competition, Annual Essay Contest, Fundraising Fashion Show and Spelling Bee.

Questions? For information about serving on the board or to schedule tutoring for this coming fall, contact Homework Center Coordinator, Judy Gatlin, jgatlin@minlib.net.