Homework Center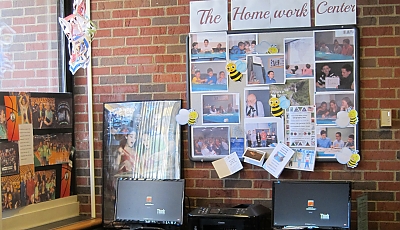 The Homework Center offers free tutoring and homework help for students K-12. We have over four dozen tutors, proficient in all subjects taught in the Framingham schools.
We will be opening on Monday September 9 for the 2019-2020 academic year. We are kicking off our 8th year at the Main Library with new and fun programming!
For information please contact Judy Gatlin at jgatlin@minlib.net.
News and Upcoming Events
In addition to providing summer tutoring sessions by appointment, the Homework Center is facilitating STEM Book Groups for students in grades 3-5. Students will read Framingham Public School recommended books about girls and boys who grew up to have careers in STEM related fields. Groups will meet on a weekly basis to discuss and journal about the characters setting and plot development in their books.

Graphic Novel/Comic Book Class for middle school students.
Sereen Jarrar, Homework Center tutor and Honors student at UMass Amherst, will facilitate this class. Students will read a graphic novel from the FPS recommended reading list and learn how to do a number of fun comic related activities. To sign up contact Jgatlin@minlib.net.
Academic Enrichment Book Groups
We have close to 100 students reading in Academic Enrichment Book Groups. Students read and meet remotely on a weekly basis to discuss and write reviews/critiques on Framingham Public School recommended books.

Please click HERE to see our Book Wish List. Your donations will enable us to offer this opportunity to even more students. Please bring these (gently used) titles to the Library in a bag marked "Homework Center Book Groups."
The following is a review from the Saturday morning book group. It is lead by Dr. Andrew Burton, who is a veterinarian at Tufts Medical Center in Grafton. The students in his group are in the 4th and 5th grade.
Harry Potter and the Sorcerer's Stone by J.K. Rowling welcomes readers into an imaginative and magical new world, that can teach us much about our own "muggle" lives. After finishing the novel, I sat down with our otherworldly group members Brigham, Ilia and Yoann to learn more about their thoughts and interpretation of the book.
"The book is about a boy named Harry who is destined to be a wizard, but there are lots of obstacles in his life," explains Yoann. "Harry, Ron and Hermione become friends and solve a big mystery," added Ilia enthusiastically.
Our group enjoyed discussing some of the major themes of the novel, including friendship, acceptance, and the power of teamwork. "I liked this book because it's about friendship and magic. It teaches us that if you're different, it doesn't mean you're bad or weird," Ilia shared. Brigham reflected that "You always need to work together to get something big achieved, and friendship is a big part of that. If Harry, Hermione and Ron didn't become friends, they wouldn't have been as strong."
As the story unfolds, we meet so many interesting and complex characters. Yoann's favorite character was Harry Potter. "He has a good attitude. He is a person with a great sense of humor – he is very polite and likes to do things to help other people." Ilia agreed that Harry was his favorite character, adding that "Harry is very brave and kind to others."
Brigham enjoyed following Hermione's growth, sharing that "It was interesting to watch how she changed over the course of the book, and became more cooperative and nice."
Our group strongly recommends Harry Potter and the Sorcerer's Stone to others. Yoann opined that "The beginning is a bit slow, waiting for it to get exciting," but enjoyed that "…it focuses on good topics and the fun adventures Harry, Ron and Hermione went on." Brigham shared that "It is really exciting to read," noting that "there are other books in the series so when you finish this one, you can read the others!"

The following is a book review was written by Tina Than on Clean Getaway by author Nic Stone.
This book tells the story of a white grandma and her black grandkid, Scoob. They go on a trip to where G'ma used to go with her black husband G'pop but didn't finish because at the time black marrying white was not approved so she couldn't do it. G'ma sold her house and decided she should go on a road trip with her favorite grandson, Scoob. I liked the book because it was entertaining and the mystery behind G'ma's past was well thought out. The only problem is the ending felt a bit rushed because of the lack of detail in describing the final action. I recommend this book. It was a really good mystery that took me by surprise.

Caroline Breckling wrote about her experience facilitating a book group for her college essay. She has been accepted at UCLA Berkley! Here's an excerpt of what she had to say:
"When searching for a volunteer opportunity this past summer, I discovered a tutoring program at a nearby library where I could lead a virtual book group for elementary school students. Although initially apprehensive, I was eager to get started the moment I browsed the New York Times bestseller list for the book my group would read first. I felt the same glimmer of excitement rising within me that I had experienced between the shelves of Barnes and Noble years before.
While I was slightly discouraged by the shyness of our first meeting, I remembered what my fourth grade teacher told me after I submitted a short story to her. "Promise me," she had said, "That you'll let me be first in line at your book signing." I was determined to give this same emblem of confidence to the little virtual community I had created. By week four, all six hands shot up at the opportunity to share their summary statement first, the beginning of a streak of excitement that motivated me to continue the book club past its official ending. I would never have expected that the childlike elation of a group of fourth graders would revive such a sense of inspiration within myself. The exuberance the girls brought to meetings translated into my own excitement for reading, a rediscovery of a passion that I had been missing for so long. For that reason, every Thursday, when I open my laptop to six smiling faces at 5pm, my incomplete calculus homework disappears, and I am transported back to the lands inhabited by my childhood self, once again content within the pages of a chapter book for a blissful, carefree afternoon of reading."
The Homework Center's Middle School Book Group recently read Batman: Nightwalker by Marie Lu. This fast-paced novel chronicles the adventures of 18-year-old Bruce Wayne as he falls under the spell of a beautiful criminal, confronts evil and grows into his Batman persona. Book Group members report:
It is suspenseful. You get different information from different people in the book and you're not sure which is true. – Anya
This story is very sad. It is well written, though. It's very intense at the end. – Christina
It can be confusing because at moments you don't really know what is true. – Joao
Batman is a book that escalates as it goes on. I personally liked it. The book was more intriguing as you went on. – Jason
All participants commented on the specific images the author creates, as well as the convoluted plot. They enjoyed learning new vocabulary and imagining the legendary Gotham City. They recommend the book to students in grades 6-12. "It's not for younger readers, though," Jason cautioned. Joao explained: "It might give you nightmares."
The Fourth Grade Book Group recently read Who Was Frederick Douglass? By April Jones Prince.
One of the most famous abolitionists of the 19th century, he gave many speeches in the North about the evils of slavery. In fact, he spoke right here in Framingham at Harmony Grove. This group was so inspired by Frederick Douglass they went on to research other civil rights leaders.
Dinesh Bangari: I admire Frederick Douglass because although he was born a slave, he played a big role in ending systemic racism. Another reason that I admire him is that he was a man of his word. He said to his owner, "I will become a free man." He tried many times to escape and finally became a free man. Despite many struggles in his life Frederick became a famous abolitionist and gave speeches in England and America to end slavery.
Mattan Alpert: Fred Douglass was such an influential person that he became friends with Abe Lincoln who is considered to be one of the most influential presidents of the United States. He stopped slavery! One thing I like about him is that he was a self learner and became a lawyer. I like this because my dad is a lawyer so I appreciate that he was a lawyer as well.
Trevon Pinnock: Rosa Louise McCauley Parks was an American civil rights activist. On December 1, 1955 in Montgomery, Alabama, Ms. Parks refused to give up her seat to a white person. She got arrested. Other black people didn't like this so they started the Montgomery bus boycott. Rosa set the pace for black women to be more active in their roles, to fight for what they believed in and to believe that we can achieve anything, if we don't give up on our dreams.
Djiela Jie: Martin Luther King Junior, was born in Montgomery Alabama. His father taught him about racism and why it's bad. He became a minister and an activist. A black woman named Rosa Parks was arrested for not giving up her seat for a white person. She was arrested so there was a boycott and the bus company started losing money. Later, black people were able to sit wherever they wanted on the bus. Many people wanted to use violence but Martin did not. In Washington, Martin gave his famous "I have a dream" speech. Many black and white people went to hear his speech.
The following words are from this speech: "I have a dream that my four little children will one day live in a nation where they will not be judged by the color of their skin but by the content of their character. I have a dream today."
"Once you read you will be forever free." Frederick Douglass
The FPL's Newest Reading Initiative: Academic Enrichment Book Groups
Students in grades K-12 will read books from the Framingham Public School suggested reading list. They will journal, answer study questions, and write essays and book reviews which will be featured in the FPL newsletter and website.
The Homework Center Receives the Outstanding School Partners Award
The Framingham School Committee has presented the Outstanding School Partners Award to the Homework Center Program. This award is presented to outstanding out-of-school programs that help students thrive academically. The Homework Center currently provides remote tutoring, homework and school project help to students K-12, in all subjects and plans to remain open, offering tutoring and remote enrichment programming throughout the summer! To be matched with a tutor, contact Judy Gatlin at jgatlin@minlib.net.
Homework Center Remote Tutoring
The Homework Center is providing free weekly remote (via Zoom) tutoring and homework help to students K-12. We have over 50 tutors who are proficient in all subjects taught in the Framingham schools. Our tutors are retired professionals, college and National Honor Society students. To sign up, please contact Judy Gatlin, jgatlin@minlib.net.
Prior Events
Based on applicable COVID-19 requirements and the need for social distancing, we need to change the nature of the following scheduled events. We want you to know that the Library is working hard on ways to bring you these and other programs. Please check this page often for the latest news and updates. Thank you!
Kicking off a Naming Contest!
The Homework Center does so much more than homework! With over 50 tutors proficient in all subjects taught in the Framingham Public Schools, we provide:
Free tutoring, school project help - guided research and crafting assistance in the creation of projects
SAT, ACT, subject test tutoring, college essay writing and mentoring for the college search process.
Student Advisory Board membership - which includes opportunities for community service, leadership training and event planning.
Annual academic enrichment programming - Environmental Awareness Fair, Essay Contest, Robotics Day, March Math Madness, Fashion Show, Spelling and Geography bee. Academic enrichment classes -Just Another Mandarin Monday, The Road to Code, Annual Kids Ham Radio Day, Rock Talk, an experiential class teaching the geology of Framingham and more!
Help us choose a new name for this library program that encompasses all we do!
Start sending your ideas now to jgatlin@minlib.net. Submissions due by June 1st.

Homework Center Essay Authors' Reception
Monday, February 24, 7-9pm, Main Library, Costin Room

We invite the community to join us in celebrating the work and vision of our 2020 Essay Contest middle and high school participants!
Mayor Spicer will announce the winners and present the $100.00 cash prizes. The winning authors will read their essays.
Students, families, friends, school staff, elected officials and the press are invited to attend. All essays will be on display.
March Math Madness: Middle School Math Competition (POSTPONED UNTIL MAY, DETAILS TO FOLLOW)
Tuesday, March 24, 7:00 pm - 9:00 pm, Main Library, Costin Room

Teams of students from Framingham's four middle schools will pit their wit against one another to solve fun, complex, and... tricky math problems!

Each Middle School is invited to send three teams with three students per team. Teams will be made up of students in the same grade or mixed grades.
FHS math teacher Ilana Killgoar will be serving as the judge for March Math Madness!
For more information please contact jgatlin@minlib.net.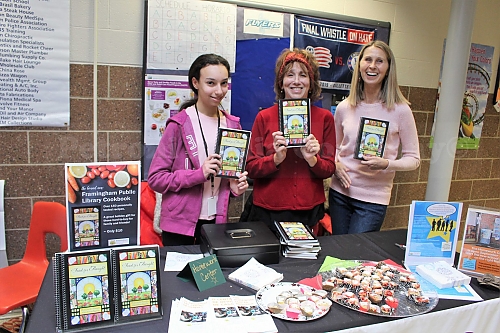 The Homework Center selling The Framingham Public Library Cookbook at the 12th Annual Framingham High Holiday Marketplace, Saturday, December 7.
Photo courtesy of Susan Petroni, Framingham Patch
The Framingham Public Library Cookbook, "Food for Thought," is done to perfection!

Library staff, patrons, families and friends have teamed up to compile their tastiest tried-and-true recipes. "Food for Thought" contains 150 recipes, everything you need to succeed in the kitchen! From appetizers to desserts, each recipe includes the contributor's name.

This priceless selection of scrumptious offerings is available for only $10.00, and can be purchased at the Main Library and the McAuliffe Branch. Proceeds will be used to fund our Library's next community project. "Food for Thought" would be a lovely holiday gift for family and friends. The cookbooks are in limited supply, so purchase yours before we run out.
Environmental Awareness Fair with Guest Speaker State Representative Maria Robinson
Sunday November 24, 1-3pm, Main Library
Our first environmental awareness fair will include:
State Representative Maria Robinson will share her work and vision for clean energy. Join us to learn about what we can do to help our environment!
Environment groups from throughout MetroWest
Refreshments made from locally sourced food
Crafts kids can make from recyclables
Computer games that teach about our environment
Books on environmental awareness for kids, teens and adults
The Seed Lending Library
More About the Homework Center
Homework Center Turns Eight
The Homework Center Program is excited to kick-off our 8th year on Monday September 9! The Homework Center at the Main Library will continue to provide free homework and school project help Monday-Thursday 2:30-5:30pm. Volunteer tutors are retired professionals, parents and National Honor Society students who are proficient in all academic subjects. Students are encouraged to make appointments in advance. The Homework Center also functions as a drop in center. Stop in any time for help!
Tutors are also available evenings and weekends by appointment only. The Homework Center offers computers, a color printer and a variety of school and craft supplies for projects. There are after school snacks, too—everything your student needs to succeed!

The Homework Center is run with the help of a student advisory board made up of middle and high school representatives. The student advisory board meets on a monthly basis to plan and run academic enrichment programming for the community such as spelling and geography bees, essay contests, fundraising fashion shows, holiday handcrafting workshops, after hours scavenger hunts, Robotics Day, Coding Club and leadership groups.

To make an appointment for tutoring, to apply to be a tutor, or for more information on the student advisory board please contact Judy Gatlin at jgatlin@minlib.net.
Sneak Peak: Academic year 2019-2020
The Homework Center Student Advisory Board plans fun academic programs throughout the school year. Watch for the library newsletter and save the dates for: The Coding Club, Annual Robotics Day, Annual March Madness: Logic Competition, Annual Essay Contest, Fundraising Fashion Show and Spelling Bee.

Questions? For information about serving on the board or to schedule tutoring for this coming fall, contact Homework Center Coordinator, Judy Gatlin, jgatlin@minlib.net.