Homework Center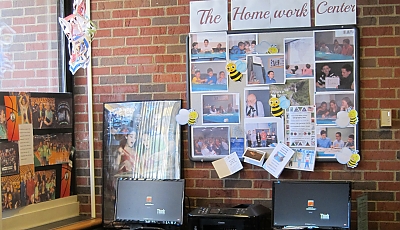 The Homework Center offers free tutoring and homework help for students K-12. We have over four dozen tutors, proficient in all subjects taught in the Framingham schools.
We are kicking off our 8th year at the Main Library with new and fun programming!
For information please contact Judy Gatlin at jgatlin@minlib.net.
Upcoming Events
The Homework Center Program is whipping up THE FRAMINGHAM PUBLIC LIBRARY COOKBOOK!
We have received a number of delicious recipes and are hungry for more! Please submit your favorite recipes by June 15! Email recipes to jgatlin@minlib.net.

3rd Annual Math Camp
August 21-23, 10am-12pm – Main Library, Costin Room
Students entering grades 3 -8 will:
Review math skills
Preview math material you'll see next fall!
Solve challenging equations on creative worksheets
Play challenging math based board games
Navigate scavenger hunts using...math!
2 to 1 student to tutor ratio = Math Mastery + 100% Fun!
Questions? To register, email jgatlin@minlib.net.
Amateur Radio Kids Day
Saturday June 15, 2-4pm – Main Library, Children's Program Room
Learn Radio Science Basics
Hands on operation of shortwave radios
Connect via shortwave radio with young people across the U.S.!
More About the Homework Center
Homework Center Turns Seven
The Homework Center Program is excited to kick-off our 7th year on Monday September 11! The Homework Center at the Main Library will continue to provide free homework and school project help Monday-Thursday 2:30-5:30pm. Volunteer tutors are retired professionals, parents and National Honor Society students who are proficient in all academic subjects. Students may stop in any time for help, or they can make an appointment in advance.
Tutors are also available evenings and weekends by appointment only. The Homework Center offers computers, a color printer and a variety of school and craft supplies for projects. There are after school snacks, too—everything your student needs to succeed!

The Homework Center is run with the help of a student advisory board made up of middle and high school representatives. They meet monthly to plan fun special events such as spelling and geography bees, essay contests, fundraising fashion shows, holiday handcrafting workshops, after hours scavenger hunts, Robotics day, Coding Club and leadership groups.

To make an appointment for tutoring, to apply to be a tutor, or for more information on the student advisory board please contact Judy Gatlin at jgatlin@minlib.net.
Sneak Peak: Academic year 2017-2018
The Homework Center Student Advisory Board plans fun academic programs throughout the school year. Watch for the library newsletter and save the dates for: The Coding Club, Girls Empowerment Workshop, Wise Guys Leadership Group, Annual Essay Contest, Fundraising Fashion Show and Spelling Bee.

Questions? For information about serving on the board or to schedule tutoring for this coming fall, contact Homework Center Coordinator, Judy Gatlin, jgatlin@minlib.net.

Spelling Bee Results 2017
Congratulations to Cameron Middle School's Cougarettes, winners of the 4th Annual Framingham Public Library Spelling Bee! Thank you to all who participated in this fantastic event!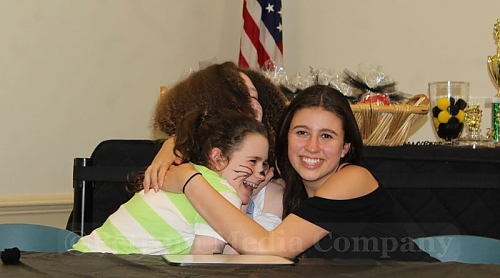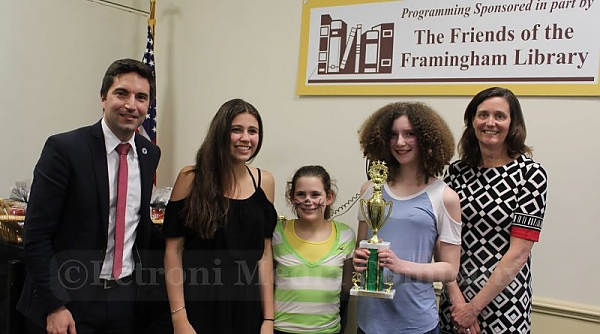 For more photos from the Spelling Bee, please click here to see coverage from the Framingham Source.

Fashion Show 2017
The following article appeared in the May 12, 2017 issue of the Framingham Tab: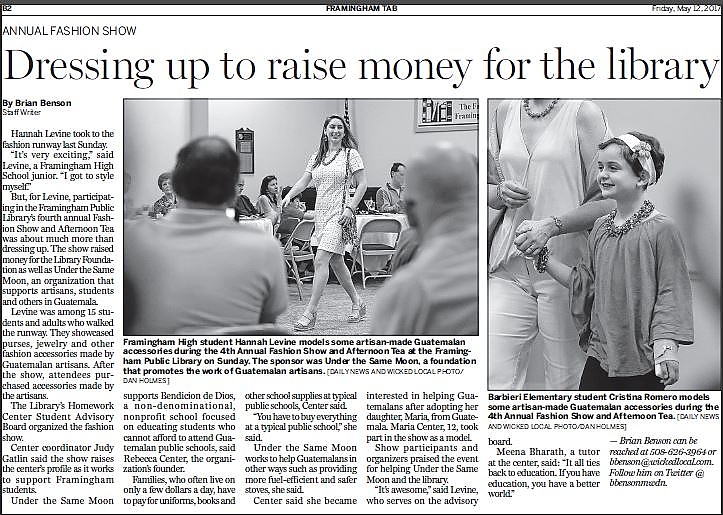 The following article appeared on January 11, 2017 in the Framingham Source:

"Library's Homework Center Offering Free Coding Club on Thursdays,"
January 11, 2017, Framingham Source
FRAMINGHAM – Last Thursday, about a half dozen elementary students began to learn how to code thanks to middle and high school students with the Framingham Public Library's Homework Center.
The Homework Center is hosting the Coding Club for students in grades 2-5 on Thursdays from 4 to 5 p.m. at the main Framingham Library.
One of the founders of the Club is Framingham High junior Varun Tekur, who learned how to code in high school.
Tekur said coding "has helped me learn to create interesting projects and to improve my problem solving skills," and it hopes to provide those skills to the members of the new Coding Club.
The Club is free and those interested in participating need to pre-register by emailing Homework Center Director Judy Gatlin at jgatlin@minlib.net.
"We thought that a coding club would be a great opportunity for elementary school students because the world around us is dominated by programmed technology," said Tekur. "Although many students don't realize this, its very important to know how much can be created using code. Also, the basic principles of coding can be taught to very young students, allowing these students to build upon their knowledge in middle and high school with more advanced programming."
Tekur said "even if students don't decide to pursue programming in high school, it is still an awesome experience for them to understand the inner workings of the technology around them."
Tekur, who has been a member of the youth advisory board of the Framingham Homework Center said "coding also teacher people a different way of thinking which can help enhance their problem-solving skills."
"Working with the students was a very fun and rewarding experience, and it was great to see the students work through problems and their excitement when they solved a problem," said Tekur of the first session of the Coding Club.
Gatlin said the Thursday Coding Club can handle about a dozen students, and if the Coding Club proves to be more popular she will look at adding additional sessions beyond the Thursday at 4 p.m. one."

The Homework Center was originally funded by a grant from the Institute of Museum and Library Services for the first 18 months of the Program. Today the Homework Center is in its 6th year and is funded by FPL.

Join the Homework Center Coding Club!
Students grades 2-5 are invited to come for a fun hands-on opportunity to learn computer programming. The Coding Club will meet Thursdays 4-5:00pm beginning January 5. Computer themed snacks will be served. To sign up contact jgatlin@minlib.net.