1000 Books Before Kindergarten
The Framingham Public Library has launched an early literacy initiative called 1,000 Books Before Kindergarten. The program helps kids build their early literacy skills and fosters a love of reading. Upon sign up, children will receive a free book bag, log sheet, and other goodies. Please visit us at the Main Library or McAuliffe Branch to ask questions or to sign up!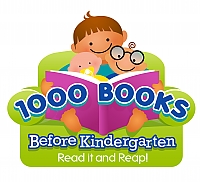 Frequently Asked Questions

Who can join?
Children from birth through the start of kindergarten are invited to join.
Do we have to read books from the library?
You can read books from anywhere: your house, grandma's house, at the doctor, at daycare. But we'd love to see you enjoy our books as well.
Can we count the same book more than once?
Of course! Children love repetition and reading is reading whether it's once or one thousand times!
Can I count storytime books?
Most definitely! We love seeing you at storytime and those are books that count!
How long do I have to read 1000 books?
The program has no official end date. Don't rush, take your time and enjoy the memories you are making with your child!

1000 may sound like a lot, but it's not! If you read ONE BOOK per night you'll reach 1000 books in less than 3 years. If you read THREE BOOKS most days, you'll finish in less than one year. This program is based upon evidence that the more children (ages 0-5) hear books read to them, the more prepared they will be to learn and enjoy reading upon reaching kindergarten.


Reading Lists and Resources
General Recommended Reading
Ages 0-24 months
Ages 2-3
Ages 4-5
20 Ways to Raise a Book-Smart Baby
Book Tracking App for iPhone
Book Tracking App for Android
Coloring Pages