Seed Library
The

Seed Libraries are a joint project of the Framingham Public Library and Transition Framingham. Our mission is to empower local residents to preserve the art of growing our own food through the lending, sharing, and saving of seeds, and related programming at the library. We have two Seed Libraries: one at the Main Library and one at the McAuliffe Branch.
News and Upcoming Events
Container Gardening, Friday, April 26, 2-3pm, Main Library, Costin Room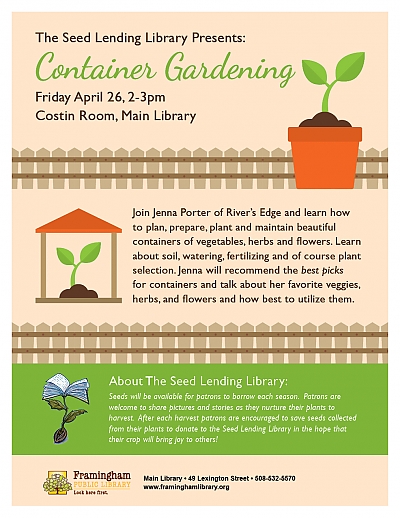 Take a look at our list of new books on canning and preserving in our catalog.
Samela Aguirre and Patrick St. Pierre of Transition Framingham explain the Seed Libraries in this brief video.
Seed Library Resources
What patrons have grown with our seeds