Seed Library
The

Seed Libraries are a joint project of the Framingham Public Library and Transition Framingham. Our mission is to empower local residents to preserve the art of growing our own food through the lending, sharing, and saving of seeds, and related programming at the library. We have two Seed Libraries: one at the Main Library and one at the McAuliffe Branch.
News and Upcoming Events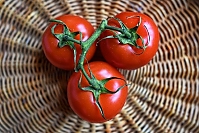 Here is a recommendation for our garden community.
Because we are not able to distribute seed, here is a little tip to still grow tomatoes this season: growing tomatoes from a fresh tomato. Get a tomato from the store, the best and healthiest looking and ripest you can find. Slice it into thick slices, put slices on top of potting soil and cover it a little bit with potting soil, then water thoroughly. Let it sit in a warm dark place until it germinates, then bring it into a sunny spot in the house. After approximately 14 days, transplant seedlings into separate pots. Do this as soon as possible. After May 25 you can plant them outside.
Re-opening at both Libraries on March 14!
The Seed Lending Library will have plenty of seeds for you to take so you can start your garden indoors. We have scheduled three seed-packaging "parties" in preparation for the re-opening and we are looking for volunteers.
Seed Packaging Parties
Monday, March 2, 1-3pm and Monday, March 9, 7-8:30pm – Main Library, Children's Program Room
Wednesday, March 11, 7-8:30pm – McAuliffe Branch, Community Room

We look forward to receiving donations of seeds you have saved for next year's opening!

Sincerely,

The Seed Lending Library Team
Framingham Public Library
Transition Framingham

Also:
Did you know that we have gardening tools available to borrow as part of our Library of Things? Anyone with a Minuteman card can borrow the kit from the main library for two weeks. It includes a transplant trowel, weeder, hand rake, cultivator/hoe, soil scoop, gloves, and a handy carrying bag. Ask Library staff for more information.
Take a look at our list of new books on canning and preserving in our catalog.
Samela Aguirre and Patrick St. Pierre of Transition Framingham explain the Seed Libraries in this brief video.
Seed Library Resources
What patrons have grown with our seeds