Job Search Assistance
Due to the COVID-19 pandemic, the Job Search Clinic has been suspended until further notice.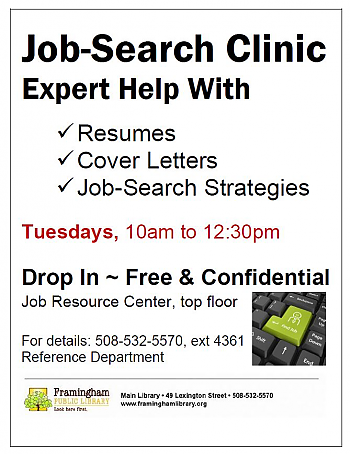 Job Search Clinic
Get FREE expert help with resumes, cover letters and job-search strategies on Tuesday mornings from 10am-12:30pm.
Drop-ins only on a first come first served basis. Please call 508-532-5570 x4361 for more details.
Online Job Application Help
Most employers require that you submit job applications online, and our staff can help you through the process. If possible, please bring a resume and cover letter in electronic form. You should also have an email account, but if you don't, we can help you create one as part of your session. If you need help writing a resume and/or cover letter, check out our free job search services above.
You may drop by to request an appointment or call 508-532-5570 x4361.
Last updated June 2018