Framingham Reads Together

What is Framingham Reads Together?
Framingham Reads Together (FRT) is a town-wide reading, discussion, and activity program that invites citizens to read the same book at the same time. FRT aims to bring the community together through shared experiences and special events. Every two years the Framingham Public Library and local partner institutions host a series of exciting and educational events for adults and children, such as talks, films, book discussions, music, art exhibits, panel discussions, displays, scientific demonstrations, and other activities, all based on a book and a theme to be selected.
FRT 2018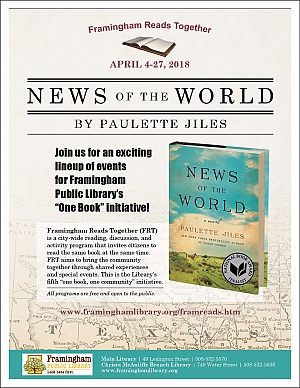 The FRT committee has selected News of the World by Paulette Jiles for Spring 2018, a moving work of historical fiction by an author and poet whose rich, lyrical voice brings the post-Civil War era alive. At the heart of the tale is Captain Jefferson Kyle Kidd, a septuagenarian who, armed with a portfolio of newspapers from around the globe, makes a living traveling among the far-flung outposts of Texas sharing the "news of the world" with a frontier populace hungry for information. The captain agrees to take custody of ten-year-old orphan, Johanna Leonberger, recently rescued from the Kiowa tribe that raised her as one of their own after her family was killed in an Indian raid, and deliver her to her relatives who live near San Antonio, some 400 miles away. As the girl, speaking only the Kiowa language, and the aging captain encounter the dangers of the road, they slowly come to trust each other. It's the remarkable journey of a most unlikely pair.
FRT 2018 Upcoming Events
The following exciting lineup of events will take place April 4-27. All programs are free and open to the public. Pick up a copy of the book and a brochure with event details at both Libraries.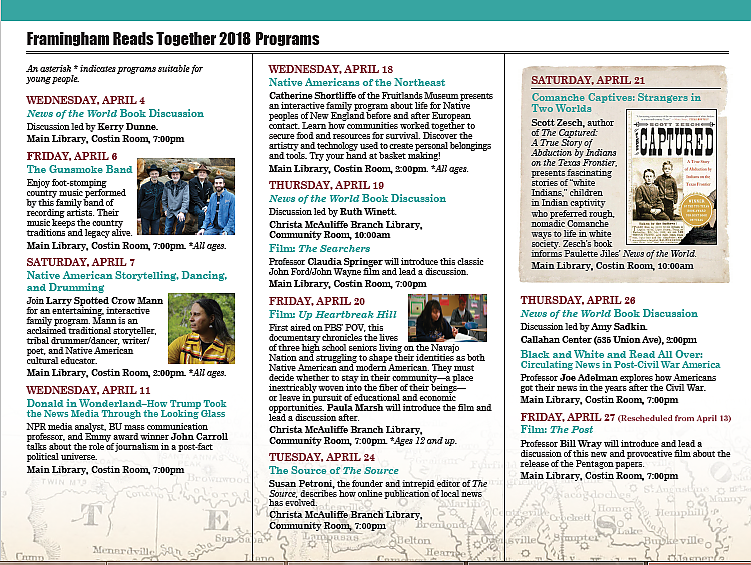 Download the full FRT color brochure here.
Past Selections
This will be the Library's fifth "one book, one community" initiative. FRT 2016, "Pioneers in Flight—From Kitty Hawk to Outer Space," tied early flight and space exploration to the opening of Framingham's new branch library named for the first teacher in space, Christa McAuliffe. The highlight of FRT 2016 was esteemed historian David McCullough's May 14 talk at Nevins Hall in the Memorial Building, which was based on his book, The Wright Brothers. FRT 2013 featured best-selling author Nathaniel Philbrick's In the Heart of the Sea: The Tragedy of the Whaleship Essex. In 2011 FRT commemorated the sesquicentennial of the Civil War and featured The Killer Angels by Michael Shaara. Greg Mortenson's inspiring Three Cups of Tea launched the Library's very first FRT in 2009.
All programs are free and open to the public, except where noted.