Adventures in Lifelong Learning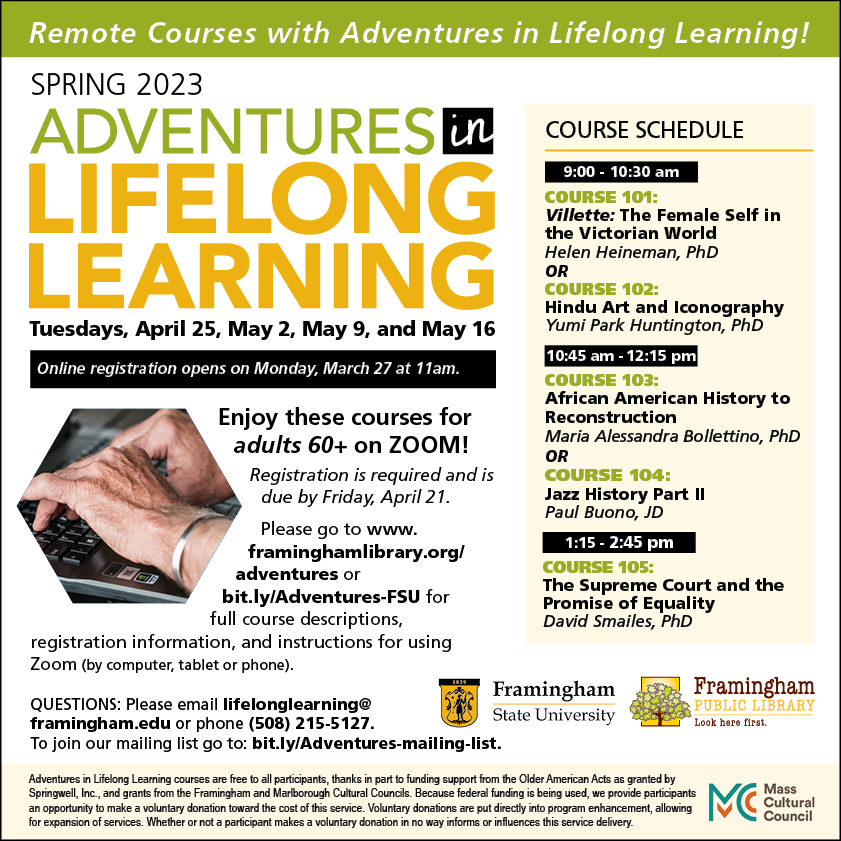 Online registration for Spring 2023 Adventures in Lifelong Learning begins March 27 at 11am!
Please visit bit.ly/Adventures-FSU for full course descriptions and to join the mailing list and learn about our programming. Courses are provided free-of-charge, or for a voluntary donation.
ZOOM Tips
Our courses will be accessible online and via the phone using the Zoom video- and audio-conferencing platform. Zoom can be downloaded and installed easily on laptops, desktops, tablets, and smartphones. In addition, you may dial into a Zoom meeting using a landline or cell phone.
Windows PC or Mac computer: Download and Install Zoom Windows and Mac: https://zoom.us/support/download.
iPhone and iPad: Download "Zoom Cloud Meetings" from App store, or from browser: https://apps.apple.com/us/app/id546505307.
Android phones and tablets: Download "Zoom Cloud Meetings" from Google Play, or from browser: https://play.google.com/store/apps/details?id=us.zoom.videomeetings.
Once you have downloaded and installed the Zoom software on your computer or mobile device, join a test meeting to try out your audio and video and familiarize yourself with Zoom features: https://zoom.us/test.
Important Information
Adventures in Lifelong Learning courses are free to all participants, thanks in part to funding support from the Older American Acts as granted by Springwell, Inc., and grants from the Framingham and Marlborough Cultural Councils. Because federal funding is being used, we provide participants an opportunity to make a voluntary donation toward the cost of this service. Voluntary donations are put directly into program enhancement, allowing for expansion of services. Whether or not a participant makes a voluntary donation in no way informs or influences this service delivery.