Audiobooks
We have audiobooks on CD at both libraries. New audiobooks may be borrowed for 2 weeks, and older ones, for 3 weeks.
Downloadable
We offer FREE downloadable audiobooks through Libby by Overdrive and Hoopla. Please see our Digital Collection page for more details, or visit us to learn more.
Audiobooks on Playaway®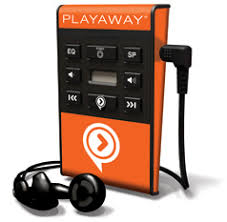 Playaways are compact battery operated devices that contain a preloaded audiobook in MP3 format. Plug in your earbuds and you're ready to listen!