Kids
Kids Summer Reading Program 2020: Imagine Your Story

We've extended the Summer Reading program until the end of September, so there's still time to join in on the fun!
Summer Reading starts July 1!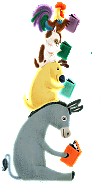 Click here to sign up and download your Bingo sheet to get started.
Participate in activities all summer long!
Click here to participate in our Summer Reading events, all virtual!


Virtual Challenges
Some of your Bingo activities have a virtual challenge. Here are some links to help you finish those squares.
Some of our library Programs will also be on Zoom, which you can email mcauliffechildrensroom@gmail.com for program registration or for any questions you may have.
When You Finish
Send us your completed Bingo card to be entered into our raffle prizes. You can let us know you've finished all your Bingo activities (or some!) in any of these ways: