Kids
Kids Summer Reading Program 2020: Imagine Your Story

Summer Reading starts July 1!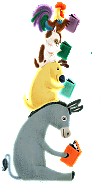 Click here to sign up and download your Bingo sheet to get started.
Participate in activities all summer long!
Click here to participate in our Summer Reading events, all virtual!


Virtual Challenges
Some of your Bingo activities have a virtual challenge. Here are some links to help you finish those squares.
FraminghamISH Intergenerational Scavenger Hunt
Monday, July 13 - Sunday, July 19
Sign up with a team, or go solo, and join our week long scavenger hunt! Registration goes live HERE on July 13.
Do as many challenges as you can and tag us with #FraminghamISH. Finish at least 10 challenges to be posted on our social media as a winner! Finish 20 or all 30 and become a champion!
Some of our library Programs will also be on Zoom, which you can email mcauliffechildrensroom@gmail.com for program registration or for any questions you may have.
When You Finish
Send us your completed Bingo card before Saturday, August 29 to be entered into our raffle prizes. You can let us know you've finished all your Bingo activities (or some!) in any of these ways: