LVM Literacy Unlimited: Our Program
We are a vibrant and active community of volunteers who work with ESL students to improve their English proficiency through conversation classes, one-to-one tutoring, and citizenship classes.
Our English Conversation Classes and one-to-one tutoring are continuing remotely using multiple technologies including ZOOM, Google Classroom, WhatsApp and many others even though the Literacy Office at the Library remains closed due to COVID-19.
Please scroll down for more information. You can always contact us at fplmail4@minlib.net or call us at 508.532.5574 and leave a message.
Tutor Survey Results
Below are the Tutor Survey results. Sixty-three tutors and conversation class leaders responded. In general some students and tutors are adapting quite well to remote meetings but others are quite challenged. Thank-you to everyone who participated! We will continue to work to help you with your tutoring!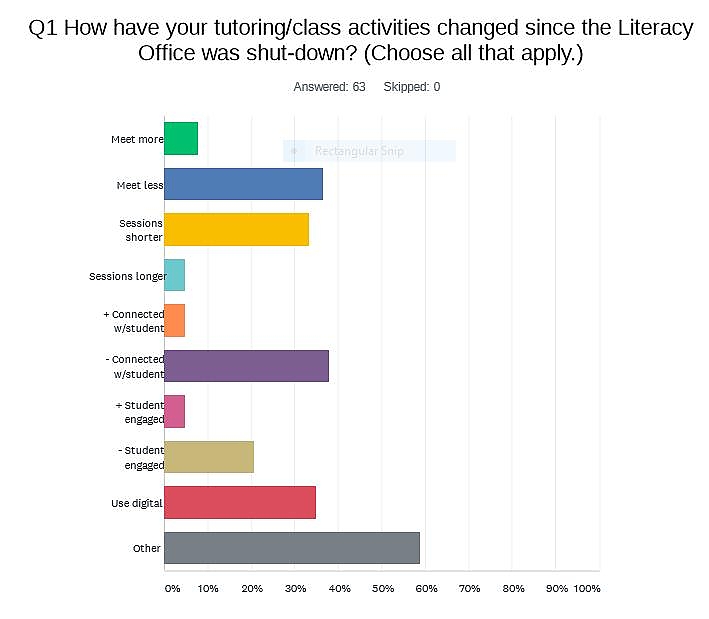 "Other" - Below are representative samples of the responses to Question 1
"I am meeting with my student now for the same number of hours as before the shutdown of the library, although now we meet remotely, of course. That being said, I am spending more time than before creating homework assignments in order to keep my student engaged and connected between appointments. He seems to like receiving the homework and he always completes it and has it ready to review with me at our next appointment."
"At the onset of the pandemic I was using strictly email to tutor. I am now using Zoom to tutor which I find very effective and efficient. I have used liveworksheets.com and ESLlibrary. My student likes this much better and seems much happier doing it this way. It gives her an opportunity to speak English something that she missed doing since she speaks her native language with her family.´
"I am not meeting with my student. I made a couple of attempts to schedule zoom sessions, but he did not want to do it."
"I have suspended using digital or phone method with "Name" as I do not respond well to those mediums. I am waiting to resume tutoring until we can return to face to face teaching."
Q2 What digital resources are you using with your student(s)? (Choose all that apply.)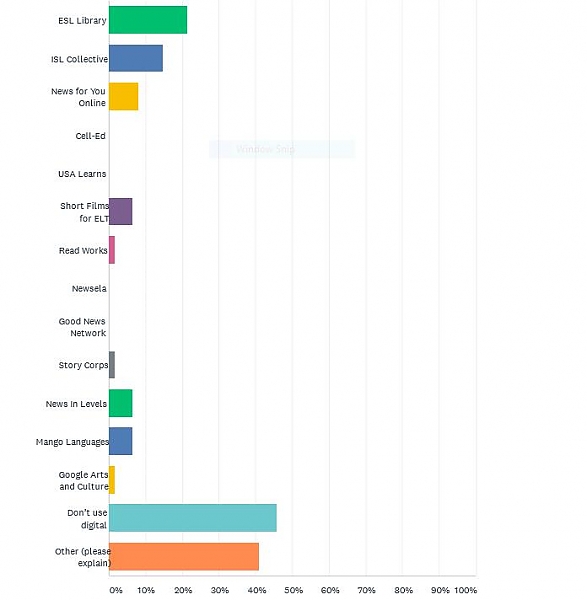 "Other" - Below are representative samples of the responses to Question 2
"In person I used YouTube, Youglish and Pexels (can grab and save photos to promote conversations around a theme)."
"Pinterest"
"Educandy.com is a site where you can make games for practicing things like irregular past tense verbs—skills that can be "tested" with multiple choice, matching, crosswords, etc. It's not specifically for language learners."
"Voice of America EnglishforEveryone.org"
"my own research for appropriate TED Talks, PBS etc."
"liveworksheets.com"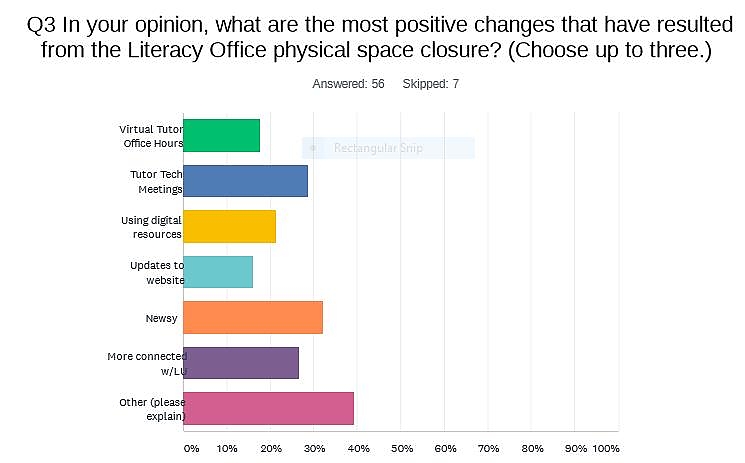 "Other" - Below are representative samples of the responses to Question 3
"Communication in general"
"More flexibility in class scheduling"
"I don't have time to follow all programs online or others."
"Unfortunately, I haven't been able to use any of this with my own student."
Interested in becoming an ESL Tutor?
If you are interested in becoming a tutor, please click here and register with us. Due to COVID-19 precautions, we are currently not training tutors, but we are working on transitioning our tutor training to a format that will safely train tutors given COVID-19 protocols. If you are registered with us, we will contact you when the next tutor training is scheduled.
For Current ESL Tutors
Tutor Meetings
Tutor Technology ZOOM Meeting
Most Tuesdays 2:00PM (check most recent "Newsy" for topics and schedule changes)
Virtual Office Hours for Tutors - ZOOM Meeting
Thursdays 7:00PM
"Newsy" the Tutor Newsletter