LVM Literacy Unlimited: Our Program
We are a vibrant, active community of volunteers who work with adult ESOL students to improve their English proficiency through conversation classes, one-to-one tutoring, and citizenship classes.
We just reopened for in-person activities! You can visit us during our office hours: Monday - Thursday, 9:00 AM to 4:00 PM.
We offer in-person, one-to-one tutoring now, as well as virtual English conversation classes and tutoring with multiple technologies like Zoom, Google Classroom, and WhatsApp.
You can contact us at (508) 532-5574 or fplmail4@minlib.net.
Call for Volunteer Tutors
Literacy Unlimited needs volunteer tutors!
Work one-on-one with an ESOL (English Speakers of Other Languages) student or teach a student how to read and write.
Literacy is a lifesaving skill you can impart to a student to help them succeed. You do not need to be bilingual or have a teaching background.
Zoom in to an information session to learn about Literacy Unlimited and our tutoring practice. Meet the coordinator and other potential tutors.
Wednesday, December 15th at 6:30 PM
To sign up for a virtual tutor information session, click here.
Online ESOL Tutor Training: January 2022 (dates/times) TBA
Click HERE to learn more.
2022 Calendar Fundraiser-Buy today while supplies last!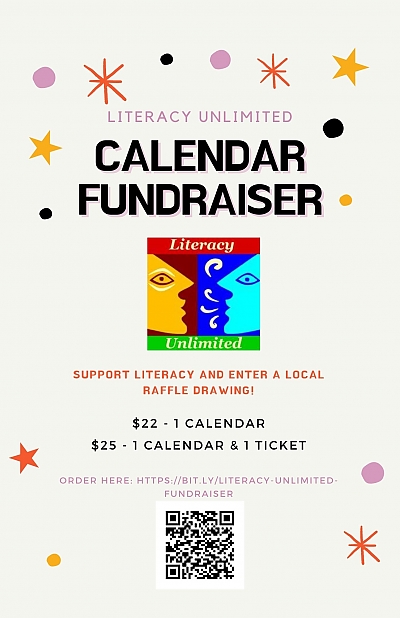 Literacy Unlimited is holding a Calendar Fundraiser this Fall! Click here to learn more.
For New Students
Student registration is closed at this time. Check back here often for updates!
It can take up to six months to be matched with a volunteer tutor or placed in a class. We encourage you to visit us during open office hours so we can meet you and show you all the resources Literacy and the library can offer for studying English independently while you wait.
Join us for our December Social Hours! Walk in or login in to learn about Literacy Unlimited, meet someone new, and enjoy an icebreaker activity.
In-person Social Hour: Monday, December 6th at 4:30 PM (at Framingham Public Library)
Virtual Social Hour: Wednesday, December 15th at 12:00 PM
Please email fplmail4@minlib.net to receive the Zoom invite.
For Current ESL Tutors
Tutor Meetings
Tutor Time ZOOM Meeting: Tuesdays at 2:00 PM or Tuesdays at 7:00 PM
Check the most recent "Newsy" for schedule changes!
"Newsy" the Tutor Newsletter
To see past newsletters, click here