Self Care in the Age of Quarantine

This Page is An Ever Changing Work in Progress (On Purpose!)
Life is weird right now, I don't think anyone will question that. But in between Zoom classes and meetings, we all still need to stay safe and sane. This page will be an ever growing list of resources, recommendations, and just plain fun things to cheer you up during quarantine times. So without further ado, let's begin!
Yoga!
One of the best ways to relax when life is stressful is to exercise. And one of the easiest ways to exercise while stuck at home is Yoga. To make it more interesting, so you're not just stretching while your pet tries to knock you over, there are tons of online yoga videos to help guide you. Out of those options, Yoga With Adriene is possibly the most popular free yoga class on the internet. Every week she posts a new themed video (sometimes with her dog Benji!). Here's her Yoga for Teens workout:
Podcasts!
I dunno about you, but my attention span is shot right now. I've read a few books over the 2+ months I've been at home, but my usual book or two a week when counting hard copies and audiobooks (and sometimes more) is definitely not happening. However, I need to get my story fix somehow! So I've increasingly turned to podcasts. I always listened to podcasts while walking the dog, washing the dishes, folding laundry, and doing other chores, but now I have them on all the time. So my weekly rotation needed to expand. Here are some of my favorites.
How Did This Get Made - Comedians Paul Scheer, Jason Mantzoukas, and June Diane Raphael team up to talk about some of the worst (and/or most ridiculous) movies ever made. (Recommended for older teens due to some language)
Fake Doctors, Real Friends - Scrubs is one of my favorite shows of all time, and in this podcast, stars Zach Braff and Donald Faison (J.D. and Turk) go through the show episode by episode telling stories about making it. (Recommended for older teens due to some language)
You Must Remember This - If you're a movie fan, this is the podcast for you. Film critic and historian Karina Longworth tells stories about the forgotten histories and people of Hollywood.
Super Scary Haunted Homeschool - This one is brand new! Author Grady Hendrix goes in depth on the history surrounding our favorite monsters, and season 1 is all about the vampire! You'll learn a lot, and laugh a ton while doing so.
Reply All - Hosts PJ Vogt and Alex Goldman do a podcast about the internet era, from talking about how it affects our daily lives, to solving mysteries that would be impossible without it.
Lore - Local Massachusetts author Aaron Mahnke goes deep into horror and fantasy creatures, and the real life stories that made us believe in them.
Drawn: The Story of Animation - Do you like Cartoons? Then you need to listen to this. Learn how they came to be, and how they're made today.
The Black Tapes - Do you want creepy? The Black Tapes has creepy. This narrative podcast follows journalist Alex Reagan and paranormal investigator Dr. Richard Strand as they attempt to debunk the only cases that Dr. Strand was never able to.
Welcome to Night Vale - Visit Night Vale, the small desert town where all conspiracy theories are real. Wear headphones so that you don't disturb the Faceless Old Woman who Secretly Lives In Your Home, and remember ALL HAIL THE GLOW CLOUD!
Getting Help
The conversation around mental health, and getting help when you need it is getting less stigmatized, but improvements are still needed. If you're overwhelmed right now, don't be ashamed! Everyone needs help sometimes. While the resource I'm about to tell you about isn't therapy (please seek it out if you need it!), it's a good first step if you need to talk to someone. The YouthLine is a "free 24-hour crisis, support, and helpline for youth." They've got people answering phones, texts, emails, and chats to get you the help you need. If you call between the hours of 7PM and 1AM EST, you'll talk to another teen who's trained to chat and help. The lines are staffed with adults the rest of the day. To visit their website, click this link, and to learn more about them, click here. Their contact information is listed below.

Additionaly, here are some resources adapted from DBT (Dialetical Behavior Therapy), an evidence-based psychotherapy technique used by therapists all over the world to help their patients.
Big List of Activities For When You're Feeling Down - Click Here
Use Your Five Senses to Help Soothe Yourself - Click Here
Sleep Help!
Many people have trouble sleeping on a normal day, and these days have been anything but normal. What can I do to help though? I can give you some sleep help podcasts and videos, as well as some sleep help guides.
Sleep Meditation Podcast - Relax and listen to the soothing sounds of waves on a beach, or rain falling on a metal roof. If ambient sounds are your thing, this is the podcast for you.
Sleep With Me - In this, Drew Ackerman tells the most boring stories he can think up. They repeat themselves, and don't make a ton of sense, but this is all part of his ingenious plan to lull you to sleep through sheer force of will.
On A Dark, Cold Night - If you, like me, have a taste for the spooky things in life, this one is for you. Kristen Zaza tells eerie tales of ghosts, witches, and monsters in a soothing voice with calm background music.
One Third of Life - If you like to learn a little while falling asleep, then you need to listen to One Third of Life. Host Zane C. Weber reads the longest Wikipedia pages he can find, with a sprinkling of soft music behind him.
Relaxing Old Footage with Joe Pera - Comedian Joe Pera, star of the Adult Swim show Joe Pera Talks to You, talks about nonsense topics over video footage of fish, coffee machines, and monkees. Strangely relaxing.
In addition, here's a nice looking infographic from the University of California, San Diego's health department detailing ways to better your sleep hygiene (aka, good sleep habits).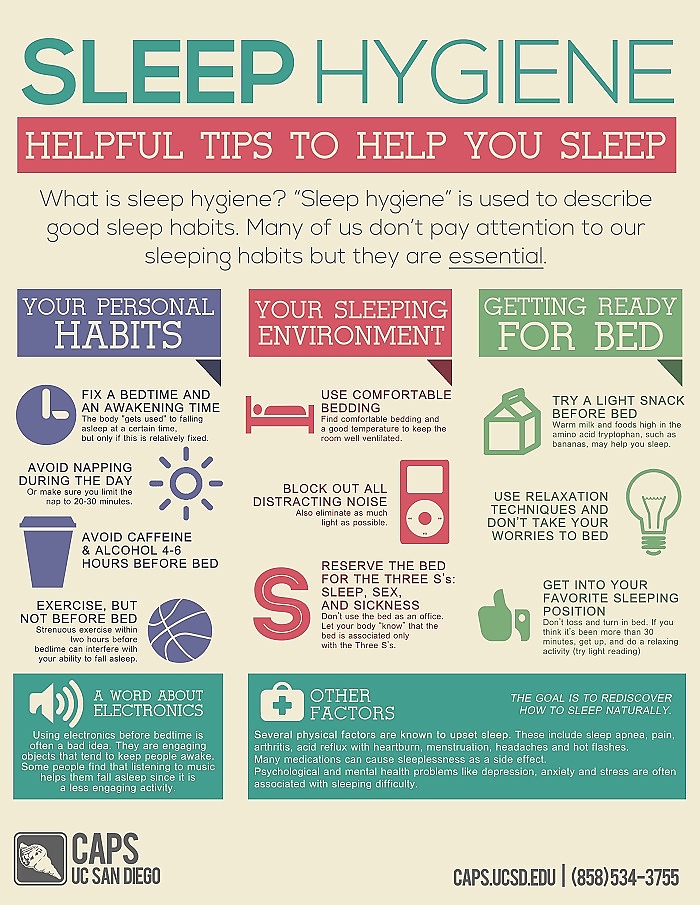 Mindfulness & Meditation!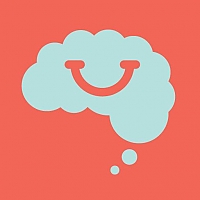 What if it's between yoga time, and sleep time? What then? Thankfully, there are many great mindfulness and meditation apps that will help you calm down, and take stock of yoursurroundings. Their methods don't take much time, and it doesn't matter if you've never meditated before, they'll walk you through it. I'm going to focus on one of them, as it was developed by psychologists and educators specifically for middle and high school-aged kids, but there are others for you to find too!
Smiling Mind - Click Here to visit their website, which has download links for both iOS and Android devices. Smiling Mind is a mindfulness and meditation assistant that takes just 10 mintues a day to use. It has programs for stress, concentration, well-being, relationships, and more!