Fine Free
The Framingham Public Library is officially Fine Free! This means that there are no late fees, fines, or penalties for returning items past their due date.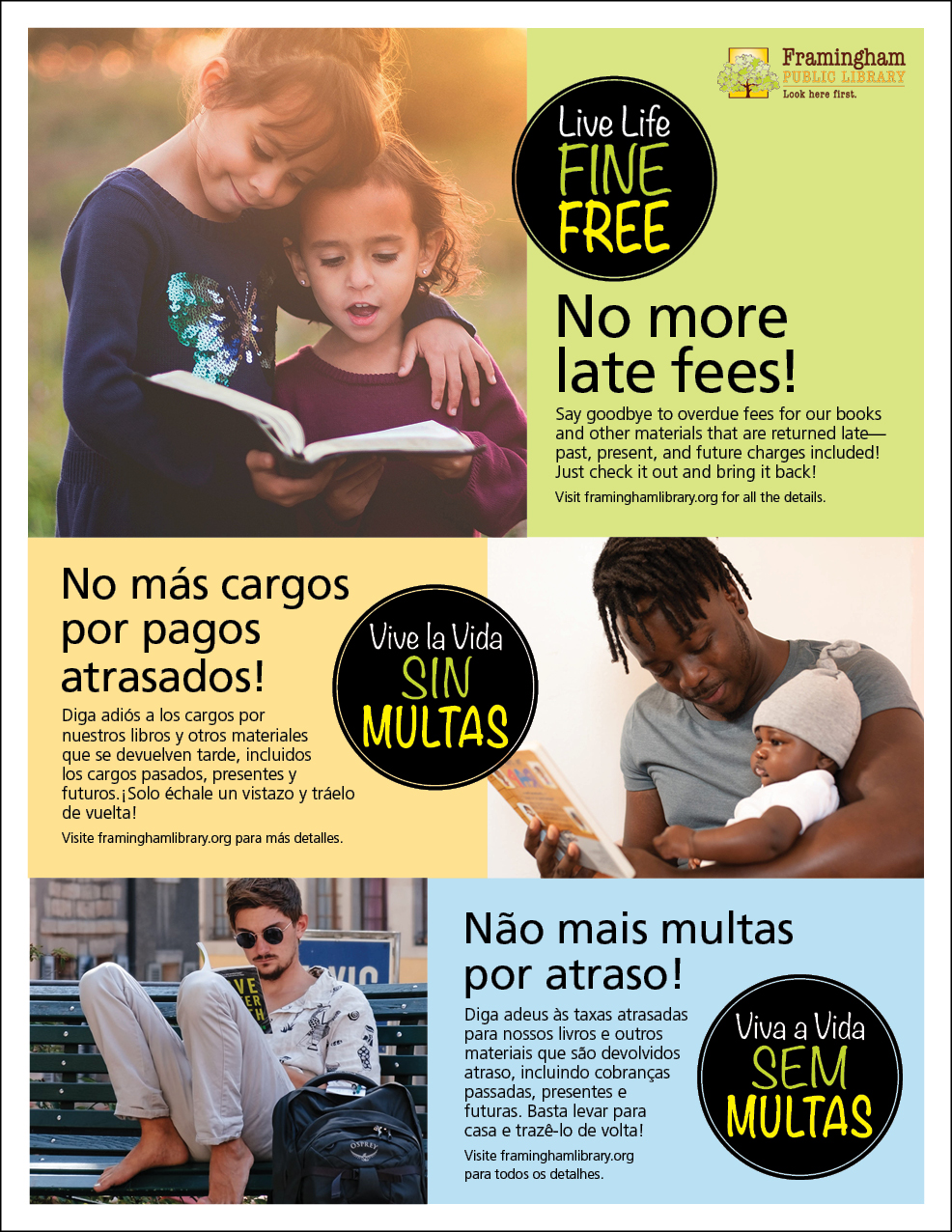 FAQ:
Does "Fine Free" mean I can keep books and items as long as I want?
Even though we are no longer collecting late fees, any item that is more than 30 days overdue may still be billed as a lost item. Please bring your items back promptly so others may enjoy them.
Will I still get a notification that my library book is due soon?
YES! We will still send you friendly reminders that your books are due soon or are overdue.
Are there exceptions to the fine free policy?
Items from other libraries, including Interlibrary Loans, may be subject to late fees.
Myths:
Myth 1: Without library fines, people won't bring back their books and materials.
FACT: The opposite is true! Libraries across the country who have gone fine free find that they have a BETTER return rate.
Myth 2: Library fines go to support the library offerings, books, and programs!
FACT: We spend more money processing fines than we collect. Going fine free means we can use those resources to improve library experiences for you!
Myth 3: If there are no fines, items will be late and I'll have to wait longer for my holds.
We did the research! Studies of fine free libraries show there was minimal impact on wait times for high demand items.
Bottom line:
Living fine free means staff can focus on serving our community. We are breaking down barriers to serve everyone better!
SPANISH:
Preguntas más frecuentes:

¿Significa "Fine Free" que puedo quedarme con libros y artículos
todo el tiempo que quiera?
Aunque ya no cobramos cargos por pagos atrasados, cualquier artículo que tenga más de 30 días de retraso aún puede facturarse como un artículo perdido. Devuelva sus artículos lo antes posible para que otros puedan disfrutarlos.
¿Seguiré recibiendo una notificación de que mi libro de la biblioteca vence pronto?
¡SÍ! Todavía le enviaremos recordatorios amistosos de que sus libros vencen pronto o están vencidos.
¿Existen excepciones a la política de exención de multas?
Los artículos de otras bibliotecas, incluidos los Préstamos interbibliotecarios, pueden estar sujetos a cargos por pagos atrasados.

Mitos:
Mito 1: Sin multas de biblioteca, la gente no devolverá sus libros y materiales.
HECHO: ¡Lo contrario es cierto! Las bibliotecas de todo el país que se han vuelto muy gratuitas descubren que tienen un MEJOR margen de retorno.
Mito 2: ¡Las multas de la biblioteca se destinan a apoyar las ofertas, los libros y los programas de la biblioteca!
HECHO: Gastamos más dinero procesando multas de lo que recaudamos. 'Fine Free' nos permite usar esos recursos para mejorar las experiencias de la biblioteca para usted!
Mito 3: Si no hay multas, los artículos llegarán tarde y tendré que esperar más por mis reservas.
¡Hicimos la investigación! Los estudios de excelentes bibliotecas gratuitas muestran que hubo un impacto mínimo en los tiempos de espera para artículos de alta demanda.

En conclusión:
Vivir 'Fine Free' significa que el personal puede concentrarse en servir a nuestra comunidad. ¡Estamos derribando barreras para servir mejor a todos!
PORTUGUESE:
Perguntas mais frequentes:

"Sem Multa" significa que posso manter livros e itens pelo tempo que quiser?
Mesmo que não estejamos mais cobrando taxas atrasadas, qualquer item com mais de 30 dias de atraso ainda pode ser cobrado como um item perdido. Por favor, traga seus itens de volta imediatamente para que outros possam apreciá-los.
Ainda recebo uma notificação de que meu livro da biblioteca deve ser entregue em breve?
SIM! Ainda enviaremos lembretes de que seus livros devem ser entregues em breve ou que estão atrasados.
Existem exceções à política Sem Multas?
Itens de outras bibliotecas, incluindo Empréstimos entre Bibliotecas, podem estar sujeitos a multas atrasadas.

Mitos:
Mito 1: Se não houver multas de biblioteca, as pessoas não devolveram os livros e materiais.
FATO: O contrário é verdade! Bibliotecas em todo o país que adotaram uma política de multas gratuitas descobrem que têm um melhor taxa de retorno.
Mito 2: As multas da biblioteca vão para apoiar as ofertas, livros e programas da biblioteca!
FATO: Gastamos mais dinheiro processando multas do que coletamos. Ficar "Sem Multas" significa que podemos usar esses recursos para melhorar as experiências da biblioteca para você!
Mito 3: Se não houver multas, os itens chegarão atrasados e terei que esperar mais tempo pelas minhas retenções.
Fizemos a pesquisa! Estudos mostram que as bibliotecas que foram "Sem multas" tiveram um impacto mínimo nos tempos de espera para itens de alta demanda.

No fim de contas:
Operando sem multas, podemos-nos melhor concentrar em servir nossa comunidade. Estamos derrubando barreiras para melhor atender a todos!