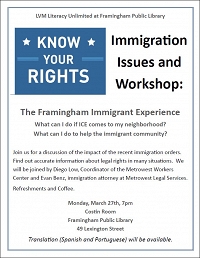 Immigration Issues and Workshop: The Framingham Immigrant Experience
What can I do if ICE comes to my neighborhood?
What can I do to help the immigrant community?

Join us for a discussion of the impact of the recent immigration orders.
Find out accurate information about legal rights in many situations. We
will be joined by Diego Low, Coordinator of the Metrowest Workers
Center and Evan Benz, immigration attorney at Metrowest Legal Services.
Refreshments and Coffee.

Translation (Spanish and Portuguese) will be available.