Adventures in Lifelong Learning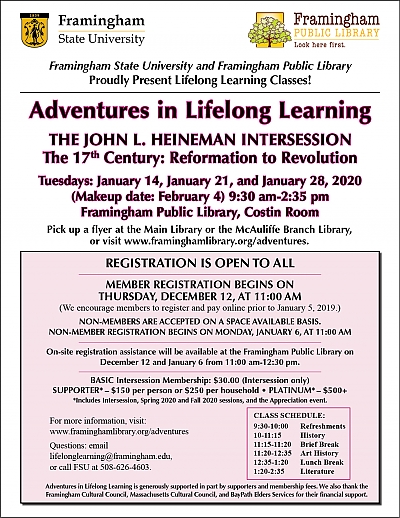 John L. Heineman Intersession, Winter 2020: Seventeenth Century: Reformation to Revolution
Tuesdays: January 14, 21, and 28 (Makeup date: February 4)
9:30am-2:35pm
Main Library, Costin Room
Join Drs. Helen Heineman, Erika Schneider, and Bridgette Sheridan on an adventure through the History, Art, and Literature created during the 17th Century Baroque Period, in Europe.
Member registration opens Thursday, December 12 at 11am; Non-member registration opens at 11:00 am on Monday, January 6th, 2020.
On-site registration assistance will be available in the Framingham Public Library Main Branch on December 12 and January 6 from 11:00 am – 12:30 pm.
Spring 2020 Session: Save the Dates!
Tuesdays: April 7, 14, 21, and 28 (Makeup Date: May 5)
Questions? Phone: 508-626-4603, Email: lifelonglearning@framingham.edu
Photo Notice
Photographs may be taken during the Adventures in Lifelong Learning program. By attending this event, you acknowledge and agree that your likeness may be included in photos of the event and used by Framingham State University in connection with communications about the Adventures in Lifelong Learning program. If you do not agree to this usage, please notify the photographer.