Anti-Racism Resources for Adults

I'm not a racist.
"Racism is a complex system of beliefs and behaviors, grounded in a presumed superiority of the white race. These beliefs and behaviors are conscious and unconscious; personal and institutional; and result in the oppression of people of color and benefit the dominant group, whites. A simpler definition is racial prejudice + power = racism." (Glossary, Racial Equity Resource Guide)
Fighting racism requires understanding it first. Our hope is that this compilation of resources will challenge our community to examine long held ideas about race and racism in a new light. In addition to books, videos, and podcasts, we have included a list of anti-racism organizations for those who wish to take further action. By no means is our resource list exhaustive, merely a starting point -- with a practical focus on listing materials that are held by Framingham Public Library or free of charge on the Internet.
We welcome your suggestions for other resources and materials for our collection. Click here to send us your ideas.
Resources are organized as follows:
Racism Defined
Documentaries

The Black Power Mixtape
A treasure trove of 16mm film shot by Swedish filmmakers who came to the United States to investigate the Black Power Movement, with appearances by Angela Davis, Stokely Carmichael, Eldridge Cleaver, Huey Newton, and more. Click HERE to request from the Minuteman catalog.

13th (2016)
Combining archival footage with testimony from activists and scholars, director Ava DuVernay's examination of the U.S. prison system looks at how the country's history of racial inequality drives the high rate of incarceration in America. Free on the Netflix YouTube channel.

White Like Me: Race, Racism & White Privilege in America
White Like Me, based on the work of acclaimed anti-racist educator and author Tim Wise, explores race and racism in the US through the lens of whiteness and white privilege. Available on Kanopy.

American Denial: The Truth is Deeper than Black and White
In his 1944 study of the 'Negro Problem' in America, Gunnar Myrdal posed a simple, disturbing question: How can Americans espouse a belief in liberty, equality and equal opportunity while enabling openly racist Jim Crow practices against black citizens? Available on Kanopy.

I Am Not Your Negro
Using James Baldwin's original words and flood of rich archival material, filmmaker Raoul Peck envisions Baldwin's unfinished book about his three close friends - - Medgar Evers, Malcolm X and Martin Luther King, Jr. Available on Kanopy.

Tim Wise: On White Privilege
For years, acclaimed author and speaker Tim Wise has been electrifying audiences on the college lecture circuit with his deeply personal take on whiteness and white privilege. In this spellbinding lecture, the author of White Like Me: Reflections on Race from a Privileged Son offers a unique, inside-out view of race and racism in America. Available on Kanopy.

Race: The Power of an Illusion
This three part series examines the contemporary science - including genetics - that challenges our common sense assumptions that human beings can be bundled into three or four fundamentally different groups according to their physical traits. Available on Kanopy.
Skin Deep

Focusing on ground-breaking research and personal accounts of scientists around the world, this documentary reveals that the evolution of skin color is solely an adaptation to the environment. It drives home a powerful message: judging people on the basis of color is not only morally unacceptable, it is scientifically wrong. Available on Kanopy.

The Black Panthers
More than 40 years after the Black Panther Party was founded, the group and its leadership remain powerful and enduring images in our popular imagination. This will weave together the voices of those who lived this story -- police, informants, journalists, white supporters and detractors, those who remained loyal to the party and those who left it. Available on Kanopy and Hoopla.
FRONTLINE:

A Class Divided
The day after Martin Luther King, Jr. was killed, Jane Elliott, a teacher in a small, all-white Iowa town, divided her third-grade class into blue-eyed and brown-eyed groups and gave them a daring lesson in discrimination. This is the story of that lesson, its lasting impact on the children, and its enduring power 30 years later. Available on the Frontline website.
Good Trouble

Chronicles the life and career of John Lewis, Civil Rights leader and U.S. Representative for Georgia's 5th congressional district from 1987 until his death in 2020. Available on hoopla.
Feature Films

In the Heat of the Night (1966)
Through happenstance, a black homicide ("They call me Mr. Tibbs") detective from Philadelphia slogs through all kinds of racial prejudice to solve a murder case in Sparta, Mississippi. The scene in which the detective is slapped by a white suspect and immediately slaps him back is unforgettable. Available on Overdrive.

Malcolm X (1992)
Writer-director Spike Lee's epic portrayal of the life and times of the slain civil rights leader Malcolm X.
Available in DVD at Framingham Public Library and elsewhere throughout the Minuteman Library Network.

The Battle of Algiers (1966)
One of the most influential political films in history, The Battle of Algiers, by Gillo Pontecorvo, vividly re-creates a key year in the tumultuous Algerian struggle for independence from the occupying French in the 1950s. Available on Kanopy.
Just Mercy (2019)

A powerful true story that follows young lawyer Bryan Stevenson and his battle for justice as he defends a man sentenced to death despite evidence proving his innocence. Available in DVD at Framingham Public Library and elsewhere throughout the Minuteman Library Network.

Selma (2014)
From the Oscar-winning producers of 12 Years a Slave and acclaimed director Ava DuVernay comes the true story of courage and hope that changed the world forever. Available in DVD at Framingham Public Library and elsewhere throughout the Minuteman Library Network.
In this powerful drama based on the best-selling novel, when a teenager witnesses the fatal shooting of her childhood friend, she must find her voice and stand up for what's right. Available in DVD at Framingham Public Library and elsewhere throughout the Minuteman Library Network.
Frui

tvale Station (2013)
Tells the story of Oscar Grant (Michael B. Jordan), a 22-year-old Black man who was shot to death by police at an Oakland, California, metro station. Available on Overdrive.
D

o the Right Thing (1989)
During the hottest day of the year, racial tensions ignite around a pizzeria in Brooklyn. From master director Spike Lee. Available in DVD format at Framingham Public Library. and elsewhere throughout the Minuteman Library Network.
Talks and Podcasts
FRONTLINE

: Race, Police, & the Pandemic
As streets across America erupt into clashes over racism during the coronavirus pandemic, Jelani Cobb of The New Yorker examines a connection between George Floyd's death and the disproportionate impact of COVID-19 deaths among African Americans. Listen to the podcast here.

"'There Is No Neutral': 'Nice White People' Can Still Be Complicit In A Racist Society," All Things Considered, NPR Radio
White Fragility author Robin DiAngelo says the question white people should be asking themselves is not have I been shaped by race, but how have I been shaped by race? Listen to the podcast here.

"'An Extraordinary Moment': Angela Davis Says Protests Recognize Long Overdue Anti-Racist Work," WBUR Here and Now
Political activist, philosopher, professor, and Black revolutionary Angela Davis discusses the relationship between racism and capitalism and the history of Black activism in the context of current events and why this moment in history feels different. Click here for the article and interview.

TED Talk: How to Build an Anti-Racist World, Ibram X. Kendi
There is no such thing as being "not racist," says author and historian Ibram X. Kendi. In this vital conversation, he defines the transformative concept of antiracism to help us more clearly recognize, take responsibility for and reject prejudices in our public policies, workplaces and personal beliefs. Click here to view the presentation.

TED Talk: Racism Has a Cost for Everyone, Heather C. McGee
Racism makes our economy worse -- and not just in ways that harm people of color, says public policy expert Heather C. McGhee. From her research and travels across the US, McGhee shares startling insights into how racism fuels bad policymaking and drains our economic potential. Click here to view the presentation.

TED Talk: How to Decontruct Racism, One Headline at a Time, Baratunde Thurston
Baratunde Thurston explores the phenomenon of white Americans calling the police on black Americans who have committed the crimes of ... eating, walking or generally "living while black." In this profound, thought-provoking and often hilarious talk, he reveals the power of language to change stories of trauma into stories of healing -- while challenging us all to level up. Click here to view the presentation.
Books: Nonfiction

How To Be an Antiracist, Ibram X. Kendi
Historian and New York Times best-selling author Ibram X. Kendi uses a mix of personal experiences, history, and science to show how a person can go from being racist to anti-racist, and how we can all build a new anti-racist society. ("7 Anti-Racist Books Recommended by Educators and Activists," The Strategist) Print, eBook, digital audiobook

White Fragility, Robin DiAngelo
Anti-racism educator Robin DiAngelo examines how white defensive responses to conversations about race and racism reinforce inequality and prevent meaningful dialogue. She then offers ways white people can work against white fragility to engage in more constructive ways. ("7 Anti-Racist Books Recommended by Educators and Activists," The Strategist)

So You Want to Talk About Race, Ijeoma Oluo
Ijeomo Oluo's New York Times best seller shows people of all races how to have constructive and useful conversations about race in America. It answers questions about confronting friends and family members while providing a comprehensive education on this country's racist heritage. ("7 Anti-Racist Books Recommended by Educators and Activists," The Strategist)

Me and White Supremacy, Layla F. Saad
What started as an Instagram challenge and a downloadable anti-racist workbook encouraging people to examine their own privilege and racist behaviors now comes in book form with historical context, expanded definitions, and more resources. It has been widely recommended for white people who want to make change but don't know where to start. ("7 Anti-Racist Books Recommended by Educators and Activists," The Strategist)

The New Jim Crow, Michelle Alexander
Michelle Alexander's award winning book delves into mass incarceration and the truth about the United States' thriving racial caste system. Ibram X. Kendi describes The New Jim Crow as "the spark that would eventually light the fire of Black Lives Matter." ("7 Anti-Racist Books Recommended by Educators and Activists," The Strategist)

Tears We Cannot Stop: A Sermon to White America, Michael Eric Dyson
Fifty years ago Malcolm X told a white woman who asked what she could do for the cause, 'Nothing.' Michael Eric Dyson believes he was wrong. Now he responds to that question. If society is to make real racial progress, people must face difficult truths, including being honest about how Black grievance has been ignored, dismissed, or discounted. (Summary, Minuteman Library Network catalog)

How to Be Less Stupid About Race: On Racism, White Supremacy and the Racial Divide, Crystal Fleming
"I wrote the book to help people understand the historical roots of white supremacy and to be able to draw connections between past and present racism. The last chapter includes 10 concrete steps that everyone can take to help dismantle systemic racism," author statement. ("18 books on race and white privilege that will show you what's really happening in America right now, " Business Insider)

White Rage: The Unspoken Truth of Our Racial Divide, Carol Anderson
White Rage explores how each time blacks in America have made progress, there has been strong white backlash.
"The book is a critical reflection of why racism persists in the United States, including things that enrage white people about racial issues. In the book, it is evident that no matter what happens in America, including the most open outrages like police killings of blacks, whites never seem interested," Augustine Kposowa, Professor and Chair of the Department of Sociology at the University of California, Riverside. ("18 books on race and white privilege that will show you what's really happening in America right now, " Business Insider)

Waking up White: And Finding Myself in the Story of Race, Debby Irving
For twenty-five years, Debby Irving sensed inexplicable racial tensions in her personal and professional relationships. As a colleague and neighbor, she worried about offending people she dearly wanted to befriend. As an arts administrator, she didn't understand why her diversity efforts lacked traction. As a teacher, she found her best efforts to reach out to students and families of color left her wondering what she was missing. Then, in 2009, one "aha!" moment launched an adventure of discovery and insight that drastically shifted her worldview and upended her life plan. (Summary, Minuteman Library Network catalog)

Superior, Angela Saini
A powerful look at the non-scientific history of "race science," and the assumptions, prejudices, and incentives that have allowed it to reemerge in contemporary science, Superior tells the disturbing story of the persistent thread of belief in biological racial differences in the world of science. (Summary, Minuteman Library Network catalog)

Stamped From the Beginning: The Definitive History of Racist Ideas in America, Ibram X. Kendi
Americans like to insist that we are living in a postracial, color-blind society. In fact, racist thought is alive and well; it has simply become more sophisticated and more insidious. And as award-winning historian Ibram X. Kendi argues in Stamped from the Beginning, racist ideas in this country have a long and lingering history, one in which nearly every great American thinker is complicit. (Summary, Minuteman Library Network catalog)

Why Are All the Black Kids Sitting Together in the Cafeteria?, Beverly Daniel Tatum
The classic, bestselling book on the psychology of racism - now fully revised and updated. Walk into any racially mixed high school and you will see Black, White, and Latino youth clustered in their own groups. Is this self-segregation a problem to address or a coping strategy? Beverly Daniel Tatum, a renowned authority on the psychology of racism, argues that straight talk about our racial identities is essential if we are serious about enabling communication across racial and ethnic divides. (Summary, Minuteman Library Network catalog)
Books: Memoirs and Autobiographies

I'm Still Here: Black Dignity in a World Made for Whiteness, Austin Channing Brown
From a leading voice on racial justice, an eye-opening account of growing up Black, Christian, and female that exposes how white America's love affair with diversity so often falls short of its ideals. (Summary, Minuteman Library Network catalog)

Negroland, Margo Jefferson
Born in 1947 to a prominent local pediatrician and his elegant socialite wife, Jefferson defines the term "Negroland" not as an exact space but as a societal position and state of mind that many upper crust families held for generations. While she acknowledges contemporary readers might have strong emotional reactions to the word "Negro," Jefferson makes clear she is particularly comfortable with it because she "lived with its meaning and intimation for so long." ("5 African American memoirs that belong on your shelf," NBC News Online)

Between the World and Me, Ta-Nehesi Coates
Framed as a letter to his adolescent son and echoing the work of James Baldwin, the book mixes tales of the author's childhood, and his time at Howard University and in Paris, with reflections on the history of American empire, police violence, education, the destruction of black bodies, and the ongoing racial crisis in the United States. (Penguin Random House website)

Notes from a Native Son, James Baldwin
Written during the 1940s and early 1950s, when Baldwin was only in his twenties, the essays collected in Notes of a Native Son capture a view of black life and black thought at the dawn of the civil rights movement and as the movement slowly gained strength through the words of one of the most captivating essayists and foremost intellectuals of that era. (Summary, Minuteman Library Network catalog)

When They Call You a Terrorist: A Black Lives Matter Memoir, Patrisse Khan-Cullors and Asha Bandele
In this book, Khan-Cullors writes of growing up in Los Angeles and experiencing the persecution of Black people by law enforcement, and particularly her brother's experience in jail. After Trayvon Martin's killer went free in 2013, these experiences led Khan-Cullors, Alicia Garza and Opal Tometi to co-found Black Lives Matter to fight for accountability for injustices against Black people. There was plenty of pushback, with a 2016 petition to label the movement a "terrorist organization" getting more than 140,000 signatures. ("Check out more than 20 must-read books to learn more about Black history, racism and social justice," Seattle Times online)

Black Boy, Richard Wright
Richard Wright's powerful account of his journey from innocence to experience in the Jim Crow South. It is at once an unashamed confession and a profound indictment--a poignant and disturbing record of social injustice and human suffering. When Black Boy exploded onto the literary scene in 1945, it caused a sensation. Orville Prescott of the New York Times wrote that "if enough such books are written, if enough millions of people read them maybe, someday, in the fullness of time, there will be a greater understanding and a more true democracy." (Summary, Minuteman Library Network catalog)

March, John Lewis (Graphic novel trilogy)
This graphic novel trilogy is a first-hand account of Congressman John Lewis' lifelong struggle for civil and human rights, meditating in the modern age on the distance traveled since the days of Jim Crow and segregation. Rooted in Lewis' personal story, it also reflects on the highs and lows of the broader civil rights movement. (Summary, Minuteman Library Network catalog)

The Autobiography of Malcolm X
One of Time's Most Important Books in the Twentieth Century...this classic autobiography, originally published in 1964, Malcolm X, the Muslim leader, firebrand, and anti-integrationist, tells the extraordinary story of his life and the growth of the Black Muslim movement. His fascinating perspective on the lies and limitations of the American Dream, and the inherent racism in a society that denies its nonwhite citizens the opportunity to dream, gives extraordinary insight into the most urgent issues of our own time. (Summary, Minuteman Library Network catalog)

I Know Why the Caged Bird Sings, Maya Angelou
Captures the longing of lonely children, the brute insult of bigotry, and the wonder of words that can make the world right. Maya Angelou's debut memoir is a modern American classic beloved worldwide. At eight years old and back at her mother's side in St. Louis, Maya is attacked by a man many times her age--and has to live with the consequences for a lifetime. Years later, in San Francisco, Maya learns that love for herself, the kindness of others, her own strong spirit, and the ideas of great authors ("I met and fell in love with William Shakespeare") will allow her to be free instead of imprisoned. (Summary, Minuteman Library Network catalog)
Books: Fiction

The Bluest Eye, Toni Morrison
Written by Toni Morrison, winner of the 1993 Nobel Prize in Literature. It is the story of eleven-year-old Pecola Breedlove -- a black girl in an America whose love for its blond, blue-eyed children can devastate all others -- who prays for her eyes to turn blue: so that she will be beautiful, so that people will look at her, so that her world will be different. (Summary, Minuteman Library Network catalog)

The Paragon Hotel, Lyndsay Faye
It's 1921, and "Nobody" Alice James is racing by rail as far from New York as possible, finally landing at the only all-black hotel in Portland, OR. Residents are understandably suspicious of this white woman-the Ku Klux Klan is in town. (Summary, Minuteman Library Network catalog)

The Underground Railroad, Colson Whitehead
Cora is a slave on a cotton plantation in Georgia. When Caesar, a recent arrival from Virginia, tells her about the Underground Railroad, they decide to take a terrifying risk and escape. Though they manage to find a station and head north, they are being hunted. (Summary, Minuteman Library Network catalog)

We Cast a Shadow, Maurice Carlos Ruffin
In a near-future Southern city, everyone is talking about a new experimental medical procedure that boasts unprecedented success rates. In a society plagued by racism, segregation, and private prisons, this operation saves lives with a controversial method--by turning people white. (Summary, Minuteman Library Network catalog)

If Beale Street Could Talk, James Baldwin
In this honest and stunning novel, James Baldwin has given America a moving story of love in the face of injustice. Told through the eyes of Tish, a nineteen-year-old girl, in love with Fonny, a young sculptor who is the father of her child, Baldwin's story mixes the sweet and the sad. Tish and Fonny have pledged to get married, but Fonny is falsely accused of a terrible crime and imprisoned. (Summary, Minuteman Library Network catalog)

The Turner House, Angela Flournoy
Members of the multigenerational Turner family suddenly find themselves facing different problems when matriarch Viola must leave her Detroit home of over 50 years after becoming infirm. (Summary, Minuteman Library Network catalog)

An American Marriage, Tayari Jones
Newlyweds Celestial and Roy are the embodiment of both the American Dream and the New South. He is a young executive, and she is an artist on the brink of an exciting career. But as they settle into the routine of their life together, they are ripped apart by circumstances neither could have imagined. Roy is arrested and sentenced to twelve years for a crime Celestial knows he didn't commit. (Summary, Minuteman Library Network catalog)

The Travelers, Regina Porter
A young black couple, Agnes Miller and Claude Johnson, are stopped by a pair of white police officers on a road in rural Georgia. It's 1966, and the tragic events that ensue continue to haunt Agnes more than four decades later. Agnes is just one of more than half a dozen major characters whose often overlapping stories populate Porter's novel, which freely ranges back and forth through the late 20th and early 21st centuries. (Summary, Minuteman Library Network catalog)

Their Eyes Were Watching God, Zora Neale Thurston
One of the most important and enduring books of the twentieth century, Their Eyes Were Watching God brings to life a Southern love story with the wit and pathos found only in the writing of Zora Neale Hurston. Out of print for almost thirty years--due largely to initial audiences' rejection of its strong black female protagonist--Hurston's classic has since its 1978 reissue become perhaps the most widely read and highly acclaimed novel in the canon of African-American literature. (Summary, Minuteman Library Network catalog)

To Kill a Mockingbird, Harper Lee
Voted America's Best-Loved Novel in PBS's The Great American Read, Harper Lee's Pulitzer Prize-winning masterwork of honor and injustice in the deep South views a world of great beauty and savage inequities through the eyes of a young girl, as her father--a crusading local lawyer--risks everything to defend a black man unjustly accused of a terrible crime. (Summary, Minuteman Library Network catalog)
Taking Action: How You Can Fight Racism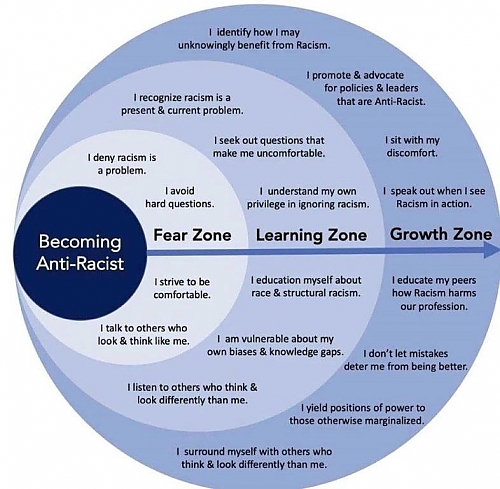 TED Talk: How to Overcome Our Biases? Walk Boldly Toward Them, Vernā Myers
Our biases can be dangerous, even deadly — as we've seen in the cases of Michael Brown in Ferguson, Missouri, and Eric Garner, in Staten Island, New York. Diversity advocate Vernā Myers looks closely at some of the subconscious attitudes we hold toward out-groups. Click here to view the presentation.

Beyond Protests: 5 More Ways To Channel Anger Into Action To Fight Racism, NPR.
NPR talks to several African American and Hispanic psychologists and leaders for strategies to fight racism. Click here.

"97 Things White People Can Do for Racial Justice," Corinne Shutack, Medium.com.
An amazing collection of concrete suggestions for white people who want to take action against racism as it permeates all aspects of our culture and institutions: banking and commerce, education, prisons, politics, corporations, and more. Click here.

"How to Support Racial Justice in Massachusetts," Boston.com
The team at Boston.com has assembled this updating list of resources and organizations in Massachusetts as well as some national sites for those looking to take action to end racist policing and demand change in our local community. Click here.
Taking Action: Anti-Racism Organizations

Color of Change
"We design campaigns powerful enough to end practices that unfairly hold Black people back, and champion solutions that move us all forward. Until justice is real."

#BlackLivesMatter
#BlackLivesMatter was founded in 2013 in response to the acquittal of Trayvon Martin's murderer. Black Lives Matter Foundation, Inc is a global organization in the US, UK, and Canada, whose mission is to eradicate white supremacy and build local power to intervene in violence inflicted on Black communities by the state and vigilantes.

Race Forward
Founded in 1981, Race Forward brings systemic analysis and an innovative approach to complex race issues to help people take effective action toward racial equity. Founded in 2002, CSI catalyzes community, government, and other institutions to dismantle structural racial inequity and create equitable outcomes for all. In 2017, Race Forward united with Center for Social Inclusion to become the new Race Forward.

Community Change, Inc.
Community Change Inc. offers public discussions, events and workshops on antiracism related topics as well as serving as a host for local events sponsored by CCI affiliated programs as well as local and regional groups. Events and forums are one of the primary ways CCI serves as a catalyst for antiracist learning and action.
These programs range in size from our monthly Antiracist Lunch Discussions generally attended by 15 – 40 people, to larger events and forums reaching audiences of over 300 people. The events provide opportunities for learning, networking and action on issues of structural racism in Boston and beyond.

National Urban League
The National Urban League's mission is to help African-Americans and others in underserved communities achieve their highest true social parity, economic self- reliance, power, and civil rights. The League promotes economic empowerment through education and job training, housing and community development, workforce development, entrepreneurship, health, and quality of life. The closest affiliate for our community is The Urban League of Massachusetts.

NAACP Legal Defense and Educational Fund
The NAACP Legal Defense and Educational Fund, Inc. is America's premier legal organization fighting for racial justice. Through litigation, advocacy, and public education, LDF seeks structural changes to expand democracy, eliminate disparities, and achieve racial justice in a society that fulfills the promise of equality for all Americans.
The Movement for Black Lives
The Movement for Black Lives (M4BL) formed in December of 2014, was created as a space for Black organizations across the country to debate and discuss the current political conditions, develop shared assessments of what political interventions were necessary in order to achieve key policy, cultural and political wins, convene organizational leadership in order to debate and co-create a shared movement wide strategy. Under the fundamental idea that we can achieve more together than we can separately.
Last updated February 5, 2021