Anti-Racism Resources for Children

For Parents
EmbraceRace. Articles, webinars, and other resources for parents and educators who seek to "nurture resilience in children of color, nurture inclusive, empathetic children of all stripes, and raise kids who think critically about racial inequity."
The Conscious Kid. Promotes access to children's books that feature "underrepresented and oppressed groups." Follow on Facebook, Instagram, and Twitter.
Talking Race with Young Children. National Public Radio article and podcast.
Booklists
Do you need more diversity on your bookshelf? Start with these booklists and resources:
Award-Winning African American Books, from Common Sense Media. Award winning books that celebrate African American people and culture.
The Brown Bookshelf. "Designed to push awareness of the myriad Black voices writing for young readers, our flagship initiative is 28 Days Later, a month-long showcase of the best in Picture Books, Middle Grade, and Young Adult novels written and illustrated by Black creators."
WeNeedDiverseBooks, a non-profit organization whose mission is "putting more books featuring diverse characters into the hands of all children."
Black Children's Books and Authors, a resource to expand your knowledge of Black children's authors and the stories they write
For Kids
A podcast for kids and their families that focuses on social justice
A podcast for families making a change, brought to you by Alphabet Rockers'. Tune in with your family to hear how brave American kids stand up to hate and love their brave and beautiful selves.
Children's Books at Framingham Public Libraries
Picture Books and Early Literature

The Day You Begin by Jacqueline Woodson. What is it like to feel different? Jacqueline Woodson's beautiful poetic prose talks about the courage it takes to sometimes be the only one

Just Ask by Sonia Sotomayor. How do you start the conversation? Kids from all over the garden ask questions of each other to learn more about each of their unique experiences. Read together.

Last Stop on Market Street by Matt De La Pena. A young boy is full of questions as he rides the bus home with his grandmother. Why don't they drive? What can't he listen to music on a phone? Why is their bus ride so long? Grandma answers in warm, sensitive, and honest ways.

Saturday by Oge Mora. Ava and her mother still love being with each other even when all their Saturday plans go wrong.

Thank You, Omu by Oge Mora.

Sulwe by Lupita Nyong. A celebration of Black girls. Beautiful and illuminating.

Something Happened in Our Town by Marianne Celano, Marietta Collins, Ann Hazzard. A Black man has been murdered in the community and two families, one white and one Black, talk about what happened.

What is Given from the Heart by Patricia C. McKissack. James Otis is worried about his friend who has lost everything in a fire. Mama and James come up with a plan to help out even though they don't have a lot themselves.
Early Readers

King and Kayla mystery series. Kayla and her dog, King, solve everyday mysteries. Available on Overdrive

Ellray Jakes by Sally Warner. Ellray Jakes, the intrepid third grader, has adventures and overcomes problems all with the help of family and friends. Available on Overdrive
Middle Grade Fiction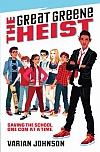 Great Greene Heist by Varian Johnson. After Jackson's last heist, he's trying to go straight but then he learns that his arch-rival is trying to steal the school election. Available on Overdrive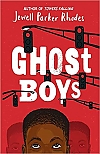 Ghost Boys by Jewell Parker Rhodes. A heartbreaking and powerful story about a black boy killed by a white police officer, drawing connections with real-life history, from award-winning author Jewell Parker Rhodes. Available on Overdrive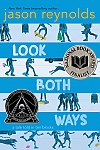 Look Both Ways by Jason Reynolds. As the subtitle says, "a tale told in 10 blocks". Each individual child's story weaves into the bigger one in fun and funny ways. Available on Overdrive

One Crazy Summer by Rita Williams-Garcia. Delphine and her sisters travel to Oakland, CA in 1968 to visit their mother to find she has signed them up for summer camp with the Black Panthers. Available on Overdrive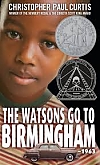 The Watsons Go to Birmingham, 1963 by Christopher Paul Curtis. The story of Kenny in his family at the beginning of the 1960's. Kenny's mother decides they need to pay a much needed visit to her mother in Birmingham and the whole family is soon engulfed in the tragedies of racism in Alabama in 1963.


Stella by Starlight by Sharon Draper. When a burning cross set by the Klan causes panic and fear in 1932 Bumblebee, North Carolina, fifth-grader Stella must face prejudice and find the strength to demand change in her segregated town. Available on Overdrive
Graphic Novels

March by John Lewis and Andrew Aydin. The graphic autobiography of the life of John Lewis, told in his voice. Available on Hoopla

I am Alfonso Jones by Tony Medina. After Alfonso Jones is killed by an off-duty police guard, he finds himself on the subway with other Black men who have been killed by police.
Nonfiction

Can I Touch Your Hair? By Irene Latham and Charles Waters. As the subtitle states "Poems of Race, Mistakes and Friendships." Available on Overdrive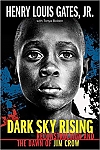 Dark Sky Rising: Reconstruction and the Dawn of Jim Crow by Henry Louis Gates, Jr and Tonya Bolden. The story of the United States immediately after the Civil War. Available on Overdrive

Let's Talk About Race by Julius Lester. Great for adults talking to kids about race. Well known author, Julius Lester, offers ways to talk to kids about race.

Separate is Never Equal by Duncan Tonatuh. The fight for Civil Rights in the Southwestern United States for and by Native American and Mexican people. Available on Overdrive

The Undefeated by Kwame Alexander and Kadir Nelson. A historic overview of what it is like to be Black in the United States. Beautifully illustrated poem. Available on Overdrive
Memoirs and Autobiographies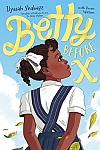 Betty Before X by Ilyasah Shabazz. The daughter of Malcolm X and Betty Shabazz tells the story of her mother's childhood. Available on Overdrive

Through My Eyes: The Story of Ruby Bridges by Ruby Bridges. Ruby Bridges' autobiography includes her memories, articles from newspapers, photos, and interviews.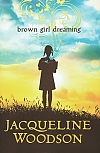 Brown Girl Dreaming by Jacqueline Woodson. Jacqueline Woodson has written a thoughtful and moving memoir about her childhood divided between South Carolina and New York. Woodson's strong and revealing poetic prose gives us a window into the life of a child growing up and becoming aware of what it is like to be Black in the United States. Available on Overdrive
Other Ethnicities and Diversifying Your Bookshelf

Yo Soy Muslim by Mark Gonsalez. "Yo Soy Muslim" has all the sweetness of a declaration of a father's love for his child plus the gut-punching caution of "No matter what they say, know you are wondrous". The main character is Muslim/Latinex. Available on Overdrive

New Kid by Jerry Craft. Available on Overdrive

Julian is a Mermaid by Jessica Love. Julian loves mermaids and loves the look of the beautiful women he saw on his bus ride home. When he is all dressed up (in a curtain and feathers), he feels just as beautiful as the "mermaids."

Where are you from? By Yamile Saied Méndez