Anti-Racism Resources for Teens

The modern day Anti-Racism and social justice movements in the United States (and around the world!) are being led by teenagers and young people just like you!
If you're looking for ways to jump in and learn more, or for resources for getting involved in the fight, we've put together this list of books, movies, and groups for you to do just that. Links to our catalog (for when curbside pickup is fully up and running), as well as to Overdrive, Hoopla, and Kanopy are included for you to easily read and watch.
Click here to jump straight to our Teen Activism Group list.
Teen Anti-Racism Booklist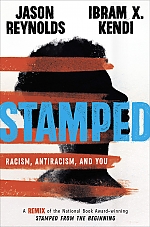 Stamped: Racism, Antiracism, and You
by Jason Reynolds and Ibram X. Kendi | This remarkable reimagining of Dr. Ibram X. Kendi's National Book Award-winning Stamped from the Beginning reveals the history of racist ideas in America, and inspires hope for an antiracist future. It takes you on a race journey from then to now, shows you why we feel how we feel, and why the poison of racism lingers. It also proves that while racist ideas have always been easy to fabricate and distribute, they can also be discredited. (Catalog | Overdrive eBook | Overdrive Audiobook)
This Book Is Anti-Racist: 20 Lessons on How to Wake Up, Take Action, and Do the Work
by Tiffany Jewell, illustrated by Aurélia Durand | This book is written for the young person who doesn't know how to speak up to the racist adults in their life. For the 14 year old who sees injustice at school and isn't able to understand the role racism plays in separating them from their friends. For the kid who spends years trying to fit into the dominant culture and loses themselves for a little while. It's for all of the Black and Brown children who have been harmed (physically and emotionally) because no one stood up for them or they couldn't stand up for themselves; because the colour of their skin, the texture of their hair, their names made white folx feel scared and threatened. (Catalog | Overdrive eBook)
How to Be an Antiracist
by Ibram X. Kendi | Ibram X. Kendi's concept of antiracism reenergizes and reshapes the conversation about racial justice in America--but even more fundamentally, points us toward liberating new ways of thinking about ourselves and each other. In How to be an Antiracist, Kendi asks us to think about what an antiracist society might look like, and how we can play an active role in building it. (Catalog | Overdrive eBook | Overdrive Audiobook)
Between the World and Me
by Ta-Nehisi Coates | Ta-Nehisi Coates offers a powerful new framework for understanding our nation's history and current crisis. Americans have built an empire on the idea of "race," a falsehood that damages us all but falls most heavily on the bodies of black women and men—bodies exploited through slavery and segregation, and, today, threatened, locked up, and murdered out of all proportion. What is it like to inhabit a black body and find a way to live within it? And how can we all honestly reckon with this fraught history and free ourselves from its burden? (Catalog | Overdrive eBook | Overdrive Audiobook)
So You Want to Talk About Race
by Ijeoma Oluo | Ijeoma Oluo offers a contemporary, accessible take on the racial landscape in America, addressing head-on such issues as privilege, police brutality, intersectionality, micro-aggressions, the Black Lives Matter movement, and the "N" word. Perfectly positioned to bridge the gap between people of color and white Americans struggling with race complexities, Oluo answers the questions readers don't dare ask, and explains the concepts that continue to elude everyday Americans. (Catalog | Overdrive eBook | Overdrive Audiobook | Hoopla Audiobook)
Films
The 13th
Combining archival footage with testimony from activists and scholars, director Ava DuVernay's examination of the U.S. prison system looks at how the country's history of racial inequality drives the high rate of incarceration in America. This piercing, Oscar-nominated film won Best Documentary at the Emmys, the BAFTAs and the NAACP Image Awards. (Free to stream on Youtube)
I Am Not Your Negro
In 1979, James Baldwin wrote a letter to his literary agent describing his next project, Remember This House. The book was to be a revolutionary, personal account of the lives and successive assassinations of three of his close friends--Medgar Evers, Malcolm X and Martin Luther King, Jr. At the time of Baldwin's death in 1987, he left behind only thirty completed pages of his manuscript.
Now, in his incendiary new documentary, master filmmaker Raoul Peck envisions the book James Baldwin never finished. The result is a radical, up-to-the-minute examination of race in America, using Baldwin's original words and flood of rich archival material. I AM NOT YOUR NEGRO is a journey into black history that connects the past of the Civil Rights movement to the present of #BlackLivesMatter. (Stream on Kanopy)
Teen Activism Groups
Black Youth Project 100: She Safe, We Safe, our current national campaign, is a transformative movement campaign to put an end to the different forms of gender violence that Black women, girls, femmes and gender non-conforming people face every day.
CampusActivism.org: This interactive website has tools for progressive activists. You can use it to start a campaign, share activism resources, publicize events, and build networks. Or you can join an existing campaign, get resources, learn about upcoming activist events, and let people find you.
Democracy Matters: Democracy Matters, a non-partisan campus-based national student organization, works to get big private money out of politics and people back in.
Dream Defenders: We are young people fighting for the future we deserve, a future with no cages, violence or corporate greed. uprising of communities in struggle, shifting culture through transformational organizing. The use strategic non-violent direct-action, issue advocacy, civic engagement and an unlimited creativity to develop the next generation of radical leaders to realize and exercise independent collective power; building alternative systems and organizing to disrupt the structures that oppress our communities.
Framingham GLASS: The mission of Framingham GLASS is to improve the well-being LGBTQ+ youth of color and their allies by providing a continuum of services that addresses their immediate needs, equips them with tools to make healthy decisions and live fulfilling lives, and helps create communities in which they can thrive.
Hip Hop Congress: Hip Hop Congress is a network of individuals and organizations that are driving the necessary transformation of the world by uplifting culture for the creative development of artists and young people through education, civic engagement, and equitable resource exchange.
Brighter Days for Justice: Brighter Days is a gun violence prevention organization working at the intersection of criminal justice reform and public health to advance state-level reform through advocacy, public education, convenings, research, and coalition-building. Brighter Days is bringing together college students, young adults, and advocates to advance policies that create new paradigms to help communities most harmed by injustices and the public health system.
Project Mobilize: Project Mobilize is a network of leaders working to create change both within the current systems and organizations that already exist as well as investing in new ideas on the local, state and national level that will break through the stagnate and partisan rhetoric in order to create a more unified, inclusive and forward-thinking nation.
NAACP Youth and College Division: We believe strongly that future leaders must be developed today, and such development is ongoing in the Youth & College Division, created in 1936. Today there are more than 25,000 young people, under the age of 25, representing 700 Youth Councils, High School Chapters and College Chapters actively involved in the fight for civil rights.
Racial Equity Tools: Racial Equity Tools is designed to support individuals and groups working to achieve racial equity. This site offers tools, research, tips, curricula and ideas for people who want to increase their own understanding and to help those working toward justice at every level – in systems, organizations, communities and the culture at large.
Young People For: A strategic, long-term leadership initiative, was launched by People for the American Way Foundation to invest in the next generation of leaders and build a long-term national network for young progressives.