Author Talk: Erica Ferencik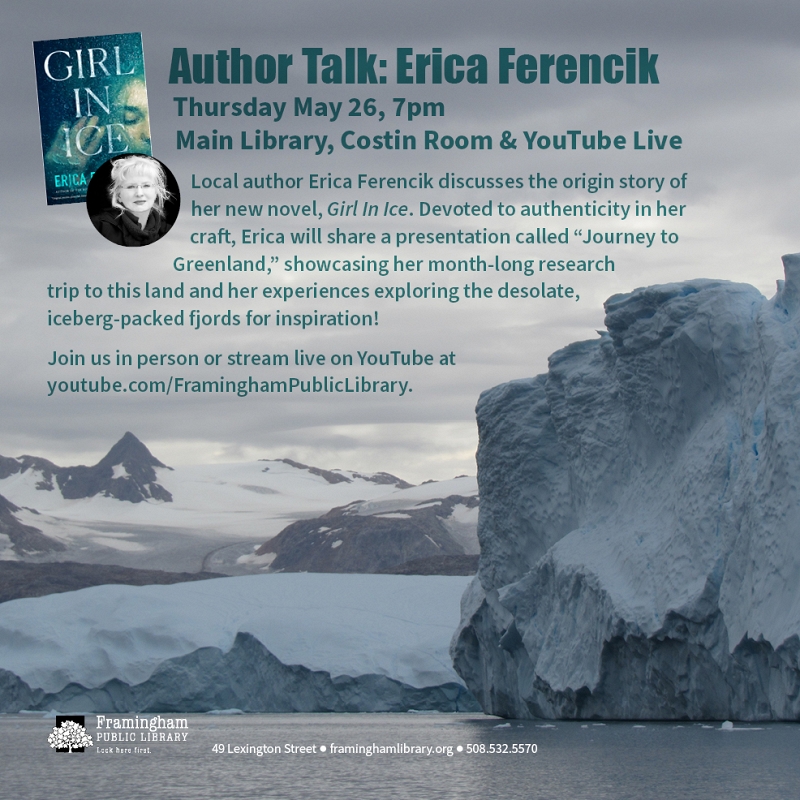 Local author Erica Ferencik discusses the origin story of her stunning new novel, "Girl In Ice" and her experiences exploring the desolate iceberg-packed fjords of Greenland for inspiration! Erica will also share a presentation called JOURNEY TO GREENLAND, showcasing her month-long research trip to this land of almost incomprehensible size and scale. A ring of ominous black mountains jut out of the sea, surrounding a seven-hundred-thousand square mile ice sheet, two miles deep at its thickest, frozen for over three million years. Fin whales and narwhals navigate narrow blue fjords; arctic fox, polar bear and caribou roam the barren hills. This is a place of phenomenal beauty, isolation, wildness and mystery. Erica says: "I knew it was my only chance to experience this jaw-dropping world of ice, and that if I didn't say yes to all of it—the beauty and the danger—I could never write the kind of story I was determined to create." In the novel, Val, an American linguist, is tasked to journey to a remote climate research center off the coast of Greenland where a girl has thawed from the ice - alive - speaking a language no one understands. Award-winning novelist Erica Ferencik has received glowing critical praise for her literary thrillers featuring women who face extreme physical challenges in nature, even as they grapple with internal struggles.
Join in person, or watch on Youtube https://www.youtube.com/framinghampubliclibrary.