Brown Bag Learning Series: Advanced Retirement Strategies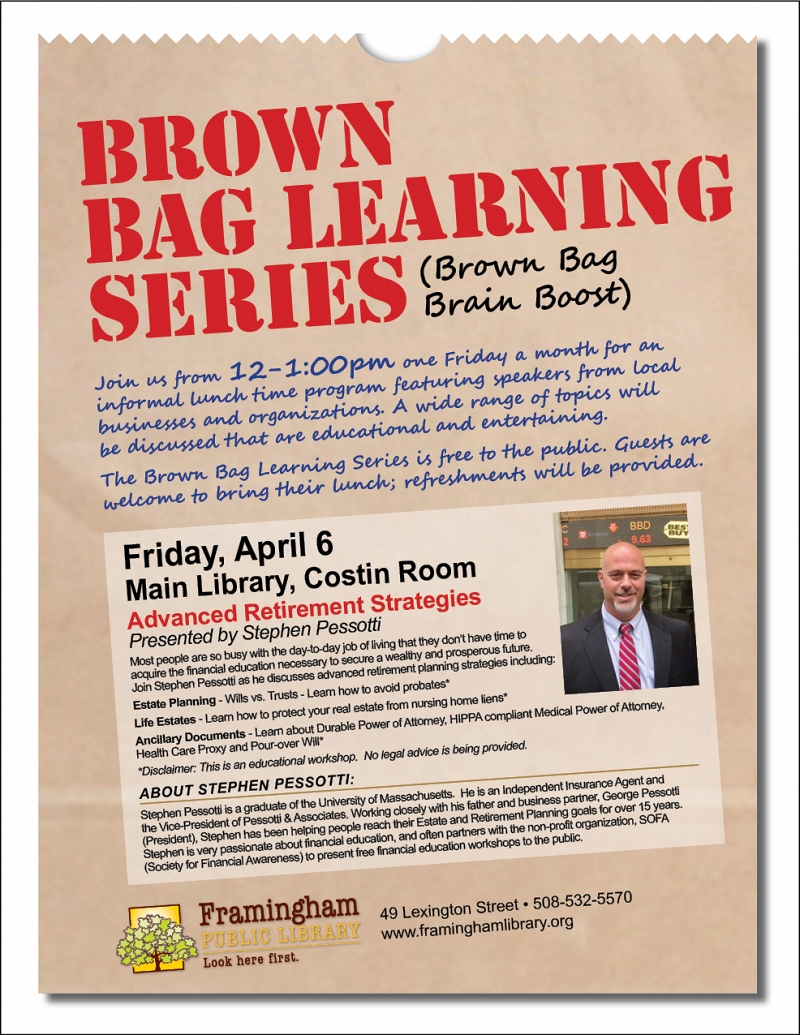 Presented by Steve Pessotti, Society for Financial Awareness (SOFA)
Most people are so busy with the day-to-day job of living that they don't have time to acquire the financial education necessary to secure a wealthy and prosperous future. Join Stephen Pessotti as he discusses advanced retirement planning strategies including:
Estate Planning - Wills vs. Trusts - Learn how to avoid probates*
Life Estates - Learn how to protect your real estate from nursing home liens*
Ancillary Documents - Learn about Durable Power of Attorney, HIPPA compliant Medical Power of Attorney, Health Care Proxy and Pour-over Will*
An additional workshop has been scheduled for Tuesday, April 10th from 2-3:30pm and again from 6:30-8pm in the Costin Room that will cover:
Nursing home/Medicaid rules- Learn about 5 year look back and asset limitations for single and married tax payers.
Fixed and Fixed Indexed Annuities- Learn how they provide principle guarantees and tax deferred growth.
Lifetime Income Annuities- Create an income like social security that you can't outlive.
Lump Sum vs. Pension Income Payouts- Learn about the benefits and disadvantages.
Social Security- Learn about major rule changes effective in 2016.
*Disclaimer: This is an educational workshop. We are not attorneys and we are not providing legal advice.