Financial Literacy Series: Money Management for Military Personnel and Veterans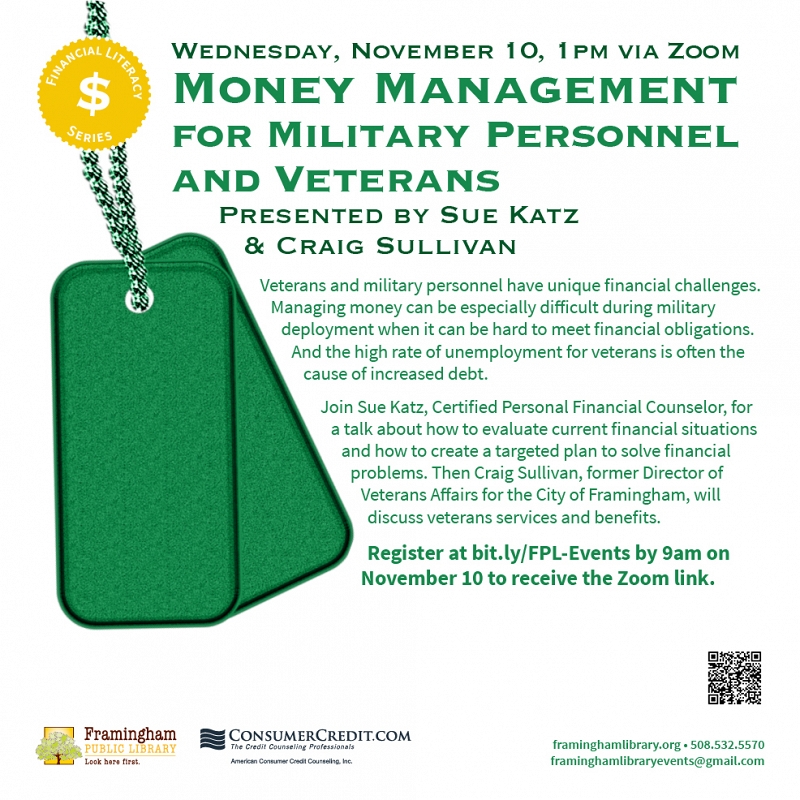 Veterans and military personnel have unique financial challenges. Managing money can be especially difficult during military deployment when it can be hard to meet financial obligations. And the high rate of unemployment for veterans is often the cause of increased debt.
Join Sue Katz for a talk about how to evaluate current financial situations and how to create a targeted plan to solve financial problems. Then Craig Sullivan, former Director of Veterans Affairs for the City of Framingham, will discuss veterans services and benefits.
Register at http://bit.ly/FPL-Events by 9am on November 10 for the Zoom link.
About Sue Katz and Craig Sullivan
Sue Katz has been working for American Consumer Credit Counseling since 2009. She is a Certified Personal Financial Counselor / Educator and a Military Housing Specialist with over 40 years of experience in personal, corporate and small business finance. She is an outreach coordinator and educator whose main focus is reaching out to the military and to the community at large.
Craig Sullivan is the former Director of Veterans Services for the City of Framingham.