Inner Peace Through Meditation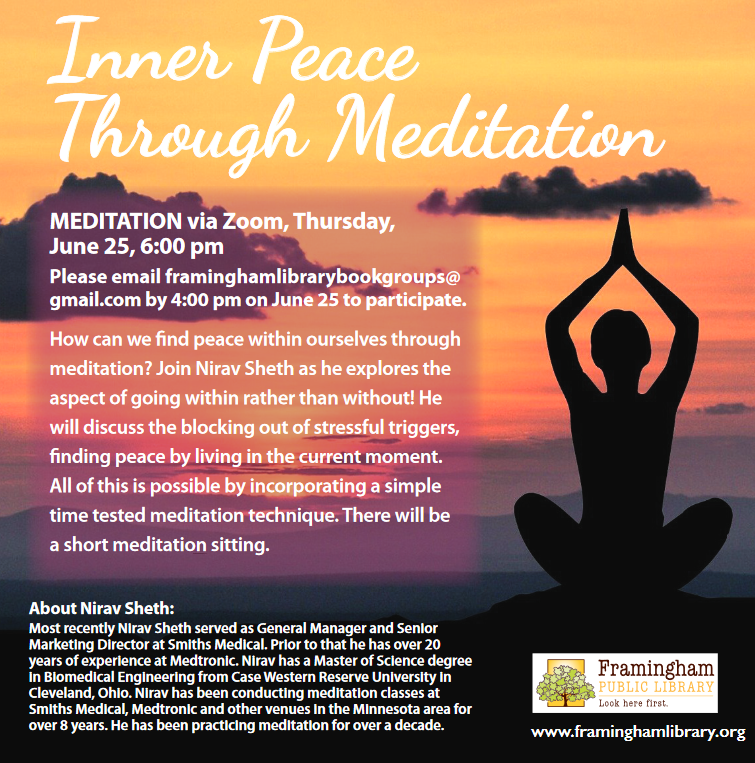 How can we find peace within ourselves through meditation? Join Nirav Sheth as he explores the aspect of going within rather than without! He will discuss the blocking out of stressful triggers, finding peace by living in the current moment. All of this is possible by incorporating a simple time tested meditation technique. There will be a short meditation sitting.
About Nirav Sheth:
Most recently Nirav Sheth served as General Manager and Senior Marketing Director at Smiths Medical. Prior to that he has over 20 years of experience at Medtronic. Nirav has a Master of Science degree in Biomedical Engineering from Case Western Reserve University in Cleveland, Ohio. Nirav has been conducting meditation classes at Smiths Medical, Medtronic and other venues in the Minnesota area for over 8 years. He has been practicing meditation for over a decade.
Please email framinghamlibrarybookgroups@gmail.com by 4:00 pm on June 25 to participate.