Local Author Book Fair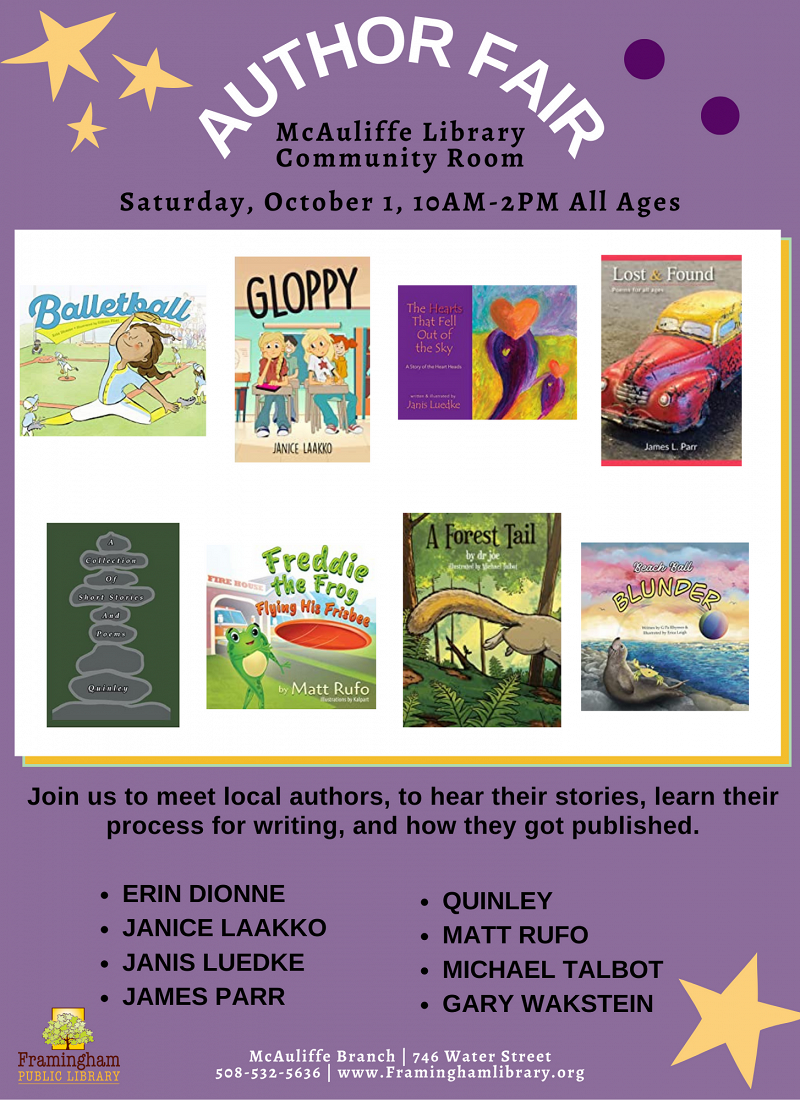 Join us to meet local authors, to hear their stories, learn their process for writing, and how they got published. All Ages
Author Bios:
Erin Dionne's latest novel for tweens is Secrets of a Fangirl(Scholastic 2019). She's written six other books for young readers. Her most recent picture book is Balletball (Charlesbridge, 2020). Bad Choices Make Good Stories (Table for 7 Press, 2021) marks her first nonfiction collection, and her forthcoming chapter book series Shiver-by-the-Sea (Pixel + Ink) releases in fall 2023. When not writing, she's a professor at Montserrat College of Art in Beverly, MA.
Janice Laakko loves to write stories such as Gloppy and spends her free time dreaming up adventures for her beloved characters. She is a member of the Society of Children's Book Writers and Illustrators.
Janis Luedke is a self-taught artist, who also practiced interior design for 30 years. Her book "The Hears That Fell Out of the Sky" is a children's book aimed at ages 3-8, but has delighted all ages, and is required reading for all adults. She spent 19 years living in the Southwest, where her art was greatly influenced by the expanse of the landscape, the ever-changing light, the colors of the earth, the overall texture of the natural environment, and the Latin culture, which significantly influenced the colors in this book.
Jim Parr is a retired Framingham elementary teacher and writer, who has written several books of local history and legends. He has also published 2 volumes of poetry; "My Name is James," and "Lost and Found," both of which contain fun poems for children of all ages.
Hi. My name is Quinn. I have grew reading and started writing as soon as I could hold a pencil. The stories and poems in my book are written from age 7-15. I finished writing by my 15th birthday in January 2021, and published it by October. I am currently working on poetry and have written a story or two since October.
Matt Rufo grew up in Brighton Massachusetts, where four generations of his family lived in the same house, and his parents still reside there. The author now lives in Framingham, Massachusetts.With schools and businesses shut down last spring at the outset of the coronavirus pandemic, Matt told stories to his 4-year-old daughter, Samantha, more frequently."I had the time to start telling her stories and getting them onto paper," he said. "She enjoyed them." Thus, Freddie the Frog, a fun-loving amphibian, was born.
G Pa Rhymes (aka Gary Wakstein) has been writing raps and rhymes for his friends and family for more than 50 years. When G Pa's daughter had her son Esben, his son had an epiphany. He said to G Pa, "You're a rapping, rhyming storyteller with a great imagination and a way with words. You should write children's books to share with the world." G Pa can't keep his stories to himself any longer! With his longtime partner and in-house editor, Liz, by his side, Gary now shares his inspiring children's books across Cape Cod and beyond.