Adventures in Lifelong Learning
January 2018 John L. Heineman Intersession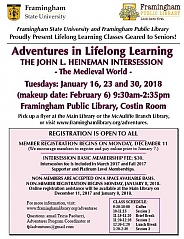 Registration for the January 2018 Intersession – "The Medieval World" – begins Monday, December 11 for members, and Monday, January 8 for non-members. Click here for a printable registration form and starting December 11, click here to register online.
Paper registration forms may be dropped off or mailed to the Main Branch at 49 Lexington Street, Framingham, MA 01702 (along with a check for $30.00 payable to FSU Foundation.)

An online registration assistance session will be held at the Main Branch on January 8 from 9 am to 11 am.
Classes run three consecutive Tuesdays, January 16 through January 30, with a makeup date of February 6.
For any questions regarding registration, please contact Adventures Coordinator, Tricia Paolucci at fpladventures@gmail.com.
About Adventures
The Adventures in Lifelong Learning program is a collaboration between Framingham State University and Framingham Public Library. Beginning in Fall 2011 and dedicated to promoting healthy living among older adults by providing academic enrichment, intellectual stimulation, and social support, the program is funded by membership fees and donations. Framingham State University provides the refreshments.

Are you interested in history, literature, music, art history and more? Classes, geared toward seniors, are offered in sessions scheduled in March and October. If you are interested in receiving information or if you have any questions, please email the Adventures Coordinator, Tricia Paolucci, at fpladventures@gmail.com.