Adventures in Lifelong Learning
Spring 2017
Member registration is OPEN!
TO REGISTER: To pay for membership for the Spring 2017 session, please click here to join. After you complete member registration, please check your e-mail for the link and payment code needed to sign up for classes.
TO SIGN UP FOR CLASSES: If you paid at the Supporter Level or Platinum Level during the Fall 2016 or Winter 2017 sessions, and if you have your membership payment code, please click here to skip payment and register for classes directly.
QUESTIONS? Please contact Karen Woo at fpladventures@gmail.com.
If you would prefer to sign up on paper, please click here to print the form, and then please bring it to the Library with your check by February 22.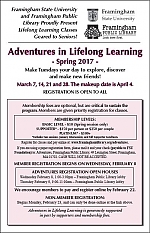 About Spring 2017
Classes will take place on the following Tuesdays: March 7, 14, 21, 28 (Snow date – April 4).
About Adventures
The Adventures in Lifelong Learning program is a collaboration between Framingham State University and Framingham Public Library. Beginning in Fall 2011 and dedicated to promoting healthy living among older adults by providing academic enrichment, intellectual stimulation, and social support, the program is funded by membership fees and donations. Framingham State University provides the refreshments. We also thank the MetroWest Health Foundation who provided funding for the three initial years of the program, ending April 2014.

Are you interested in history, literature, music, art history and more? Classes, geared toward seniors, are offered in sessions scheduled in March and October. If you are interested in receiving information or if you have any questions, please email the Adventures Coordinator, Karen Woo, at fpladventures@gmail.com.