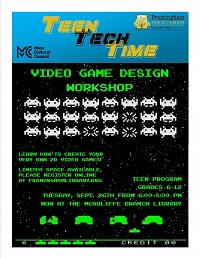 Teen Tech Time returns! We're back from summer break, and we'll be having monthly programs through November up at the McAuliffe Branch Library. For this one, go from gamer to designer. Video Game Design encompasses storytelling, pixel art, and object-oriented programming, all through a user-friendly, 2D game design platform.
Limited space available: Please register online by clicking the event title and filling out the form at the bottom of the page. When you do, please put the grade you're in in the "Message" section.
SPOTS ARE CURRENTLY FULL. FILL OUT REGISTRATION FORM TO GO ON WAITLIST.