Ongoing Book Sale
The Friends Book Store is always open during regular library hours, at both the Main and the McAuliffe Branch.
Monthly Book Sale
Book sales are held at the Main Library on the third Saturday of the month.
Upcoming Book Sales 2017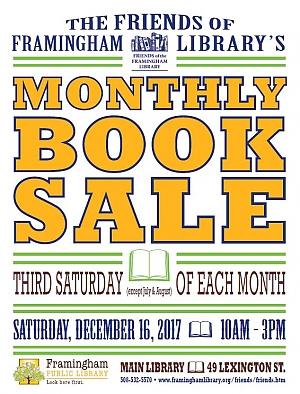 Saturday December 16
9:30-10am: Friends Members only
10am-3pm: Open to the public
Upcoming Book Sales 2018
Saturday January 20
9:30-10am: Friends Members only
10am-3pm: Open to the public
And the winner of our October drawing for a $100 VISA gift card is...Roche Brothers! Roche Brothers graciously donated the gift card back to the Friends. Thank you to everyone who joined the Friends between May 1 and September 30. We appreciate your support of the Friends AND the Library!
A key benefit of membership is early access to the regular monthly sale at 9:30am! To become a member, click here.
Thank you to corporate sponsors that have renewed their membership: Bella Costa Ristorante, Bernardi Auto Group, ERA Key Realty Services, Kathy Foran Realty, Kelly's Roast Beef, Marian High School, Market Basket, and Royal Cleaners & Tailors. Welcome to our newest sponsors: Allegra Print & Imaging, Boston Breast Diagnostic Center, Dunkin Donuts, Federal Glass and Mirror, Framed in Time, Roche Bros., Shillman House, and Tiles Plus More.
And thank you to our new corporate sponsors: Avidia Bank, Automatic Appliance, Optical View, and Saxonville Handmaid Designs.
Becoming a Member of the Friends
Sign up in the Main Library lobby on the sale date.
Sign up online on the Friends' webpage.
Pick up a Friends' brochure/membership form at either Library.