Upcoming Book Sales 2018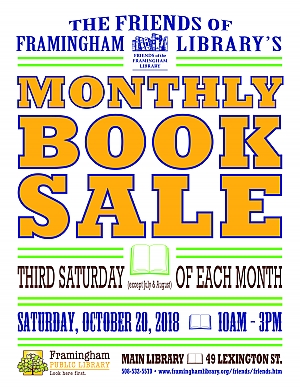 FRIENDS' MONTHLY BOOK SALE!
Saturday, October 20, Main Library
9:30am-3:00pm: Open to Friends Members
10:00am-3:00pm: Open to the Public
Most Books $1.00 or less, Children's $.50 or less, single DVDs $3.00.

Three rooms plus the lobby chock full of books!

This month's special will be popular authors. Buy One book for $1.00 Get One Free in the BOGO bookcase. Also a special selection of books will be featured at $2.00 each in the lobby. We have books of all genres, a huge children's section, and a selection of foreign books & movies.
We have something for everyone!
Ongoing Book Sale
The Friends Book Store is always open during regular library hours, at both the Main and the McAuliffe Branch.
Monthly Book Sale
Book sales are held at the Main Library on the third Saturday of the month from September to June.
Please keep the Friends in mind during this busy time of year when you have books, CDs, DVDs or games in good condition. Donations are gratefully accepted during the sale. Smaller donations may also be made at the Main Library during the week. Please check with the Library if that is a more convenient way for you to donate.

Please note: Due to the citywide ban on plastic bags, we will no longer have them at our sale beginning in January.
Because of your continued support of the Friends, we are able to provide free movies, concerts, programs, museum passes, audio books, CDs, Children's Room apps, and many other services to patrons and the Framingham community.
Donations are gratefully accepted and may be brought in the day of the sale or brought into the library during the week.
A key benefit of membership is early access to the regular monthly sale at 9:30am! To become a member, please see our Membership page.
Thank you to our FY2018 corporate sponsors.
Becoming a Member of the Friends
Sign up in the Main Library lobby on the sale date.
Sign up online on the Friends' webpage.
Pick up a Friends' brochure/membership form at either Library.