Book Sales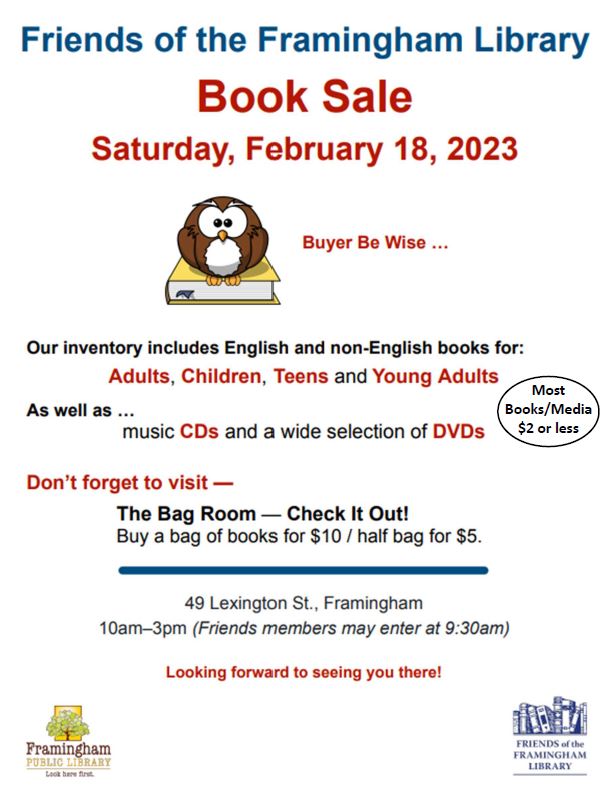 Throughout the pandemic, we have continued to provide funding for purchase of books and other library materials, and support free public programming, including Sunday concerts, meditation and yoga classes, the pop-up art school, children's craft kits, and more. We can do this because of you -- Thank You!
​Book Sale in a Bag

Are you missing the Friends monthly book sales? We are too! With in-person sales on hold, now you can order a personalized "book sale in a bag*." For just $10 per bundle you can get:
Fiction
Non-fiction, e.g. history, religion, politics, nature, cookbooks (use your imagination!)
Large Print
Children's
Young Adult
International language books
Movies/TV Shows/Music/Audiobooks
Puzzles
We will scour our overflowing inventory and do our best to fulfill your request.
For all the details and to place an order today, please email Marsha Farmelant (mfarmelant@aol.com), or call 1-508-875-1918.
This is a win-win for everyone. You'll get new reading material and the Friends can raise money for the Library!
*Specific titles not guaranteed
Donations
Good News!
The Friends can now accept book donations. Gently used, relatively recent books of general interest are desired. Small donations—up to 3 grocery bags—can be left at either Library. If you have a larger donation of books, please call Emily Olson at (508)861-9032 to arrange a time to drop them off at the Main Library.
Sorry we cannot accept encyclopedias, video tapes, or LPs.

Becoming a Member of the Friends
A key benefit of membership is early access to the regular monthly sale at 9:30am! To become a member, you may:
Sign up in the Main Library lobby on the sale date.
Sign up on the Friends Membership webpage.
Pick up a Friends' brochure/membership form at either Library.