Ongoing Book Sale
The Friends Book Store is always open during regular library hours, at both the Main and the McAuliffe Branch.
Monthly Book Sale
Book sales are held at the Main Library on the third Saturday of the month.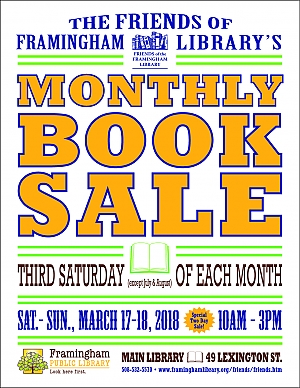 Please keep the Friends in mind during this busy time of year when you have books, CDs, DVDs or games in good condition. Donations are gratefully accepted during the sale. Smaller donations may also be made at the Main Library during the week. Please check with the Library if that is a more convenient way for you to donate.

We are pleased to welcome back Gudrun Hord of Coldwell Banker Residential Brokerage who has renewed her corporate membership. The full list of corporate members may be here.

Please note: Due to the citywide ban on plastic bags, we will no longer have them at our sale beginning in January.
Upcoming Book Sales 2018
Two Day Book Sale in March!
Saturday, March 17
9:30-10:00am: Friends Members Only
10:00am-3:00pm: Open to the public
Bonus Sale! Sunday March 18, 1-4pm
Most books $1.00 or less, children's .50 or less; single DVDs $3.00; and $7.00 for a "fill a paper grocery bag" with books in our Bag Room.
This month's feature is music CDs in the Book Room, including Jazz, Classical, Latin, Portuguese, Country, Rock, and Broadway. Buy One for $1.00, Get One Free.
The Friends provide free movies, concerts, museum passes, audio books, CDs, and many other services to patrons and the community. Donations are gratefully accepted and may be brought in the day of the sale or made at the Library during the week.
A key benefit of membership is early access to the regular monthly sale at 9:30am! To become a member, click here.
Thank you to corporate sponsors who have renewed their membership: Bella Costa Ristorante, Bernardi Auto Group, ERA Key Realty Services, Kathy Foran Realty, Kelly's Roast Beef, Marian High School, Market Basket, and Royal Cleaners & Tailors. Welcome to our newest sponsors: Allegra Print & Imaging, Boston Breast Diagnostic Center, Dunkin Donuts, Federal Glass and Mirror, Framed in Time, Roche Bros., Shillman House, and Tiles Plus More.
And thank you to our new corporate sponsors: Avidia Bank, Automatic Appliance, Herb Connolly Auto Group, Optical View, and Saxonville Handmaid Designs.
Becoming a Member of the Friends
Sign up in the Main Library lobby on the sale date.
Sign up online on the Friends' webpage.
Pick up a Friends' brochure/membership form at either Library.