Friends of the Library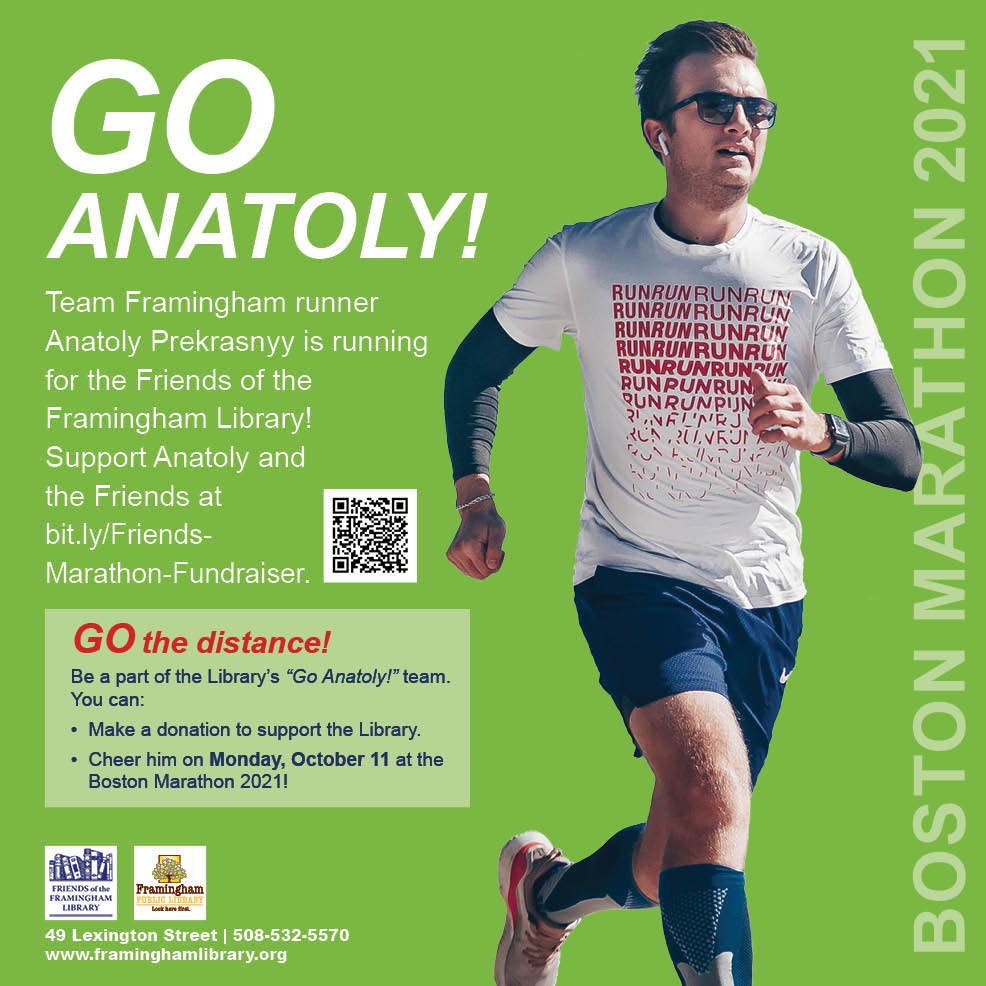 The Friends of the Framingham Library take an active interest in the development and use of the Library, focus attention on its needs as well as its services to the community, and provide items not included in the library budget. The Friends sponsor programs for children, teens, and adults; purchase software for the Creation Station, apps for the iPads in the Children's Room, books for the summer reading program, and fund museum passes.
Click the graphic below to expand it: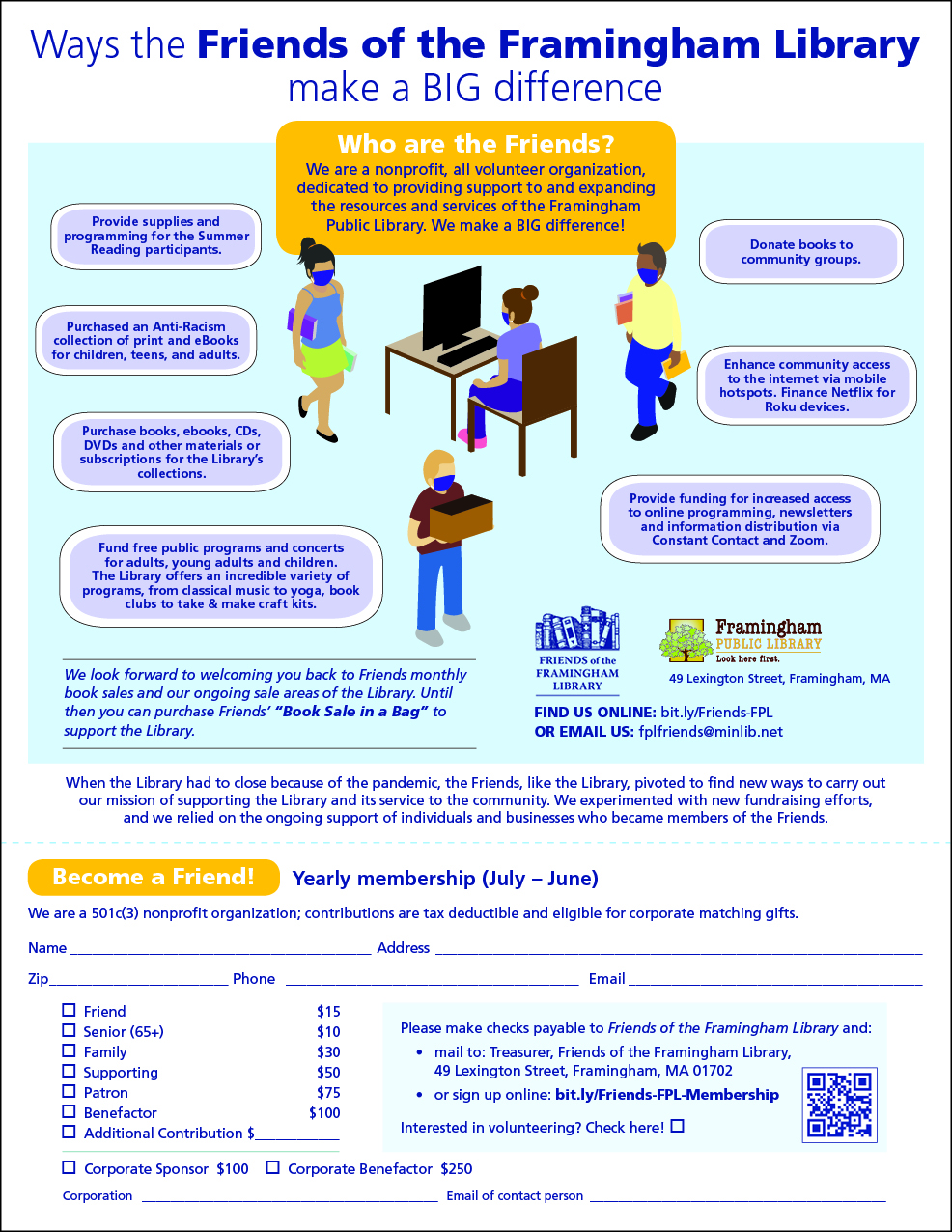 Questions about the Friends? Email fplfriends@minlib.net.
Friends Fundraisers
Book Sale in a Bag
Are you missing the Friends monthly book sales? We are too! With in-person sales on hold, now you can order a personalized "book sale in a bag*."
For just $10 per bundle you can get:
Fiction

Non-fiction, e.g. history, religion, politics, nature, cookbooks (use your imagination!)

Large Print

Children's
Young Adult

International Language Books

Movies/TV Shows/Music/Audiobooks

Puzzles
We will scour our overflowing inventory and do our best to fulfill your request.
For all the details and to place an order today, please email Marsha Farmelant (mfarmelant@aol.com), or call 1-508-875-1918.
This is a win-win for everyone. You'll get new reading material and the Friends can raise money for the Library!
*Specific titles not guaranteed
Friends News
Thank you to Framingham's Local Access TV Station, who filmed our Bag Room Sale on Saturday, July 17. Take a look at the video HERE.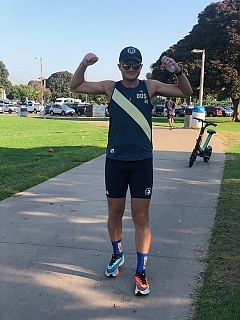 Anatoly Prekrasnyy, a member of Team Framingham, ran an amazing virtual 2020 Boston Marathon for the Friends of the Framingham Library on Sunday, September 6, in San Diego! The temperature when he finished was 100 degrees. The Friends offer their heartfelt gratitude to Anatoly and to those who supported his run. He more than tripled his $3,000 goal and raised over $10,000 for the Friends. Way to go and THANK YOU, Anatoly!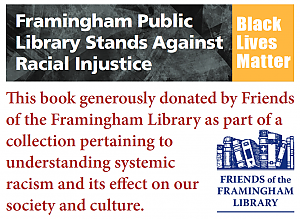 In support of Black Lives Matter/Framingham Public Library Stands Against Racial Injustice, the Friends are pleased to announce they have purchased books in print and eBooks for adults, teens, and children on the subject of anti-racism. Click here for the list of materials with links to each item in the catalog. For more resources on anti-racism, please see the Library's Anti-Racism Resources page.
Many thanks to Friends member Mary White, who nominated us for the Harvard Pilgrim Community Spirit 9/11 Mini-Grant from the Harvard Pilgrim Health Care Foundation. This $500 mini-grant will allow the Friends to fund children's programming at the Library. We are thrilled to be nominated for this mini-grant! For more information please visit https://www.harvardpilgrim.org/public/our-foundation.
Support the Friends
Contributions to the Friends may be made on this website, or by check. Checks should be made payable to The Friends of the Framingham Library, and mailed to Treasurer, Friends of the Framingham Library, 49 Lexington Street, Framingham, MA 01702. Contributions are tax deductible charitable gifts, and are eligible for corporate matching gifts.
We appreciate your support! Please click here for details about membership.