Brown Bag Learning Series: Dog Training 101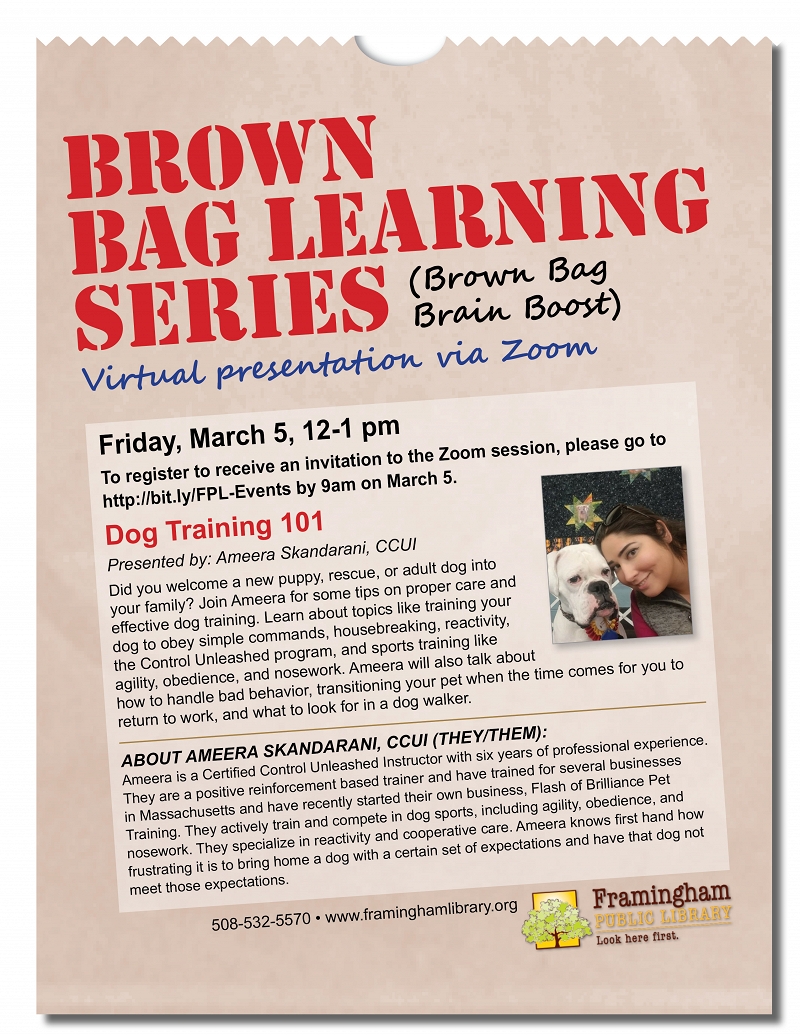 Presented by: Ameera Skandarani, CCUI
Did you welcome a new puppy, rescue, or adult dog into your family? Join Ameera for some tips on proper care and effective dog training. Learn about topics like training your dog to obey simple commands, housebreaking, reactivity, the Control Unleashed program, and sports training likeagility, obedience, and nosework. Ameera will also talk about how to handle bad behavior, transitioning your pet when the time comes for you to return to work, and what to look for in a dog walker.
ABOUT AMEERA SKANDARANI, CCUI (THEY/THEM):
Ameera is a Certified Control Unleashed Instructor with six years of professional experience. They are a positive reinforcement based trainer and have trained for several businesses in Massachusetts and have recently started their own business, Flash of Brilliance Pet Training. They actively train and compete in dog sports, including agility, obedience, and nosework. They specialize in reactivity and cooperative care. Ameera knows first hand how frustrating it is to bring home a dog with a certain set of expectations and have that dog not meet those expectations.
To register to receive an invitation to the Zoom session, please go to http://bit.ly/FPL-Events by 9am on March 5.