Girls Who Code (3rd-5th grade club)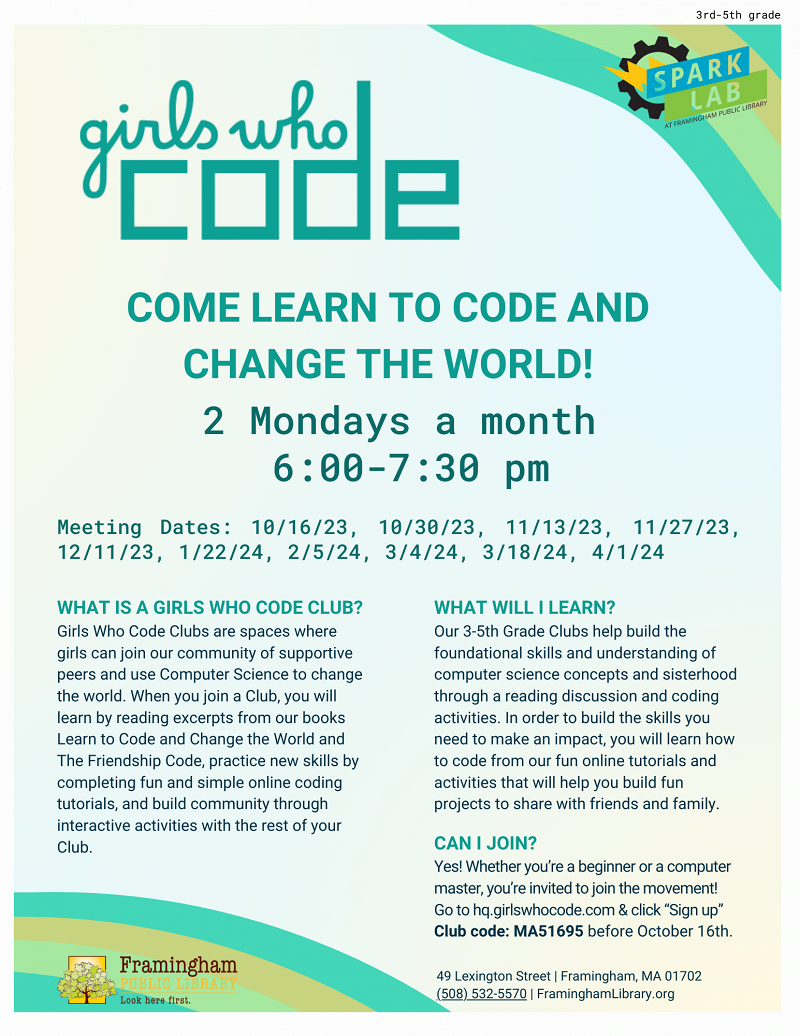 Girls Who Code Clubs are spaces where girls can join our community of supportive peers and use Computer Science to change the world. When you join a Club, you will learn by reading excerpts from our books Learn to Code and Change the World and The Friendship Code, practice new skills by completing fun and simple online coding tutorials, and build community through interactive activities with the rest of your Club. Our 3-5th Grade Clubs help build the foundational skills and understanding of computer science concepts and sisterhood through a reading discussion and coding activities. In order to build the skills you need to make an impact, you will learn how to code from our fun online tutorials and activities that will help you build fun projects to share with friends and family.Technology will be provided.
PRE-REGISTRATION REQUIRED
There are two ways you can register. Child must be registered prior to the first session, October 16, 2023. The program is cumulative so registrants are expected to attend all sessions.
Register from home. Go to: hq.girlswhocode.com & click "sign up" to set up an account. Select "United States"' from the dropdown and enter your child's birth date. Then agree to the Terms of Use and Privacy Policy. Enter your email address to receive an email with parent/guardian information about HQ. Enter your child's full name and create a unique username and a password. You will be redirected to Join Your Program and enter your child's Club Code. 3rd-5th Grade club code: MA51695.
Stop into the Children's room at the Main Library & fill out a registration form.