The Citizenship Corner

About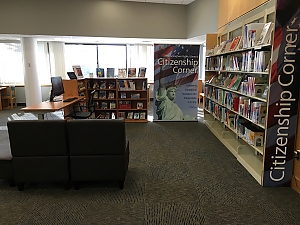 Dedicated to helping you find information related to immigration and citizenship, the Citizenship Corner offers:
A computer set up with immigration and citizenship resources, with access to the internet and black and white and color printers.

Books, CDs, and videos for learning English.

Books, CDs, and videos to help you prepare for the citizenship examination.
The Citizenship Corner is located on the third floor at the Main Library, next to the Information and Research Services Desk, where a librarian can always assist you. You may also call us at 508-532-5570, extension 4361.
Citizenship Workshops and Classes
Online Resources
Last updated May 2018