Seed Library
The Seed Libraries are a joint project of the Framingham Public Library and Transition Framingham. Our mission is to empower local residents to preserve the art of growing our own food through the lending, sharing, and saving of seeds, and related programming at the library. We have two Seed Libraries: one at the Main Library and one at the McAuliffe Branch.
News
The Seed Lending Library still has plenty of seeds that can be planted midsummer. Seeds can also be picked up at the Library Table at the Farmer's Market during July and August.
The Framingham Garden Club Donates $250 to the Library. See more information here.
How does the Seed Library Work?
The seeds, from Seed Savers Exchange, are house in a repurposed card catalog. In addition to the purchased seeds, there are some seeds donated by community members, in designated drawers. Each seed package has an instruction sheet. Patrons sign out their seeds so that we can keep track of inventory. If you successfully save seeds, these can be brought back to the library to be shared at a seed swap in the fall or added to next year's inventory. We encourage everyone, regardless of experience, to try their hand at saving seeds though it is certainly not required.
Why a Seed Lending Library?
To create a source of locally-adapted seeds. Over time become stronger and increasingly acclimated to Framingham growing conditions.
To educate the community about biodiversity, heirloom varieties, garden and plant ecology, cultural traditions concerning food and agriculture, and related topics.
To build community awareness and connections through partnerships with local food producers, horticulture businesses, educational institutions, health practitioners, artists and others.
2017 Seed Inventory: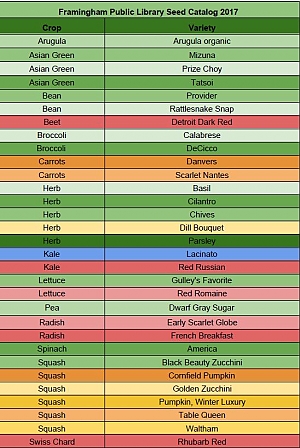 Resources
*from Kathy Huckins' "How to Start an Organic Garden" Event
Both libraries have plenty of books available for all types of gardens!
Flyer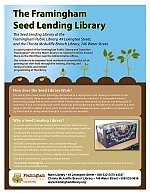 Videos
Please see this video by Access Framingham about the Seed Library at McAuliffe!
Facebook Group
Please visit and send pictures of your garden to our new Facebook page at https://www.facebook.com/groups/2031649580392797/. You can send your questions or tips to this Facebook page as well.
What patrons have grown with our seeds: