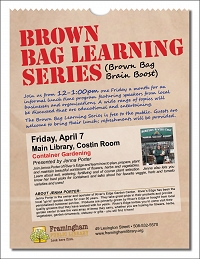 Presented by Jenna Porter of Rivers Edge
Join Jenna Porter of River's Edge and learn how to plan, prepare, plant and maintain beautiful containers of flowers, herbs and vegetables. Learn about soil, watering, fertilizing and of course plant selection. Jenna also lets you know her best picks for containers and talks about her favorite veggie, herb and tomato varieties and uses!
About Jenna Porter:
Jenna Porter is the owner and operator of River's Edge Garden Center. River's Edge has been the local "go to" garden center for over 50 years. They take great pride in their products and provide personalized customer service. Products are primarily grown by River's Edge or bought from local quality growers that they have worked with for years. River's Edge invites you to come visit their garden center to see the vast array of items they carry, whether you are looking for flowers, herbs, vegetables, garden ornaments, statuary or gifts – you will find it here!

*Brown Bag Learning Series (Brown Bag Brain Boost)*
Join us from 12-1:00pm one Friday a month for an informal lunch time program featuring speakers from local businesses and organizations. A wide range of topics will be discussed that are educational and entertaining. The Brown Bag Learning Series is free to the public. Guests are welcome to bring their lunch; refreshments will be provided.