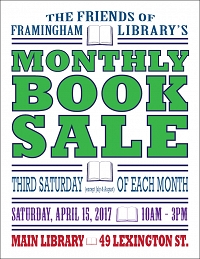 9:30-10:00am: Friends Members Only
10:00am-3:00pm: Open to the public

The Friends are pleased to announce an extra sale to be held Sunday April 2 from 1-4:00pm at the Main Library. There will be no bag room for this sale but the book room and lobby will have regular offerings. Another extra sale is planned for July.

On April 28 and 29 the Friends will host a Silhouettes Fundraiser at the Christa McAuliffe Branch Library. Create a precious memory of your child with this unique portrait. For details, please see our flyer or contact Marsha Farmelant at mfarmelant@aol.com.