Brown Bag Learning Series: Allergies 101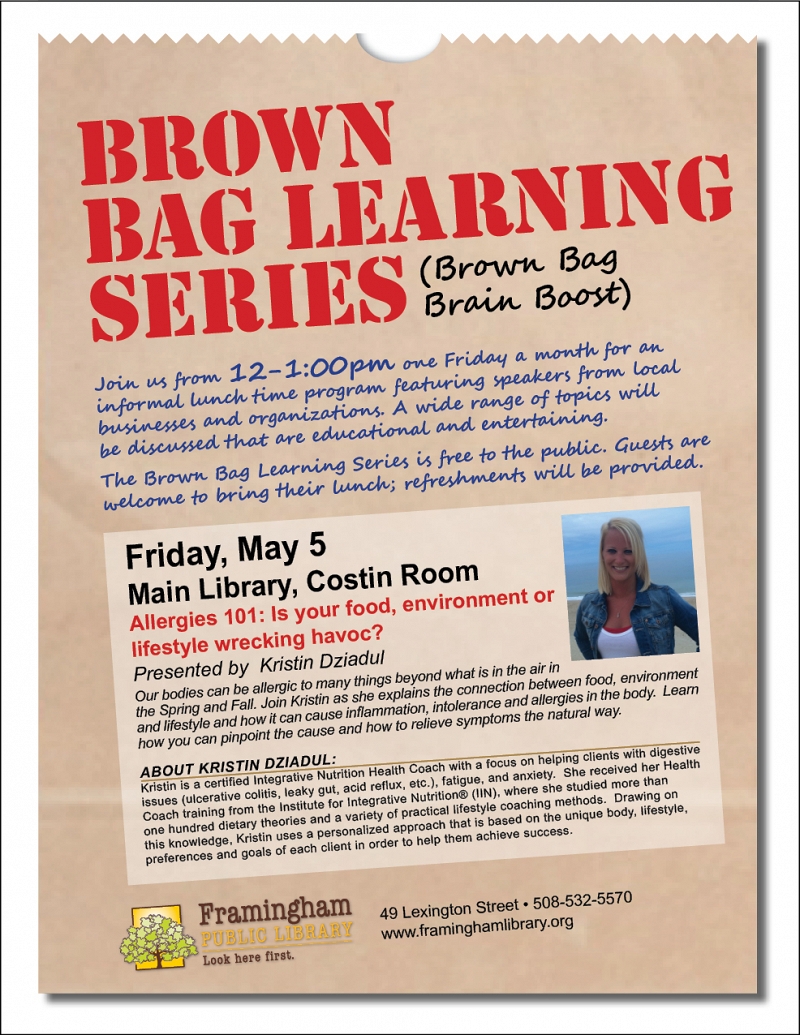 Presented by Kristin Dziadul, Integrative Nutrition Health Coach
Join Kristin as she explains the connection between food, environment and lifestyle and how it can cause inflammation, intolerance and allergies in the body. Learn how you can pinpoint the cause and how to relieve symptoms the natural way.
About Kristin Dziadul:
Kristin is a certified Integrative Nutrition Health Coach with a focus on helping clients with digestive issues (ulcerative colitis, leaky gut, acid reflux, etc.), fatigue, and anxiety. She received her Health Coach training from the Institute for Integrative Nutrition® (IIN), where she studied more than one hundred dietary theories and a variety of practical lifestyle coaching methods. Drawing on this knowledge, Kristin uses a personalized approach that is based on the unique body, lifestyle, preferences and goals of each client in order to help them achieve success.
Brown Bag Learning Series (Brown Bag Brain Boost)
Join us from 12-1:00pm one Friday a month for an informal lunch time program featuring speakers from local businesses and organizations. A wide range of topics will be discussed that are educational and entertaining. The Brown Bag Learning Series is free to the public. Guests are welcome to bring their lunch; refreshments will be provided.