Lifelong Learning Lecture: Moving Beyond the Walls That Separate Us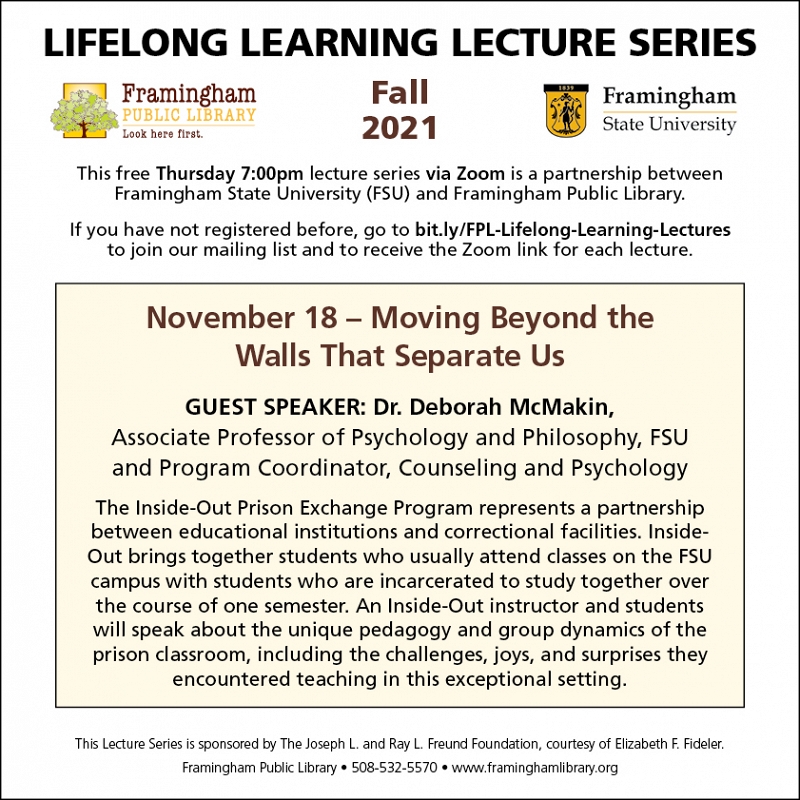 GUEST SPEAKER: Dr. Deborah McMakin, Associate Professor of Psychology and Philosophy, FSU and Program Coordinator, Counseling and Psychology

The Inside-Out Prison Exchange Program represents a partnership between educational institutions and correctional facilities. Inside-Out brings together students who usually attend classes on the FSU campus with students who are incarcerated to study together over the course of one semester. An Inside-Out instructor and students will speak about the unique pedagogy and group dynamics of the prison classroom, including the challenges, joys, and surprises they encountered teaching in this exceptional setting.
This free Thursday 7:00pm lecture series via Zoom is a partnership between Framingham State University (FSU) and Framingham Public Library.

If you have not registered before, go to bit.ly/FPL-Lifelong-Learning-Lectures to join our mailing list and to receive the Zoom link for each lecture.